If you are interested in promoting your website on the Internet, then you have definitely heard about such a concept as backlinks. In order to not fall into frightening terminological verbosity, let's say in simple words: backlinks are links to your project in articles or posts on third-party resources. Their number determines the link mass, which directly affects the ranking of your site in search engines.
However, as elsewhere, quantity is not equal to quality. A large number of links from low-quality and low-authoritative sites are more likely to harm you than elevate you to the cherished top 10 search results. Therefore, doing link building on your own is walking through a minefield. The most advanced and modern way is to automate this process using link building services. And we are going to tell you about one such that fulfills everything it promises and does conversion miracles with your site.
LinksManagement Overview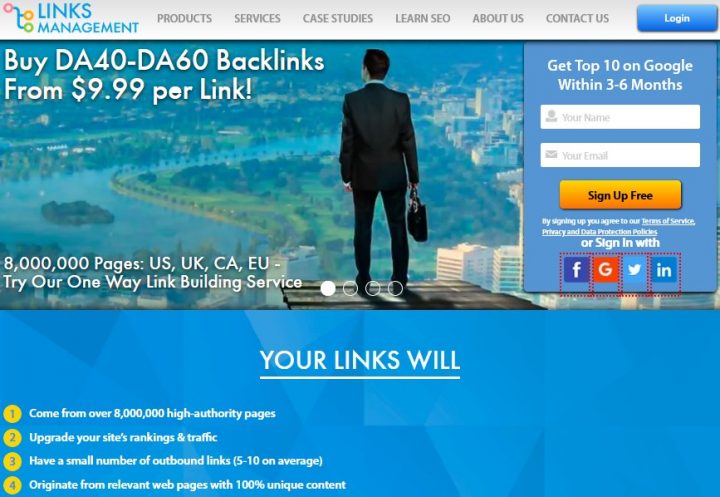 Links management is a trusted link building tool that's used by millions of users for skyrocketing their website traffic. In fact, it is dubbed "The Reliable Backlink Elevator" and works without harming your website's visibility on Google and other popular search engines.
While others work with backlinks, in fact, at random, focusing on their number, then LinksManagement never acts blindfold: thoughtful and win-win campaigns are formed here, tailored to each specific case. This service has a considerable inventory of publishers in all regions of the world from Europe to the USA, and guarantees you an improved ranking of your platform through high-quality links.
Why do we call LinksManagement the best SEO link building service in 2020? Our further review will help you understand the reasons for such a high rating.
Working with this service takes place in the best traditions of modern mutually beneficial cooperation. Everything here is thought out to the smallest detail: a convenient personal account with an intuitive interface, useful free tools for creating link building campaigns with a specific purpose, quick and convenient selection of publishers.
The service has optimized and automated all processes that usually take a lot of time:
Search for a site for publication. With more than 12 filters, you can select the sites you need by subject, the number of visitors, region, and other parameters.
Instant submission and posting of articles. There is no need to write endless pitch letters to blog owners and editors: the system is adjusted in such a way that the agreement is considered a priori reached.
Analysis of the effectiveness of posted links. Instead of scattered information in different analytical tools, you get unified analytics right in the LinksManagement system: you see how your links work and how they affect the promotion of your website.
Thus, the time that you previously wasted on discovering sites and negotiating is at your disposal so that you can immediately start working with the articles. Such automation gives you a huge competitive advantage because it is very important whose name in the top 10 search results the client sees first: yours or your competitors'.The market struggle is severe, and only modern technology can help you stand out, provided other factors are equal. Don't let them get ahead of you, get ahead of them first.
How It Works: 3 Steps to Visible Results
The service is incredibly convenient and easy to use even if you have never been involved in link building. Many people are afraid to start promoting the site precisely because of the fear of doing something wrong and harming their platform's performance.
With LinksManagement, such a scenario is simply impossible: everything here is carefully thought out in order to immediately show customers the simplest and shortest paths to achieve the desired results.
The way to conquer the online space with your site consists of three simple steps:
Register in the system.
Pay for the links you need.
Enjoy the result.
Registration is effortless: you just need to enter your name and email address to get started. If you have any questions about how to fund your account and start buying links, you can contact the managers and they will answer any of your questions. However, it is unlikely that problems will arise with this: the interface is intuitive, and you will immediately figure out how to continue working.
The huge list of publishers may seem daunting, but only at first glance. To select those that suit you by subject matter and other parameters, you need to make just a few clicks on the necessary filters. After that, you will be presented with a list of platforms of exactly the specialization in which your business operates. Here you will immediately see the prices for the placement of articles and the characteristics of the sites.
Pricing policy deserves special attention. Remember the standard discussion of the cost of posting an article with a link on a third-party blog. Not only is the procedure delayed indefinitely, but you also cannot really plan a budget due to the fact that each site has its response speed and often tends to overestimate the rate. You start bargaining, negotiations drag out again and you lose valuable time during which links could already work for the benefit of your site.
With a link building service, everything is different. By registering, you get access to publishers who immediately show their prices for posting articles. Prices depend on many factors, but their common feature is affordability: publishers are committed to cooperation and are not inclined to artificially inflate prices.
It is noteworthy that you will be able to feel the result after a couple of weeks when the search engines index the posted articles and find links to your resource. Given the high authority of publishers, this will immediately work in your favor: your site will gain additional weight and will already begin its triumphant path along the road of improved ranking.
The Main Benefits of Working with LinksManagement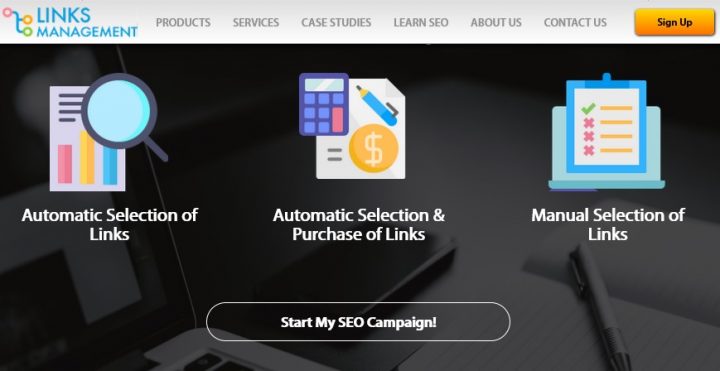 Why do business owners, SEO experts, and marketers choose automated link building solutions? Because this service integrates into one system all the actions, functions, and steps that are usually implemented when engaging in guest posting. Summarizing, the following distinctive features can be distinguished that bring the service to the forefront:
A huge inventory of publishers of various topics with 40+ domain authority: these are sites, links from which are considered by search engines to be weighty and useful.
The ability to select relevant sites by topic, DA, and other parameters using convenient filters.
There are options for both manual selection of publishers and setting up an automated link building campaign using free tools.
Transparent analytics and generation of a clear algorithm for website promotion in accordance with your goals: indicate what results you want to achieve and the system will calculate how many backlinks and time you need for this.
Fast results at an affordable price: you can post several articles per week without fear of lengthy negotiation procedures, and increase traffic to your site by 10,000+ visitors in the first month of using the service.
Creation of articles on your topic: if you do not have the time, opportunity, or resources to write guest posts, the company's experts will do it for you.
If necessary, you can also get a free SEO consultation from specialists, or use a knowledge base, which contains the most up-to-date information on current innovations and trends of SEO.
Not Only Spending: Special Referral Program
Working with LinksManagement is beneficial for your budget not only due to low prices for backlinks but also due to the unique referral program. Depending on how many people follow your referral link and become customers of the service, you can receive up to $ 1000 per month with virtually no effort.
If you want to become an affiliate, then the sequence of your actions is elementary:
Log in to the system with your username and get a referral link.
Place the link in one of your articles or post it on any social network.
Expect positive results.
If the visitors who came via your link become new customers of the service, then you receive a special bonus for each newcomer, or 10-15% compensation from the total expenses of the people you managed to hook.
In addition to the simplicity and grace of this form of earnings, you get access to the analytics of your referral income in your personal account. Here you will see how many people you were able to attract to the side of advanced link building and what profits it brought you.
Final Words
Unlike other practices, guest posting with backlinks remains relevant from year to year. This is no wonder: in addition to the direct benefits in the form of improved positions and increased traffic, the site receives additional bonuses of growing authority and expert reputation in the chosen niche.
The faster your site gets to the top, the faster customers will learn about you and start making your profit. So don't waste your time and don't miss out on this unique opportunity. Nothing will pave your way to the top of the SERPs faster, more reliably, and more efficiently than backlinks. And no one can help you with them better than LinksManagement.
External Review Notice:This LinksManagement Review content was crafted and submitted by Karin Foster, who isn't just a SEO guru, but one that's armed with a 360° knowledge on the in/out of Links Management's link building services.