Having one app that grants you access to the world best, original publications, news, and curated articles should be of interest to every sane mind. Since social media helps to spread fake news like wildfire, people are now careful with the news they follow and react to on social media. The Curio iOS app is here to ensure that you keep up with the latest headlines, vetted news, and updates – all in audio or podcast form.
With Curio, you'll get access to quality audio journalism from leading newspapers and magazines, any time, and anywhere. You might want to ask, why is a Curio a paid app?
Well, there are several websites and platforms where you can read up good publications for free, but the Curio platform offers a more personalized experience. Also, the interesting fact about Curio is that you'll listen to the news in audio format. Thus, if you're driving, meditating, or having sight issues, you'll still be able to listen to "what's new" clearly without placing your eyes on your device screen for long.
Curio iOS App Overview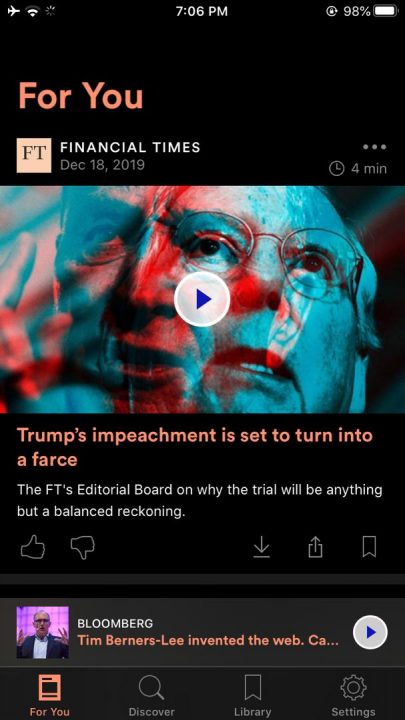 Naturally, anyone can easily visit a trusted online source to read up trendy news or patronize newspaper vendors. However, Curio comes in handier, especially for people who have sight problems. Curio plays carefully handpicked news based on your preferences. Once you install the app on your device, you're allowed to choose the type of news you wish to listen to. Also, the app has flexible settings; thus, you can activate the "auto-play" feature to listen to non-stop news.
Furthermore, you can download publications to listen to them over and over again without needing an active internet connection. With Curio, you'll only be fed with real news (in audio format) from trusted sources. The app presents its contents from over 30 reliable sources, which include The Guardian, Forbes, Financial Times, The Economist, BoF, Bloomberg, Inc., The Washington Post, Aeon, and more.
Irrespective of the type of news you love to listen to, or journalism you follow up, Curio covers practically everything you'd ever want to hear about; from politics, fashion, long-form journalism, business insights, world news, philosophy, and more. It is a comprehensive platform for virtually everyone living in this current time.
One of the exciting things about the Curio app is that it doesn't display any form of ads; you'll never see an ad on the app forever as you keep using it. More so, there's no way Curio is listening or stealing your personal data; even the subscription service is controlled by your device App Store.
Features of Curio iOS App
The features of the Curio iOS app are flexible and effective. You can search for a topic or keyword using the "Search Bar" and listen to news that talks about the topic. There is equally a web-version of this app, making it easier for you to listen to what interests you at any time, on any device/platform. Hereunder are some of the prominent features of Curio for iOS mobile app.
Bookmark and share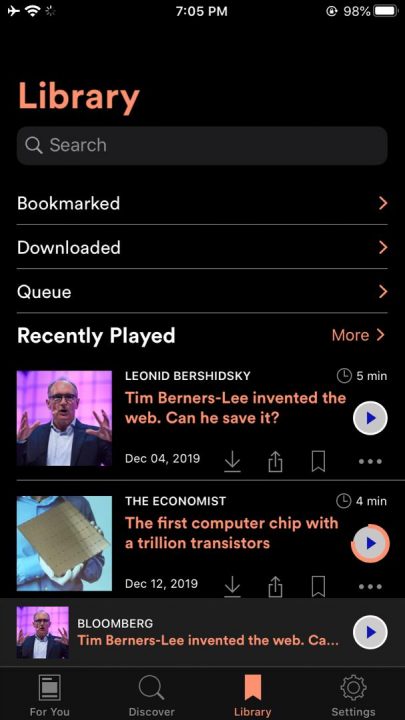 You can bookmark news or share them on different social media platforms. Bookmarking a publication helps you to get back to the news some other time by swiping to your library.
Offline listening
You can download publications, articles, and just about any news available on the Curio iOS app. To download a publication, simply on the download button, this will cause the publication/news/article to be available offline.
Audio listening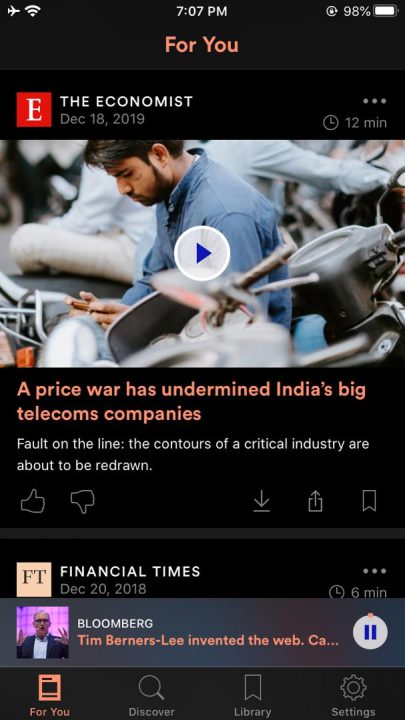 All news and publications are presented in audio format; you'll listen to them. However, you can choose to read along as the audio plays by selecting the "Read Along" option. You can connect your earphones or earbuds and listen to your favorite news while on the go.
Curated playlists
Curio offers curated playlists that cover different types of stories you'd love to listen to. You can filter the playlists by topics or collections. Either way, you'll enjoy listening to what interests you.
Read from a particular source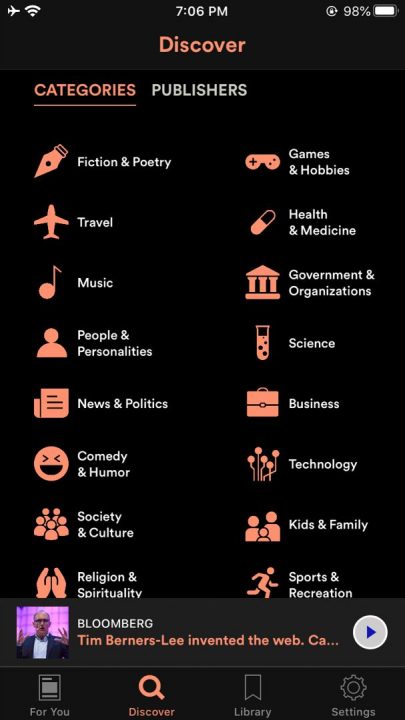 Curio provides you with stories, contents, and publications from various trusted sources. However, you can choose to listen to publications from a particular source such as listening to The Guardian or Fast Company, or Bloomberg.
Curio Pricing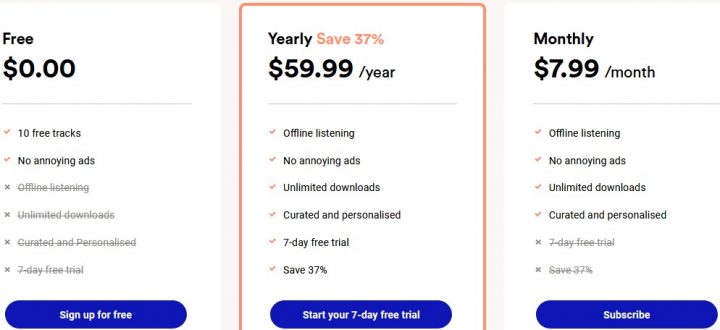 To continue using the Curio app, you'll have to subscribe to a plan. However, you can cancel your subscription at any time. Curio allows you to only listen to 10 tracks during the 7-day trial period offered to you when you signup. If you wish to listen to more tracks and get access to all the features of the app, then you have to pick a subscription plan.
There are two subscription plans on Curio, which are either annual or monthly terms. The annual plan is cheaper than the monthly plan. You're to pay $7.99 every month or $59.99 per annum to keep using Curio after exhausting its free cap.
The price may look expensive for some people, but considering the app features, the pricing is quite considerable. Also, you'll never meet an ad while using this app, and you are presented with the stories that interest you the most.
Curio Availability and Coupons
Curio is also available for Android users, and there is a web version too (https://play.curio.io) for listening on PC or Mac. Across platforms, your subscription to Curio covers you all the way. All features of the Curio iOS app are equally available on the Curio Android app, as well as the web version.
All readers of 3rd Planet Techies are entitled to a never-expiring 30% OFF discount with the OBASIMVILLA coupon code. To enjoy this deal, simply visit the linked address and enter the Curio 30% OFF coupon code (linked) on the checkout page.
What more?
Curio reads out news in a way that anyone listening to the news will understand and follow up. Unlike having an app that reads out texts via AI, Curio audio news and stories are being read by real humans. The app is resourceful, being stocked with tons of stories, publications, news, and more.
More interestingly, you can cancel your subscription to the service at any time you wish. With Curio, you will listen to professional journalism, verified news, and interesting publications in a clear audio format.