NuDock is a super unique Dock that lets you use and work with your smartphone like you're working on a PC. With NuDuck, you can enjoy your favorite game, project larger images on the screen, cast videos on projectors, etc. It went live on Kickstarter a while ago and is poised to be one of the newest mobile tech innovation to beat in 2019.
About NuDock
NuDock is a versatile USB type C (USB-C) docking station that charges your phone conveniently while allowing you to use its multiple ports for gaming, entertainment, and work. It brings the convenience of laptops and computers to smartphones and phablet devices.
NuDock Features and How it Turns your Smartphone to a PC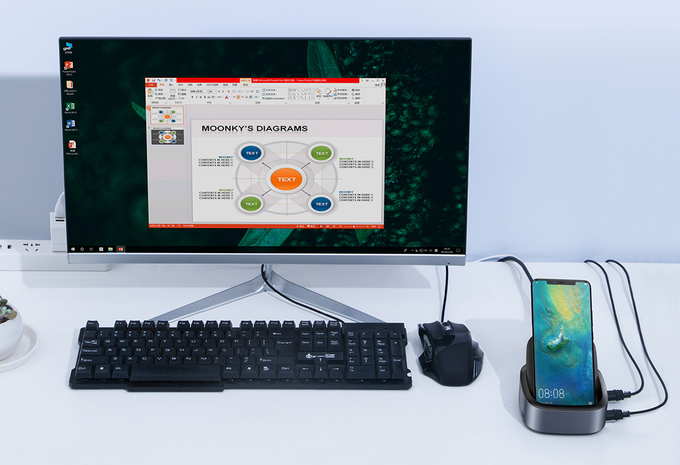 With NuDock multipurpose docking station, you can impeccably convert your smartphone to a mini PC or workstation. It simply creates new kind of fun for gamers, video freaks, and anyone that likes trying out new things. There are so many things you can do with NuDock gadget once it's connected to a smartphone. Hereunder are some of the most striking features of NuDock.
Comes with 3x USB 3.0 ports, with each allowing ultra-high transfer speed at 5Gbps (640MBps), which is over 10X faster than the traditional USB 2.0 ports.
It has support for 4K@30Hz HDMI, SD and MicroSD card slots, 3.5mm AUX jack (for headsets, earphones, microphone, etc.) and Power delivery (PD) supported USB type C.
NuDock comes with a dynamic power transfer of 5V/9V/14.5V/20V@3A max with the maximum power delivery of 49W.
It recognizes Flash drives, Hard disk drives, Projectors, TV screen, Monitors, Mouse, Keyboards, Game controllers, MicroSD, and SD cards.
The listed gadgets can connect to your smartphone via NuDock without disrupting the charging of your phone.
NuDock Specifications and OS Compatibility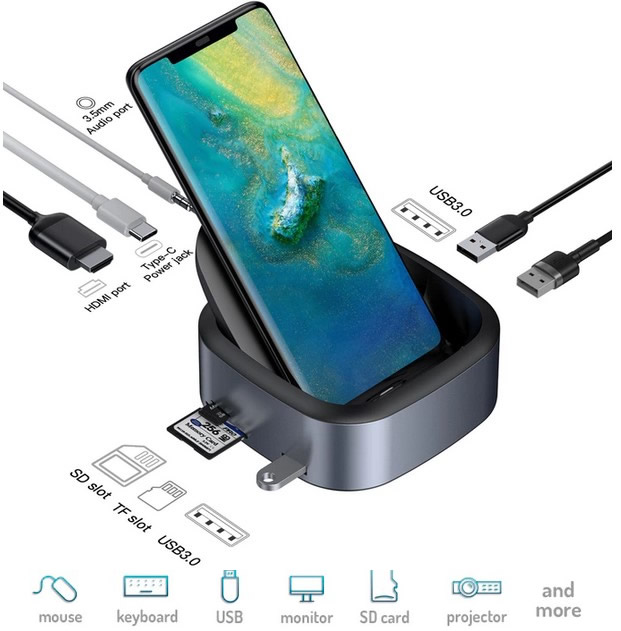 Full Specs:
Material: ABS + Aluminum Alloy
Supported Ports: Type C plug, Type C female, USB 3.0 times three, HDMI, 3.5mm Audio Jack, SD, and MicroSD card reader.
USB 3.0 Type: 5v/900mA (max ), 5Gbps data transmission, compatible downwards with USB 2.0/1.1
HDMI Type: Supports image resolutions as high as 4k @ 30HZ, and HDCP1.4/2.2
SD and MicroSD type: SD/SDHC/SDXC, SD2.0, UHS -1, and MicroSD cards.
USB Type C ports Power Delivery (PD): PD 49w quick charge.
Applicable Systems: Windows 10, Android 8.0 and above.
Suitable for high-end smartphones and phablet devices.
Operating Systems (OS) Support and Compatibility
NuDock is compatible with Huawei Mate 10 /Mate 10 Pro /P20 /P20 Pro, Samsung S8/S8+/S9, LG G5/G7, SONY Xperia XZ2 Pro, Microsoft Lumia 950, Google pixel2, and other smartphone models with Type-C support. It is also compatible with Phoenix OS, Windows 10(Phone), Android 8.0 and higher (versions of Android OS).
How to Support NuDock
You can support or pre-order for a NuDock pack by using their Kickstarter page here. The cheapest pack with a reward goes for a $59 pledge while the highest package with multiple rewards goes for $299 commitment.