Mygigerr.com
Summary
a micro-job freelancing website by Joseph Efoghor
Mygigerr.com is the latest in the almost crowded Micro-job hunting platforms around. You always stand the chance to earn more as a freelancer, blogger or internet marketer.
We all as bloggers and mostly internet marketers envies anyone currently making six figure income online right?
You don't always have to rely on the already popular and populated ones like fiverr, SEOclerks, Elance and the others, you never can tell where the best and regular clients comes from. You might even end up getting the best hands as an employer from Mygigerr.com.
also see: Top 7 Freelancing Websites I Highly Recommend
Why do you think I should give Mygigerr.com a try?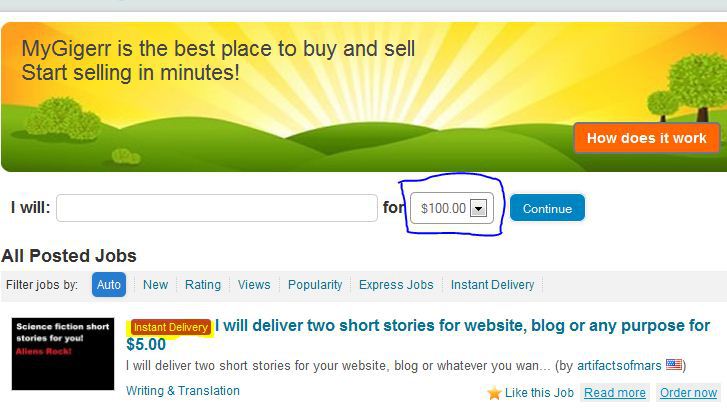 Yeah, this is the very first question that will come to your mind, especially if  you aren't already making it very big with fiverr and SEOclerks, but I will tell you why it is necessary that you try out Mygigerr.com.
  1. It is risk-free
You have absolutely nothing to fear either as a seller or buyer, Your money will be refunded in full if the seller refuses to deliver exactly as you requested for, as a seller too, the support team 's already got you covered in a situation where the buyer uses your work after rejecting your delivered order.
You also have the right to protest any buyer's decision when they try to false-fully defraud you by rejecting orders you are very sure was rightly done.
2. There is no harm in trying
Since the registration is free and takes only a few minutes to sign up, it will be very unwise not to even give it a try. You can easily complete both the sign up process and gig's creation under 45minutes. You also have the right to delete your account if for any reason you find the platform to be below the standard you 'll appreciate working on.
3. More payment options
Unlike fiverr where paypal is the only payment option available, mygigerr.com gives you the option to whatever online payment  solution you find most comfortable in your country or regions. eg. Nigerians can easily go with direct bank transfer, South Africans can easily go with already popular payza, Europeans and Americans can easily go with paypal, same for other countries and regions.
4. More Price Options
Fiverr limits you to only $5 per gig, this means that for a service you will normally offer at $25, the fiverr platform will force you to do that for $5 till you have gotten to a higher level where you can start using the extra options. Even if you happens to join mygigger.com today, you are given the freedom to place your services at any amount you deem fit as long as it falls under a $100. This is to say that; Mygigerr.com gives you the freedom to create services ranging from $5-$100, this is why we will normally refer to such platforms as Micro-Job sites.
5. So much categories! so much Fun!
There are just so much categories for you to work with, Jobs with the Instant or Express Delivery Label can even force to to multiple sales per hour. You can also create services such as; Write articles, Design websites and blogs, Customize blogs, Design logos and Facebook Fanpage covers, Render SEO services, Install software, Write E-books, Write poems, Write stories, Shoot videos, Design software, Write project designs, Design E-book covers, Edit articles or just Name what thing you think you can do.
How much have you earned so far from Mygigerr.com?
This will shock you though, I just signed up few hours ago before creating this short review. You might be surprise that the review came rather so quick, yeah, this is because the owner have got track record of success from other start-ups he owns. I was one of the beta testers of the tweetlow network that has recorded so much success today.
I was also able to reach out to few of my friends that has been using the platform, they assured me that they are already making some sales from the platform. You just have to see the honesty in my review 'cos I wasn't paid or compensated to do so, I have always reviewed services that offers great value to we tech enthusiasts.
See their official website here