Here, I'll show you everything you need to know about predictive content and how it can improve your marketing efforts. Well, knowing what content will resonate with your customers is a responsibility most marketers are tasked with. We spend countless hours researching personas, segmented based on key factors, and analyzing what content performed the best.
And sometimes, it's still not enough.
Our customers are changing every day. Their wants and needs from one week to the next could be drastically different and we may not know this until months later. Manually tracking customer engagement and interests can be an uphill battle that you never see the other side of.
But here's the good news: You don't have to do it alone.
In fact, with the right technology, you can automate this process and create a more personalized experience than ever before. We're talking about using predictive content technology to provide your customers with only the most relevant communication.
Not only does it help you automate your efforts, utilizing predictive content in your marketing can lead to 3x higher revenue and performance metrics. It's a win-win situation for both you and your customers.
In this article, you'll learn more about what predictive content is and leave with an understanding of how it can benefit your current marketing efforts.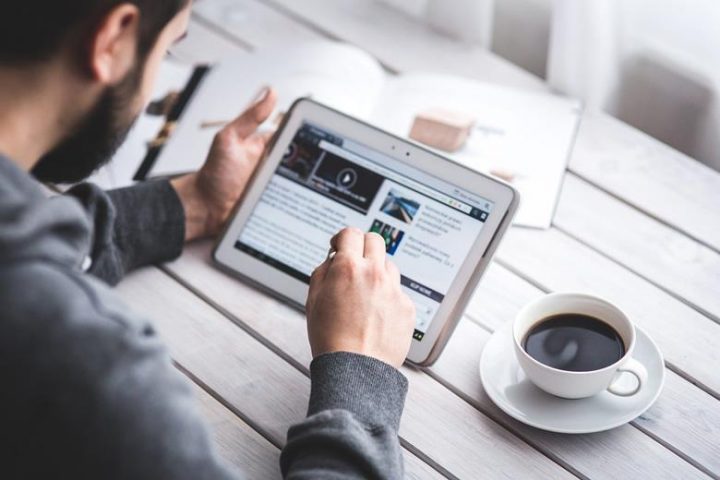 Here's a quick look at some of the topics that we'll cover:
What predictive content is
How it works
How you can benefit from predictive content
Why you should use it
First, what exactly is predictive content?
Simply put, predictive content takes your available customer data, analyzes it, and identifies the most relevant content and offers based on their real-time and historical behaviors. It takes into account not only previous purchases, but also browsing habits, preferences and interests, and engagement activity.
Martech Advisor sums up the idea of predictive content perfectly with this quote:
Predictive content marketing is a game-changer that enhances the customer experience by identifying the exact content that will make the maximum impact while helping customers throughout their purchase decision journey.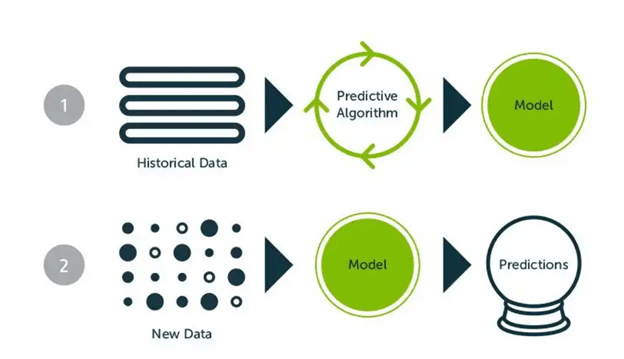 Predictive content takes the historical data of your customers and predicts a potential model. From there, it can input any new customer data to help improve future predictions. Image courtesy of Code Ship.
While predictive content may not be widely used by all companies today, it's truly the future of content marketing. This is because, with the help of predictive technology, you can make data-driven decisions and only send the most relevant content to your customers.
How does predictive content work?
Predictive content applies natural language processing, AI, and machine learning algorithms to your website and other marketing efforts to understand the available content you currently have. Once the predictive technology has analyzed and interpreted the context of your available content, it will then match personalized content for your customers.
So, you may be wondering, how does it know what customers to send what content? As previously mentioned, predictive content technology can analyze customer data to determine the most relevant content to their needs based on patterns and similarities within the data.
Here are a few customer data points that predictive content takes into consideration:
Purchasing history
Browsing history
Coupon affinity
Personal preferences and interests
Previous engagement details
So in a nutshell, predictive content takes the content you've already created and matches it up with the interests of your customers to provide a more personalized, one-to-one experience. The great thing about it is as the wants and needs of your customers change, so does the content that is being served to them — and it's done automatically.
How can you benefit from predictive content?
Now that you have a clear understanding of what predictive content is and how it works, let's take a deeper dive into how you can benefit from using predictive content. Predictive technology can help take your current marketing efforts to the next level in a number of ways. From better customer engagement to improved content creation, you'll find it's worth the investment.
Better Engage Customers and Improve Personalization
By providing your customers with relevant content that they actually want to receive, you'll quickly begin to increase customer engagement. Having insight into what content will resonate with your audience and knowing when to send that content is a recipe for success.
It's been said that 81% of customers want brands to understand them and know when and when not to approach them. Luckily, with the help of predictive content, you can do just that. According to these numbers, predictive content will help you increase engagement by satisfying the needs of a large portion of your customer base.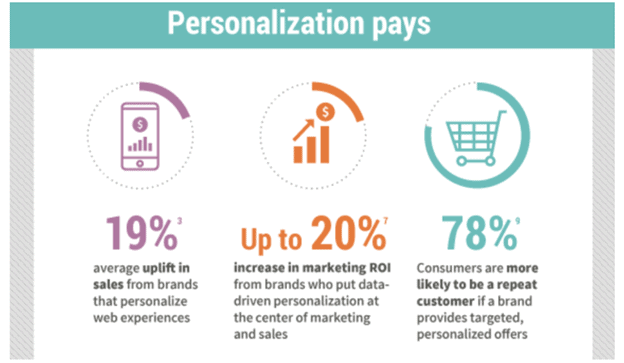 Personalization is a big deal. It encourages customers not only to make purchases but also promotes loyalty. Predictive content lets you take that personalization to the next level. Image courtesy of Neil Patel.
When it comes to personalization, customers continue to expect more and more out of companies. It's no longer as simple as adding their name to an email and calling it a day. In today's world of hyper-personalization, you need to be one step ahead of your competition and provide your customers with the most personalized experience possible.
Predictive technology will allow you to improve engagement while taking your personalization to the next level. Both you and your customers will be glad you made the move to predictive marketing.
Quickly Move Customers Through the Buyer's Journey
Having the ability to understand your customers on a more granular level allows you to share content that will help move them through their purchasing journey.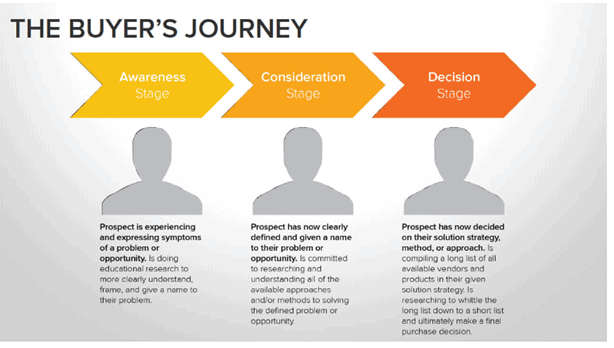 To make a sale, you want to move customers through the buyer's journey. There are a variety of different tactics to help move someone from one stage to the next, and predictive marketing can help automate this process. Image courtesy of Business2Community.
A customer who is currently in the early stages of the journey will require very different content than someone who is in the purchasing stage of the process. Predictive technology can take cues from customer data to help pinpoint exactly where they fall within the journey and what content they need next.
Here are a few examples of content that could be shared during each stage of the journey:
Awareness stage: blog posts, informative infographics, how-to guides, social media posts, and tip sheets.
Consideration stage: case studies, testimonials, webinars, FAQs, datasheets, and demo videos.

Decision stage: free trials, product samples, live demos, consultations, pricing sheets, and coupons.

The ultimate goal of your marketing efforts is to increase sales. By helping customers move through the buyer's journey by providing the information they need to make their purchasing decision, you are improving your chances of completing a sale.
Once you've moved a customer through the traditional stages of the buyer's journey, you have an opportunity to build a more loyal customer base — the process never truly ends.
Why should you start using predictive content?
For many companies, predictive technology is already on their radar. That's because when looking at their top priorities, or areas of growth around improving the customer experience, predictive marketing can make a big impact.
From improving the level of personalization each customer receives to retaining and moving customers through the buyer's journey, predictive technology can help.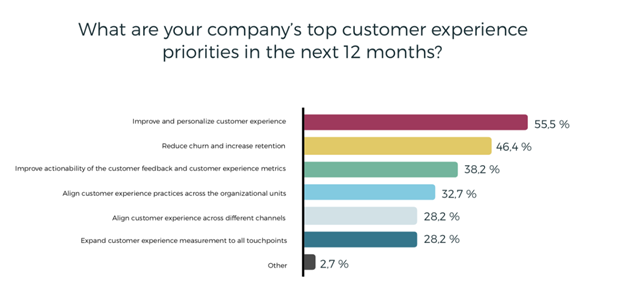 When looking at the top customer experience priorities for many companies, it's easy to see how predictive content can help them reach these goals. From improved personalization to building a more comprehensive experience, predictive content can be leveraged. Image courtesy of Lumoa.
There are a number of ways that predictive content can improve the overall brand experience for your customers. But it all comes back to providing the most relevant and personalized experience.
That's because 74% of online consumers get frustrated with web sites when the content has nothing to do with their interests. In the marketing world that we live in, personalization has gone from a nice-to-have to a must-have marketing tactic.
Here are a few examples of what predictive content can serve your customers to better their overall experience with your brand:
Relevant blog posts and articles based on previous browsing behaviors
Tutorials and videos related to products they recently purchased
Personalized content blocks within emails
Product recommendations based on both purchase and browse data
Is predictive content right for you?
Now that you have a better understanding of what predictive content is, how it works, and how it can benefit you — does it sound like it's right for you?
If you're looking to improve the customer experience, see higher engagement metrics that lead to more sales, and build a more loyal customer base, it just might be. When it comes time to improve your current marketing efforts, you won't regret investing in predictive marketing technology.