Do you want to make conversions to and from PDF on your Mac device? Are you having a hard time choosing the right document to PDF converter out of the numerous pool available?
Well, as a user of a document in the PDF format, the difficulties in converting your PDF might rest in your ability to choose the best PDF converter online. This is quite easy and this article would help you make that decision. A detailed list of online PDF converter for Mac including PDFelement for Mac has been curated.
1. PDFelement for Mac

PDFelement is highly rated and trusted by more than 350,000 business professionals all around the world. This top-rated PDF converter is one of the best alternatives when compared to Adobe Acrobat.
It allows users to maximize their productivity with easy-to-use volume licensing options. This software is available for users on Mac App and it also easily supports the latest macOS 10.15 Catalina. PDFelement is designed to help you simplify your conversion of documents. The Pro version has a higher PDF editing tool with OCR technology and capabilities that allow for batch processing.

PROS:

PDFelement conversion for Mac can be used for almost all MS Office applications

It helps the user to secure PDF files.

It allows for easy access for modification.
CONS:

Its OCR technology can be difficult to use.
DOWNLOAD LINK: https://apps.apple.com/app/apple-store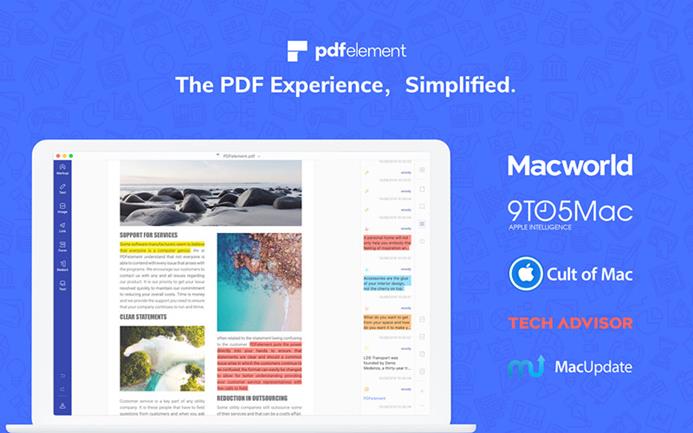 2. Soda PDF

Soda PDF is a highly-rated, easy-to-navigate product for all your PDF editing needs. The software is made available in more than 5 languages with its conversion features standing out. It allows easy access to the software from basically any web-enabled device including your desktop and your mobile phone. It has an interface that is modern and that allows for reviewing and annotation of files.
PROS:

It has an easy-to-navigate interface with diverse options

It provides users with support sections.

It allows users to pay (install) only the modules or features needed
CONS:

The price is high when compared to other PDF conversion software

3. Adobe Acrobat DC Pro
Adobe has continued to evolve with every new software produced, and its conversion tools are not an exception. Adobe Acrobat DC comes with a PDF converter online that readily provides a touch-enabled interface for users. It contains an online cloud service that allows you access your converted files through mobile apps and your web browser.
PROS:

It has diverse advanced features from which users can pick

Allows you to remove and add blank pages to your document, easily
CONS:

It is difficult to control the OCR technology

It has a very weak Adobe customer support system

The window list that keeps popping up when it is open makes it difficult to work on the software
4. Enolsoft PDF to Text for Mac

Enolsoft PDF to Text for Mac is very popular for its conversion tool which allows users to convert to and from PDF files. This PDF converter allows users the opportunity of using a highly rated OCR technology to transform PDF documents that have been scanned into text files that can be edited. Its conversion tools are popular and quite easy to use.
PROS:

Its OCR technology is very efficient for transferring your scanned PDF files into normal text files.

It is very fast to use.

It allows users to choose the page range they would want to be converted within the PDF file.

It allows for batch conversion.
CONS:

It does not allow users preview their document before converting the same to PDF document.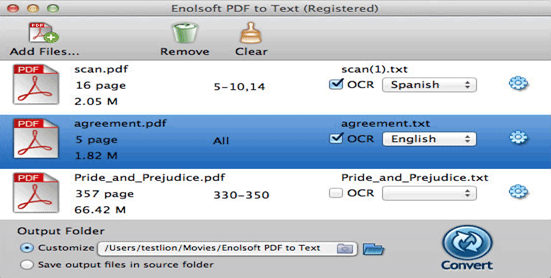 5. PDFpen

This free PDF converter is very functional and powerful. It is generally very easy to use even though its user interface is not as good as the other programs. Advanced users of PDF will be more satisfied with its advanced features. When compared with Adobe Acrobat, it has a lesser price.
PROS:

It allows for easy drag and drop option

It is affordable

Offers all the basics needed for your conversion
CONS:

Most of its features are not so intuitive

Its PDF form filler wastes data

It requires learning through each stage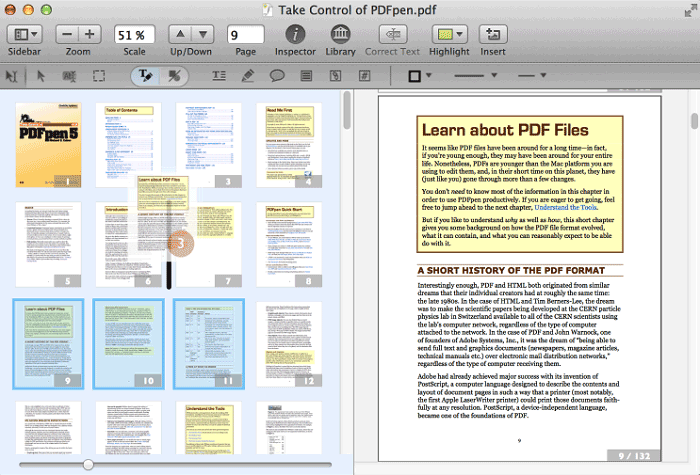 6. Master PDF Editor

This is a straight-forward PDF converter. Asides from its converting features it easily allows you to make, adjust and view your documents. It provides very good and convenient merging options for users. It has a simple and plain interface that does not require learning through every stage.
You can easily navigate through bookmarks, add attachments, delete pages, insert blank pages, use the cut and paste tools, and view properties. PDF pen easily runs on moderate amounts of resources for diverse systems. Because of this, it is easy for users with very slow PC to still make use of the software.
When using other applications like Open Office, Excel, or Word it allows you to print your documents with a virtual PDF printer. It is rated high by persons who are not used to the advanced technology of PDF editing functions.
PROS:

It easily supports JavaScript options

It provides other features asides conversion options
CONS:

It does not support the drag and drop options so you basically have to go and import your PDF online via browser

It has better-advanced options when compared to other software which are not so advanced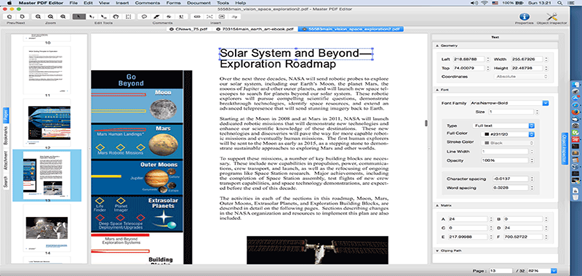 7. Nuance PDF Converter for Mac

This PDF converter for Mac contains diverse affordable features that allow PDF conversion for Mac. It was basically designed for your productivity and easy conversion of your files into the PDF format.
It contains other practical features that do not necessarily require paperwork. Its feature that allows conversion of PDF files into Microsoft Office documents is fully supported by iWork. Its OCR technology enables conversion of PDF files to formats that can be easily edited.
PROS:

It allows users to edit and share PDF documents in highly secured platforms

It has a very high productivity level
CONS:

Its editing options are outdated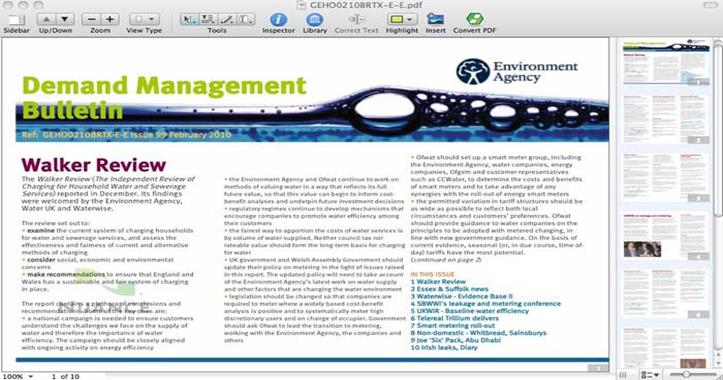 8. PDF Expert

This PDF converter is rated as one of the fastest in the PDF conversion software industry. This is because it works five times faster than other converting software and has lesser features while still providing you with a range of tools to allow you easily get your work done. You do not have to dig through features to get any document or information you need. This can be done with just a click.
It provides cloud-based services and uses an exceptional program to help users sync PDFs with Dropbox. Users can use the software to store their files offline and also restore them when they wish to. These offline documents can be easily accessed by a group of more than 2 persons or less to allow for collaboration.
PROS:

It is very cheap when compared with other PDF converters

It contains all the simple features needed for your conversion
CONS:

Its conversion features are mostly very low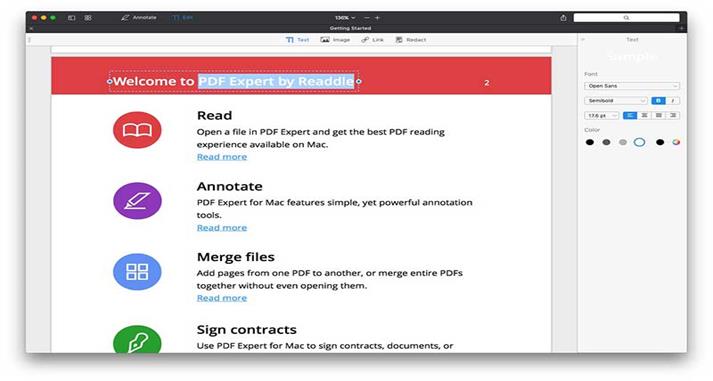 9. Foxit Phantom

This great PDF converter can handle diverse and numerous languages. Foxit Phantom allows users to edit, convert, and easily annotate documents. It has a very simple interface and as such the issue of users learning how to use it does not necessarily come up. A user, by looking at the interface can easily navigate through the document and convert them.
As said earlier, it has multilingual capabilities that allow for easy transactions across diverse persons. Because of this, it is highly rated for international businesses. This PDF converter easily allows for the combination of many PDF documents into one and then allows for the pages to be easily rearranged to the user's choice.
PROS:

It has diverse editing features from which users can choose
CONS:

It requires in some stages that you learn some things to be able to navigate through

It is slow in response

It has a weak support system for its customers

10. Preview PDF

This PDF converter is what Apple has installed as the default application in the macOS. Aside from its easy converting features; you can easily edit and access the diverse images on your PDF document with Preview. It is highly rated as a simple and basic PDF editor with advanced and workable features.
Apart from these, you can use the document, easily to digitally sign PDF files and edit the hyperlinks on your PDF documents. Users highly rate this conversion software because of the possibility it provides users such as the ability to be able to sign their documents using their webcam. This feature is very good.
Users can sign on any paper, hold it in front of the webcam and watch it turn to a high-quality signature one can use for any form at all. This allows you also to do this for numerous signatures. When compared with other PDF converters, Preview is really fast and will get the job done faster.
PROS:

It is very simple and fast to use

It provides numerous advanced features for editing and conversion

It is a free document to PDF converter
CONS:
It only allows users to convert from PDF to images such as TIFF and PNG. It does not support other conversions

It lacks other advanced features such as the OCR technology

It does not contain features to allow users to sign with their trackpads.