Overview: If you are an Android User which i believe you already are, you probably will understand the stress involved in running Android Apps or doing other Android Stuffs on your PC. The No. 1 Way was to use BlueStacks (Still in  Existence) which really is a good software but have some major flaws like freezing PCs especially if your RAM is small and stuffs like that but Brethren, i would like you to Meet Remix Mini: The World's First Android Mini PC.
---
Whenever I tell People that Android would soon become the Household name for everything Mobile and PC (Android ti Take over), they think am joking and now, A Kicker starter based company Jide (pronounced Ja-ide) have prove my argument right with the World's First Android Mini PC.
This product is a result of three Xooglers by name: Jeremy Chau, Ben Luk and David Ko who came together to create what we have as the World's first Android Mini PC. The Remix Mini.
Though we are yet to lay our hands on this device, Our thoughts/impressions would be based on what we got from TechCabal . Read and Enjoy and Share this with friends!
On Launch (Remix Mini)
The Device comes in a neatly packaged "carton" colored box with the inscription, "Welcome to the World's first true Android PC". Taking a step further to opening the pack, you would see the device which looks more like a Hard disk drive though with a curvy shape as seen from the image below. The box comes with 3 other gadgets to make your using experience cool like the
(1) HDMI Cable (connecting to a PC really)
(2) A power cord (guess it is for charging) and finally,
(3) A 3-pin DC Adapter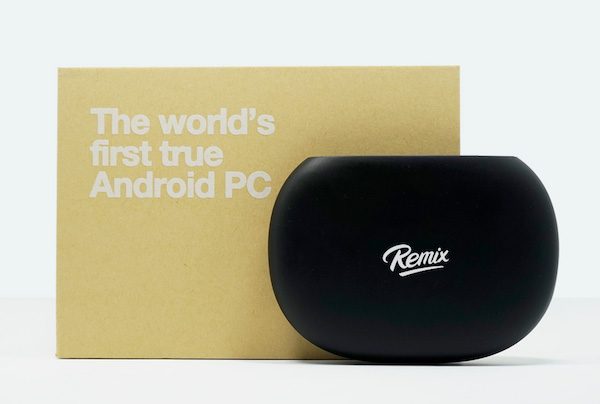 Heading over to the device itself, The device comes with several ports like the DC power adapter , USB ports, HDMI ports for audio and video and a headphone jack for audio input and output. A mini SD port and an external doodad (Really, the device can also browse :) )
On Regards the OS itself (Remix OS)
As soon as you connect the remix mini to your PC, through the needed ports, the device would launch and as reported, it took like 5 mins to connect which is due to updates download which delayed the boot time.

What Version of Android are we talking about Here?
The Remix OS, comes with an Android 5.1 (Lollipop) which makes it pretty cool for anyone who must have used an Android device to understand. I give the Jide (Ja-ide) (Awkk the pronunciation sha :( ) guys a plus  for at least considering the average (Tech inclined) customer who might want to still get the Android feel on his/her PC.
From everything, I think the Remix Mini is a cool stuff though when I first heard about it, I expected seeing a PC that uses the Android OS even when without an external device connected to it but with this, Am just wowed. This is really going to improve computing and now, you won't have any excuse not to use an Android Phone.
Read the full Review from TechCabal by clicking Here

Featured Images: Techcabal.com

Ad: Do You Have a Product You would like be featured on this Website? Shoot me a mail via rapheal[at]androidvillage.com or info[at]androidvillage.com