At first, it was selfies that gain more impressions and likes on social media and other platforms, but currently, social media platforms are been flooded by .gif images and video clips created by different individuals. Videos and GIFs gain more impressions than photos and most especially also earns one some dough when published on specific platforms like YouTube.
Creating a clip for your product(s) seems to be the best online marketing strategy an online digital marketer must adopt, and since video creation and GIFS seems to be a must-do for anyone who wishes to secure a strong presence online, we may be considering the cost of employing a camera man on the need for a clip or perhaps a full video. Definitely, you will need not to worry anymore about this cos your smartphone will do the work of the cameraman more better and conveniently.
Undoubtfully, smartphones pack extremely good digital cameras which deliver quality photos and videos even more than some regular digital cameras. Now, with your smartphone, you can shoot these videos and clips at your convenience and without spending a dime. But then, creating these videos is one thing and editing them to an acceptable point to suit its purpose or gain impressions from the viewers is another. How can one achieve this? this question is what masterminded the creation of this article.
Kindly spend some time and read through my best 5 Android video editors for everyday smart phone user.
My Best 5 Android Video Editors for Everyday Use

From the tons and numerous video creation or editing apps available to phone apps store, I have chosen to feature these one as they're my favorite for editing videos and media contents on my smart phone.
1. Music Video Editor (Developed by Zentertain)
Don't be dismayed by the prefix (Music) in the name, this app one of the easiest video editing app on playstore and very simple to explore.
This app allows you to create, edit and share short videos and clips up to 30 seconds long. It has lots of creative effects and filters to decorate your videos and lets you save some videos privately, only to be viewed by you.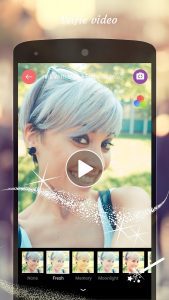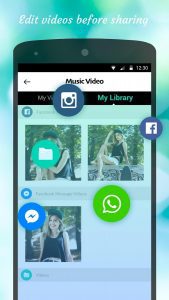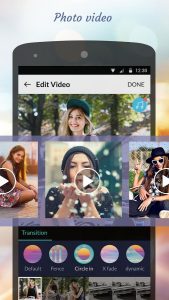 This app is rated 4.3 ? overall in Google playstore and it's totally free (no incurable/hiddencharges). Get the Music Video Editor installed on your Android smartphone and enjoy all the way.
Here are the Key Features of this App:
Simple and easy user interface for fast video creation.
Slideshows.
You can use local songs to make a video.
Add music for your local videos.
Editing operations can be previewed instantly in WYSIWYG way!
Funny dubs help you create an interesting video.
Embedded powerful music search engine.
Creative filters.
Shares your videos directly to your social profiles (Youtube, Facebook, Messenger, Instagram, etc).
2. VivaVideo (developed by Quvideo Inc.)
This is the best video editing app so far. One of the .google Top developers said; "VivaVideo is best video editing, slideshow making, movie making App & video editor/Camera on the Google Play Android market with over 200 million users."
VivaVideo is a powerful video recording and editing app with multiple camera lenses (Basic/Selfie/FX/Funny/Music Cam/Collage) for excellent video creations.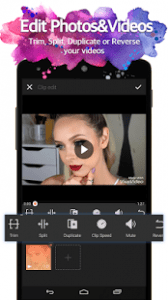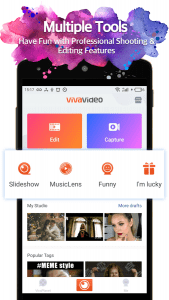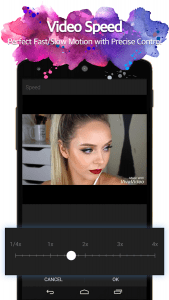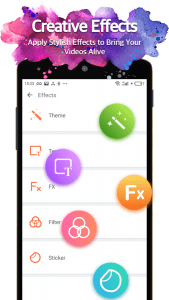 This app is rated 4.6 ? overall in .google playstore with many positive reviews from millions of users. Get this free app into your android device and enjoy awesome video creation.
Features of the VivaVideo includes;
Unmatched video Editor and Slideshow maker.
One-tap Downloading Stylish Effects.
Unique Video Collage Maker.
It allows Video Trim, Merge, Loop, Fast and slow motion.
over 300 FREE impressive video animated effects.
Multiple lens cameras.
3. VideoFX (Developed by FuzeBits)
Mistakenly chose an effect for your video and you've started recording? Don't bother, you can still toggle on effects as you record your video. Also, you can pause an on-going video to resume at any other time.
VideoFX creates wonderful lip sync music videos with special effects. No need for tutorials on video editing for one to use this app, it's easy to operate.
With the VideoFX app, you will create amazing videos that you'll be very proud to share with your friends and followers on social medias.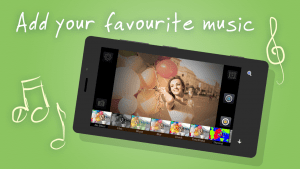 This app is rated 4.1 overall in Google playstore.
Features of the VideoFX app.
Allows you to choose music from your device library to play in the background
Allows use of a microphone.
Over 50 video effects available.
Pause to change effect and scene, then resume your recording.
Fast-Motion Recording mode ("2x" button)
Direct share to social media services.
Built-in player to watch recorded movies.
4. Quik Editor (Developed by GoPro)
Just like the name sounds "Quik", this app lets you create stunning videos in few taps. Simply select your favorite pictures or clips from your device storage, Facebook or GoPro+ and the app completes the rest for you. In a jiffy, it examines your footage for great moments, adds beautiful transition effects, and syncronises everything to match the beat of the music.
With Quik editor, you can add filters, text, music, etc. to your stories and also easily share them with your friends and followers on social media.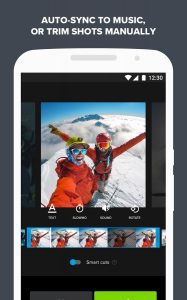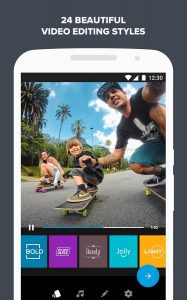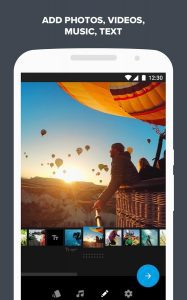 Features of the Quik video editor
Full video customization.
Lets you choose from the default 80+ music in the app or pick a song from your device media storage.
Quik automatically syncs transitions to the beat of the music.
This app scrutinizes your video clips & perform smart cuts were neccesary.
Detects faces & colors in order to frame each photo perfectly.
Easy Save and share.
5. Kine Master (Developed by NexStreaming corp)
KineMaster is the only video editor to pack all the features needed for video creation and editing. It is the last in our list today, but definitely not the least. Professionals and amateurs can use this app efficiently due to the unprecedented level of control over the mobile editing process.
Artists can use the handwriting layer to draw directly on videos.
Read: Kine master's Video layers is only available on some supported devices. Current devices that allows this feature includes; devices with Qualcomm Snapdragon 615, 616, 617, 625, 650, 652 (720p only), Qualcomm Snapdragon 800/801/805/808/810/820, Kirin 920 HiSilicon 3630, Kirin 950 HiSilicon 3650,  Tegra K1, and some Samsung devices with Exynos 7 Octa 7420, Exynos 7 Octa 7580 (720p only), Samsung Exynos 8 Octa 8890. The company promises of more in future.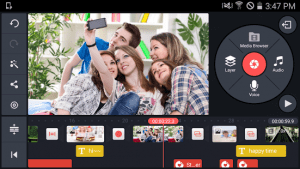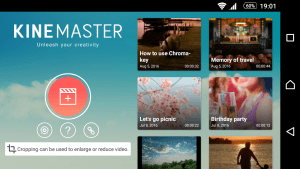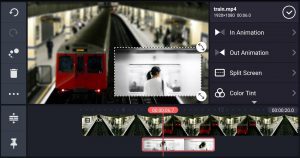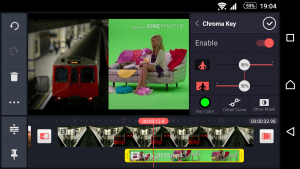 This app is rated 4.3 overall in Google play store.

Features of the KineMaster App:
It has multiple layers for stickers, video, text, images and handwriting in video clips.
Frame by frame trimming, splicing/slicing.
Previews your work instantly at anytime.
Brightness, Hue, and saturation controls.
Speedy controls for video clips.
Fade in orfade out sound.
Exact volume control within a clip from moment to moment .
3DTransition effects.
Instant share on various social platforms like Facebook, YouTube, Google+, Dropbox, etc.
Summary:
There are tons of video editing apps in online app-stores, but these five are my favorite as they can be used by both amateurs and professionals alike. These apps are totally free and available on Google play store.
Got any opinion or suggestion about this article? we'd love to hear it, kindly drop it in the comment section, and if you need help or assistance on this post, we are ready to help out. Thanks for visiting Android Village today.