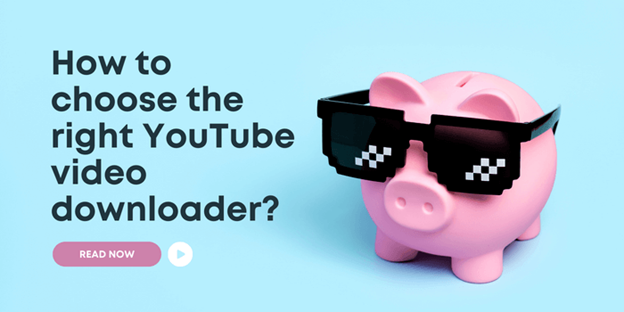 With the existence of so many online video streaming platforms like YouTube, TikTok, Vimeo, Dailymotion, etc, there is nothing surprise that people would like to be able to download their favorite videos from the platforms for sharing and watching offline.
To download videos from the above said platforms, you need online YouTube video downloaders.
While there are no direct options from the platforms to download videos, the video downloaders allow users to download videos directly from the website without depending on any software.
As you all know, whatever it is, there is huge competition, likewise, when it comes to YouTube video downloaders, there are so many to choose from. In this situation, it can be difficult for you to choose the right one among all.
There are so many factors to consider when it comes to choosing an online YouTube video downloader. The factors include the quality of the video, file formats, supporting devices, downloading speed, etc.
So, in this blog post, I will exclusively guide you through the process of choosing the right YouTube video downloader online by discussing the most important factors.
I am damn sure, by the end of this article, you will be gathered with the knowledge you require to choose the right YouTube video downloader.
Keep reading. Let's get started.
Important Factors to Consider While Choosing the Online YouTube Video Downloader

As said in the earlier section, it is mandatory to look for some important factors when it comes to selecting a YouTube video downloader online.
That's what I am going to list in the section.
1. Downloading Speed

One of the important factors to consider while choosing the right YouTube video downloader is the downloading speed. You should look for a YouTube downloader that can download videos from YouTube efficiently and quickly.
2. Device Compatibility

Ensure that the video downloader you are about to try is compatible with the device you use. Some downloaders may only be limited to device's compatibilities such as Android and iOS.
While some other video downloaders support almost all devices.
So, if you want to get one video downloader that is compatible with all devices, I would suggest that you look for VidMeta.
3. Video Quality

The quality of the video you downloaded from the YouTube platform is more important. Not all YouTube downloaders give you videos in better quality. So, ensure that the downloader can download the videos in the exact quality you want.
4. User-Interface of the YouTube Video Downloader

The interface of the downloader platform must be user-friendly. So that you will find the downloading process easy.
Some websites have a very difficult interface as beginners might find it hard to handle the downloading process themselves. Also, check whether some annoying pop-up ads are there.
YouTube video downloader platforms like Vidmeta never put you down by displaying ads.
5. Safety and Security the Downloader Guarantees

Another important factor to consider is the safety and security measures of the downloader. Some YouTube video downloaders may contain malware and viruses. If you use such YouTube video downloaders, then downloaded video files also may come with malware and it does affect your devices.
So, ensure to choose a YouTube video downloader that is highly safe and secure.
6. Customer Support

Even if the YouTube video downloader platform provides an easy interface and the downloading process is explained, you still need better customer support to clarify in case you get any queries.
Make sure, the video downloader provides users with good customer support and has a fine reputation in the market.
7. File Format

Not everyone looks for the same file formats in their video, some expect MP4, while others expect 3GP formats. So, before finalizing the video downloader, make sure the downloader can download the videos in the file format of your choice.
Luckily, most of the online YouTube video downloaders in the market offer video downloading features in almost all file formats.
8. Supported Websites

Every online video downloader does not support all websites. Some only support YouTube downloads while others support YouTube along with Facebook, TikTok, Instagram, etc…
So, it is advisable to check if the video downloader platform you prefer supports the websites from which you want to download videos.
Final Words

By taking the major 8 listed points into consideration, I am sure that you can choose the Right YouTube video downloader to download videos from the YouTube website.
And never worry about the cost factor, you do not need to spend much as there are a lot of good video downloaders available in the market.