4K is currently the highest quality you can get, and online streaming platforms such as YouTube now support 4K video uploads. This means that it is possible to download a video from YouTube in 4K quality. However, this cannot be achieved with conventional online video downloaders; you need a video downloader that supports downloads in 4K quality.
While there are so many good tools out there that allow you to download videos from YouTube and other video hosting platforms, 4K Video Downloader happens to be one of the top best options you should use. The software is simple-to-use and supports many features you'd love to exploit.
4K Video Downloader Overview
As the name implies, 4K Video Downloader is a software tool that allows you to download online videos in 4K quality. It supports downloading YouTube Playlists, YouTube Mix, and virtually anything you'd find on YouTube. The software is available across platforms – Windows, macOS, and Linux.
4K Video Downloader has an intuitive interface that anyone can easily understand. Furthermore, it can download private videos, 3D video content, 360-degree videos and goes on to supports a wealth of handy features.
Top Features of 4K Video Downloader
Here are the most impressive 4K Video Downloader features, which makes it one of the best choices for internet users.
1. Unlimited Online Video Downloads
With this software tool, you can download videos from various platforms, including Youtube, SoundCloud, Daily Motion, Facebook, etc. Interestingly, there's no limit to what you can download with this tool.
2. Download Private YouTube Content
The 4K Video Downloader allows you to download private YouTube videos without even having to sign in or sign up for a YouTube account.
3. 3D and 360-Degree Video Download
This software app allows you to grab stereoscopic 3D videos and save them on your computer. 4K Video Downloader is capable of downloading 3D Youtube videos in different formats. It also supports 360-degree videos; hence, you can use this tool to download virtual reality videos.
4. In-App Proxy
The built-in proxy settings allow you to configure your network connection to access restricted content on supported platforms.
5. Smart Mode
Smart Mode allows you to set up default configurations for faster online video downloading. It allows you to set a default format, quality/resolution, and other quick settings for faster downloading.
How To Use 4K Video Downloader To Download 4K Videos
On a quick note, 4K Video Downloader features a minimalistic interface that makes it very easy to use.
First Step:

To get started, you'd need to download the software from the developer's official website. Afterward, launch the installer file and follow the on-screen prompts to install the app on your PC or MacBook.
Second Step: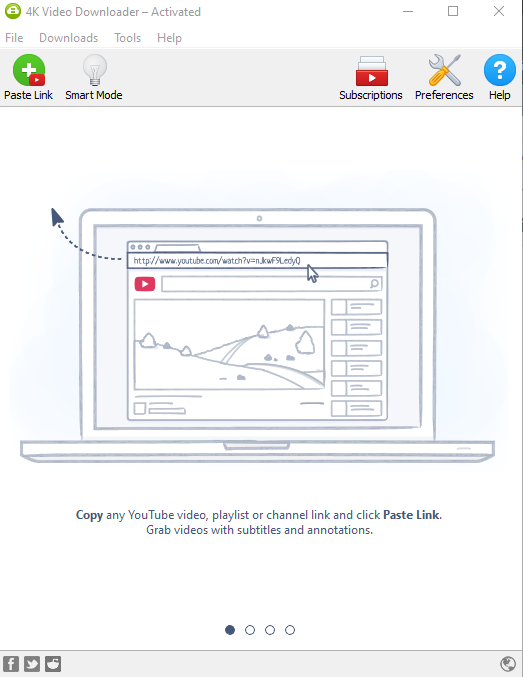 When the app is successfully installed, launch it. Now, visit YouTube or any other online video hosting platform and copy the video/channel/playlist link you want to download.
Third Step: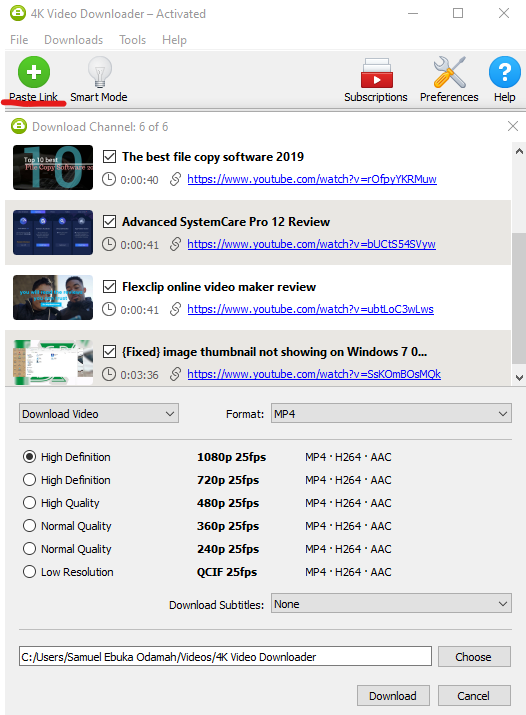 Click on the "Paste Link" icon on the 4K Video Downloader interface, and the link would be pasted automatically. However, if you've pasted a YouTube channel link, the app would parse the link and display all the videos uploaded to the channel.
Fourth Step: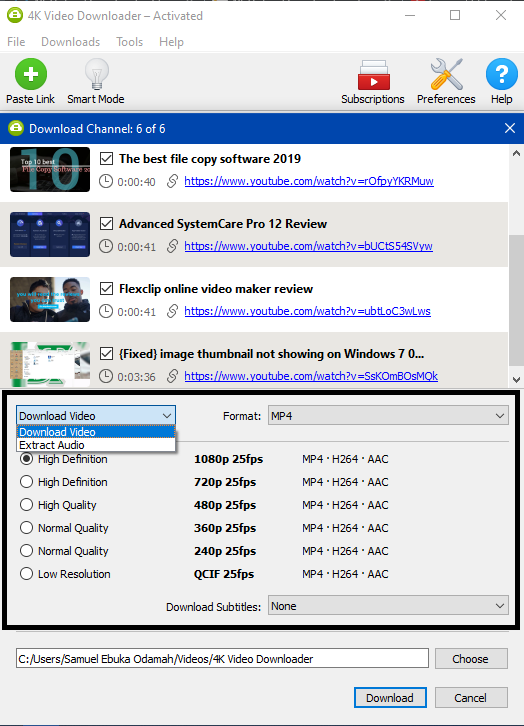 Choose the parameters to download your video. This includes choosing an output format and output quality. Also, you will have to choose between downloading the analyzed content in video format or extract the audio.
Fifth Step:
After you have selected your chosen format and resolution, you can go ahead to hit the "Download" button and have the video(s) downloaded to your preferred storage directory.
What More?
These steps apply to downloading content from YouTube or any other online video-hosting platform. More simply, you need to copy the link to the video you want to download, paste it on 4K Video Downloader, choose an output formation and resolution, and then click the download button.
Also, there are lots of interesting tutorials on the 4K Video Downloader website for the many things you can do with this handy tool.
4K Video Downloader Pricing
Actually, 4K Video Downloader is free but with some obvious limitations. To enjoy all this tool's features, you will need to upgrade to the Personal version for $15 or the Pro version for $45. Either way, you can download high-quality videos with it.
Summary
4K Video Downloader makes online video downloading easier and more flexible. It supports various languages, including English, Deutsch, Français, Italiano, Español, Nederlands, Русский, Polski, etc. This software runs smoothly on Mac and Windows PC. Undoubtedly, it is one of the best video downloading software you can ever use.