TaiHe J-611 Mp3 Player with Digital FM Radio
$13.00
Summary
TaiHe J-611 Mp3 Player with Digital FM Radio is a portable Mp3 Player with Digital FM Radio.
TaiHe J-611 Mp3 Player with Digital FM Radio is a multimedia player with incredible sound and audio quality. I decided to write a short review as well as give some tips that will help you get the best from the TaiHe J-611 Mp3 Player.
In the Box
There isn't many things to pick from the box except for a USB cable (that serves as the charger) and the Line in – external audio input cable that allows one play and/or amplify media played from a smart phone, personal computer (PC) and PDA(s).
TaiHe J-611 Mp3 Player isn't bundled with any charger but can be charged via a computer, multiple charger and/or any charger that supports USB cables.
  The Review
The audio quality of TaiHe J-611 Mp3 Player with Digital FM Radio is quite incredible; you could hardly believe such bass, HiFi & clear sound is coming from this tiny device.
The line-in external input audio signal jacks is another feature that makes this device awesome; you can connect it to phones, tabs, PC and other electronic devices.
The FM radio is clear, so is the media played from SD-card and other digital devices, the multimedia buttons functions normally and suits the portability of the Mp3 Player.
The battery life is the Achilles heel of TaiHe J-611 Mp3 Player, it is a far cry from what you'll call a portable media player.  It couldn't last for half an hour on full volume blast – I charged again to try my luck without success of any kind.
I doubt the charger does any good to it (except with the tweaks below) as it hardly last for 25 minutes on full blast after charging (via a PC) for hours.
The Tweak
The battery life of the device (TaiHe J-611 Mp3 player with digital FM radio) really frustrated my eagerness to enjoy it until I found some work-around that worked for me.
It usually comes with a 1000 mAh BL-5C Li-ON Nokia battery, but this battery didn't serve for more than 30 minutes on full blast – so I decided to go for a new one.
I went for the Original Nokia batteries (fairly used) that usually sell for NGN800 and a multiple charger with USB cable support.
Charging via PC or even the USB port of the multiple charger was obviously an effort is futility so I decided to connect the battery directly to the multiple charger and charged to 100%.
This was a quick solution to the play time as I can now enjoy the device for hours interchanging the fully charged Nokia batteries.
You can also play music or listen to FM radio using direct current (when at home, hostel with power supply).
The Features and Function Buttons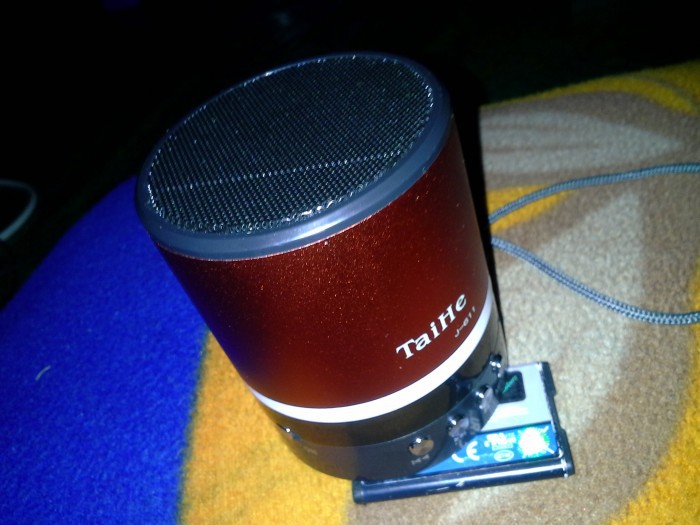 FM Radio (frequency 87.5-108MHZ) => with auto-scan feature
USB (U disk socket) => Accepts USB sticks and data pen
TF/MMC card slot => Accepts sd-card and can resume audio playback
MP3 player with audio clarity and high bass
Prev/Vol- => short press for the last song, long press for volume reduction
Play/Pause => play /pause (in radio state short press to auto search and memory)
Next/Vol+ => short press for the next song, long press for volume increment
Line in => external input audio signal jacks
On/Off => power switch
DC in 5V => DC5V input jack
Price and Summary
TaiHe J-611 Mp3 Player with Digital FM Radio is sold in Nigeria for NGN2,500 and can be purchased for less in major eCommerce shops around.
I do not recommend this device for any reason (it can complement your Nokia s40 and feature phones though), I'd rather go for a Bluetooth Multimedia headset with Mp3 player, FM radio and memory card support.
Except like me, you do move around or have friends you sit with all the time – entertaining the gathering with a blast from the Mp3 player will be unavoidable in this case.