Well, doing par-time jobs online is also known as freelancing and its a sure way people can make money online. In fact, its so simple to get started with and anyone can do it. But before you jump in and start your freelancing career, there are some things you should know about freelancing. If you miss this, then your freelancing career online may never make you as much as you should earn.
Recently, I published an Article about The Top
Five Places To start your Freelancing Career Online
. It is an article that would teach you as a newbie the right place to go to become successful as a freelancer. I recommend you read it to know where to go after reading this article. So here are some things you should Know about freelancing
Not Everyone Can Become A Freelancer Online
To be a freelancer online, you have to have a marketable skills, be able to provide a service or have a product you want to sell. The skill could be article writing, web design, graphic design etc. If you are looking to become a freelancer, you need to gather your resources and think about what service you would like to provide as an individual or a company. Have in mind that success as a freelancer doesn't come over night and you need to put effort into it. And the competition in the freelancing industry is fierce so you need to be better than good to succeed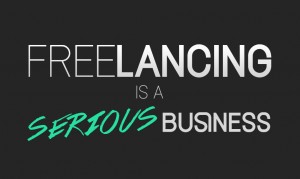 You Have No Boss, But you still work for others
As a freelancer, you don't have any boss to tell you what to do, when to work and who to work with. You get the liberty of hand picking your clients and even proposing how you want to do the work. But after you are given a contract, the contractor expects you to deliver as you have initially agreed. You work for the person and deliver what he desires. On most freelancing websites, you don't get paid until the contractors states that he is satisfied with your work. The good thing is that you can work in your pajamas or at your leisure, just make sure you get the job done. Delaying delivery or not meeting deadlines is very bad for your freelancing career.
Must Read: Four(4) Ways To Make Money Online
You Have To Take on Job You Don't Love To Do
Freelancing is more than just going online and doing things you only love to do. Although its a good thing to do what you love and focus on what you can do best, but you could have yourself missing out on a large part of the cash in freelancing if you only bid on things that you love doing. Every now and then, bid on jobs that are not entirely related to your field. Just be sure you can do it. Let's say you are an article writer, you can take on task like Blog Promotion, Forum posting or something similar. Do not go bidding on programming or something you totally have no clue about. What you should have in mind is there are many jobs on freelancing websites that anyone with no professional skills can perform, bid on those types even if they are not what you would love to do
What You Write On Your Profile Matters
Look, your profile is the only chance you get to sell your self as a freelancer so see your profile as your resume. If you want to apply for a job in real life, would you leave skill you possess out of your CV? I didn't think so too. Same with your profile as a freelancer. Mention every task you have completed, every certificate, every job you have ever done. There's always enough space for that. On most freelancing sites, there is a place for cover letter on your profile. This tells the contractor what you are about. That is the main sell and you need to write it wisely. When you write it, make sure it is dead straight to the point. Don't make it look like you are selling your self by saying this like "hire me and you would be satisfied", just state your skills. For instance "I am a professional website development and certified in PHP scripting. I am also excellent with all content management system platform…" It should be 5 – 7 lines at most.
Being a successful freelancer may require you to put in time and effort in the beginning, but as time goes on it would get easier and you start reaping the rewards for the hard work you put into it in the beginning.
Share your opinion and let others know what you think. Leave a comment below