If like us, you run a Bitvise SSH Server or uses Bitvise SSH Client (Tunnelier tool) for your day-to-day tasks; then this tutorial is for you. It is about the easiest and proven method to use Bitvise SSH Client and Server on Mac OS and/or Linux machines.

If you aren't opened to untested Bitvise alternatives for Mac and wouldn't like to miss some of Bitvise favorite features like: Reverse proxy and local proxy forward, Secured IP tunneling, Remote access, secured file transfer, and terminal shell, then this is the right way to go about it.
1. Download Wine
Wine is one of the best method to run Bitvise SSH Client on Mac. With WineHQ app, you can run Bitvise SSH/SFTP client and server on Mac OS X, Linux, Android and other popular operating systems.

To download wine app, simply visit their official download page and select the versions that's applicable for your computer machine.
Note: Wine is an app that creates a compatibility layer that makes it possible to run Windows applications on several POSIX-compliant operating systems, such as macOS, Linux, and BSD. There's a downloadable setup for MacOS, Android, Debian, Ubuntu, Fedora, Mageia, and FreeBSD.
2. Download Bitvise
Once you're done downloading the WineHQ app, the next step is to download Bitvise SSH Server or client.  You can do this from the official download page of Bitvise.

Take note of where the setup file is saved as you'll be using that in the third and last step below.
3. Install, Configure and Use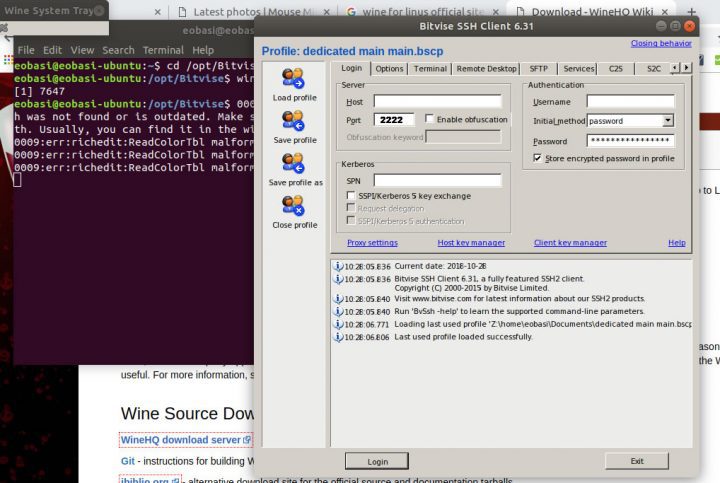 This is the last step to use Bitvise on Mac and Linux Machines. Here, all you'd need do is – run the setup for Wine and Bitvise, ensure they're installed correctly, and then launch the Bitvise SSH client interface and start using.
Note: You can use your VPS details to login from this window or any that's provided by your server administrator.
Alternative Methods
If for some reasons, you aren't comfortable with WineHQ, other good options to go with are listed below for your perusal. They are:
Virtual machine
Parallels Desktop (www.parallels.com)
Win Emulator and VirtualBox
Among all these options though, Wine is my favorite as it works without any complicated setup instruction or time-tasking learning curve.
Still have a challenge with using Bitvise SSH client/Server on Mac devices?
Let us know about your questions and/or challenges in the comments section below.