Yea, it has happened. The long awaited update by the World's 2nd largest Social Network Whatsapp after facebook and yes, Whatsapp would now offer end-to-end encryption.
Reports has it that WhatsApp has finally agreed on its multi-year long effort to bring end-to-end encryption to all of its service. Now just in case you are beginning get it twisted:
End-to-end encryption (E2EE) is a system of communication where only the people communicating can read the messages. No eavesdropper can access the cryptographic keys needed to decrypt the conversation, including telecom providers, Internet providers and the company that runs the messaging service.Surveillance and tampering are impossible because no third-parties can decipher the data being communicated or stored. For example, companies that use end-to-end encryption can't hand over texts of their customers' messages to the authorities.
Though the End-to-End encryption have actually been on for a while now, it was restricted to just Android Users. But with this, All devices that support the Instant Messaging app would be coming with this feature.
Actually this feature seems to be looking great as No one can get details about anything you do on Whatsapp, it might be bad on the government who would always want to know what is going on among individuals or track your conversation as an evidence for their action. Hackers might actually parade this feature, don't know how but then…
How to Get the Whatsapp End-to-End Encryption Update
By default, the end to end encyption feature is turned on, You might need to download the latest version of Whatsapp to see this in action.
Actually, you might not be expecting your conversations to work as at this initial launch since not everyone you chat with would have the latest version of whatsapp. But the cool thing is, Whatsapp will notify you when your conversation becomes end-to-end encrypted as you would see a warning bar when you start a conversation as displayed in the image below.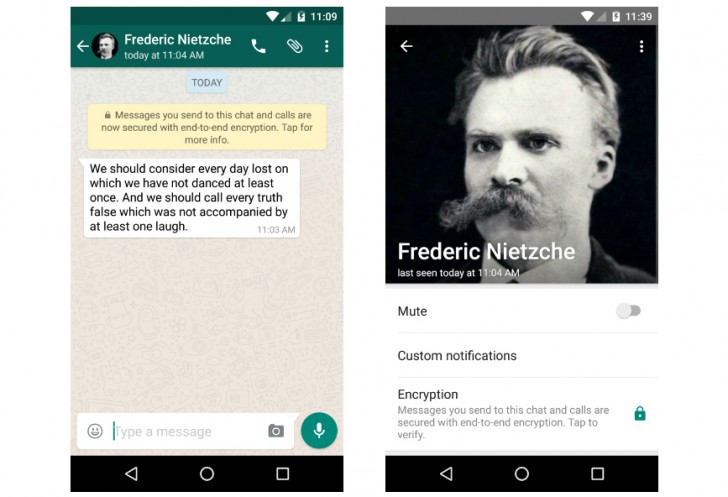 You also get a chance to turn off and on the end-to-end encryption feature as displayed in the image by the right.
What do you think of this new update? Cool or Nay?