There have been a lot of comparison lately from most Analytics firms  and this time, it is from the guys at Similar Web, which happens to be the digital analytics firm that analyzed Android data from a total of 187 countries. As reported by them, guess who came first
WhatsApp!
I am not surprised on regards this, as they,  (WhatsApp team) have in so many occurrences proven to us that they know what users want. The number of countries where this Facebook-Owned instant Messaging app lead  attested to this fact.
Some among the list of countries where the Facebook-owned messaging service leads are Brazil, Mexico, India, Russia, and many other countries in South America, Europe, Africa, Asia, and Oceania.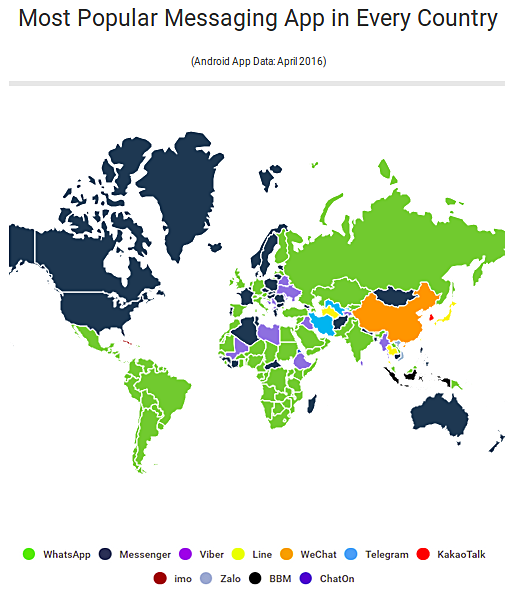 Next is Messenger, which happens to be a Facebook Owned Instant Messaging app but this time for the Facebook platform alone claiming a total of 49 countries including Australia, Canada, and the US.
The image above should give you a glimpse of the 2016 Most popular instant Messaging reports.
Though i don't have issues with the list, I still think the BBM team would need to get their odds right considering the rate at which they dropped and also following the fact that the BBM app is  supported on all devices, including Android Devices, something might be going wrong somewhere which needs to be fixed.
As seen above, the BBM App is only popular in Indonesia, but it has a market share of 87.5% there.
What is your take on this?