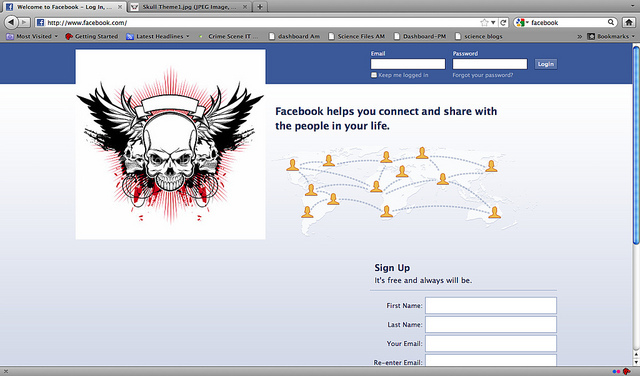 A recent massive cyber hack as reported by cnn.com has compromised the account of over 2 million users of the popular social media platforms around.
Over 300,000 facebook account details alone was reported to have been breached by the hackers who installed malicious keylogging software in several computers all around the world.
Cyber attack isn't really something new, but has been seldom in recent years. This attack should not only be a serious concern to facebook users alone as gmail, google+, youtube, twitter, linkedin, ADP and even a popular Russian social network (Odnoklassniki) account details was stolen by the hackers.
The breakdown of the total accounts compromised in the various social networks is reported to be in this very order;
318,000 Facebook accounts
70,000 Gmail, Google+ and YouTube accounts
60,000 Yahoo accounts
22,000 Twitter accounts
9,000 Odnoklassniki accounts (a Russian social network)
8,000 LinkedIn accounts
8,000 ADP accounts (ADP says it counted 2,400)
In the wake of this attack, I will like to remind you of the need to use different passwords for every of your account, this is necessary because, a stolen credential can be used to access and mess up your other important accounts.
There are dedicated software that can help your to store your passwords securely, with then you can easily change your passwords monthly, quarterly or even yearly without bothering about the need to memorize them. One of them is LastPast that I reviewed in my previous post here, it can really come handy in times like this.
We also noted from the report that the hackers were able to gain access to 41,000 credentials used to connect to File Transfer Protocol (FTP, the standard network used when transferring big files) and 6,000 remote log-ins.
The hacking campaign started secretly collecting passwords on Oct. 21 by installing keylogging software ( a keylogger is a computer program that records every keystroke made by a computer user, especially in order to gain fraudulent access to passwords and other confidential information.) in several users computer and there is also a possibility that the attack is still ongoing.
Facebook, Twitter, LinkedIn and ADP are already aware of the massive cyber attack and  have gone ahead to reset passwords for compromised users.
The top best way to keep yourself away from the attacks should be by installing an all-round, 360° solidly-secured internet security program.
Another is by updating to the latest version of browsers and add-on, doing necessary patches for core software and applying the tips I detailed in my previous post on what to do when infected by a virus.
Image credit: flickr.com