Anime movies are not going to stop being popular any time soon: While a good number of people view cartoons and animes as movies for kids and teenagers, many adults still find such movies interesting – well, I'm one of those adults that still love anime and cartoons (chuckles)🤭.
Watchcartoonsonline.org used to be the best place to find and stream interesting anime titles and episodes. However, the website is no longer online; if you once relied on it for online cartoon streaming, you'd have to resort to these similar websites. Here are some closely related watchcartoononline.org alternatives.
The 20 Best Watchcartoonsonline.org Alternatives to Watch Free Anime Online
Here are 20 of the best Watchcartoonsonline.org alternatives that truly work! While these alternative websites may not offer an extensive library like Watchcartoononline.org, they host a decent number of episodes and titles to keep you entertained for a very long time.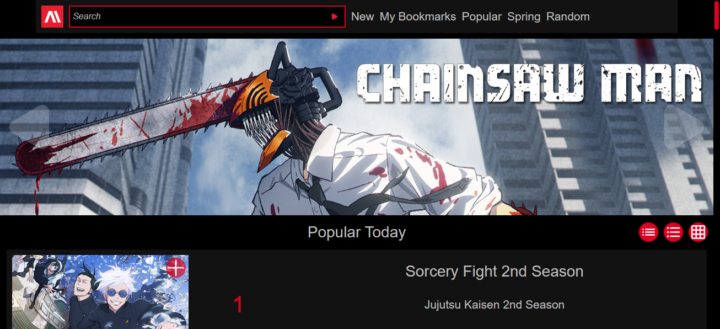 AnimeHeaven is a website you can access from any region of the world. It is one of the biggest websites that hosts subbed anime episodes. On the website, you'll find both new and old anime series titles; plus, there are menus to help you quickly navigate.
The search bar lets you look for specific anime titles or episodes you'd love to watch. Overall, the website offers top animes and you'd be able to follow up with the subtitles. One thing you may not love about this site is the pop-up ads it serves.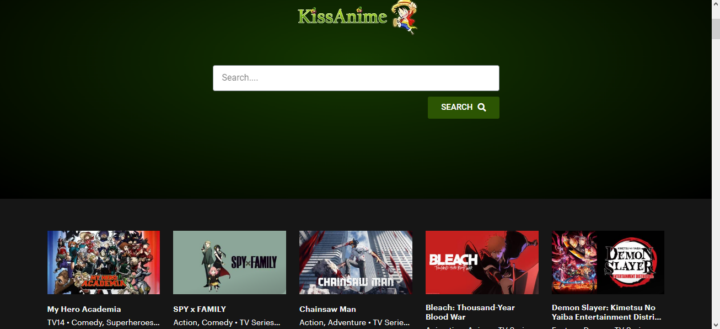 Literally, Kissanime is the "Netflix" for anime and cartoon lovers. The website offers an extensive library of anime series and cartoon episodes you'd love to watch over and again. Apparently, the website can be accessed from anywhere in the world and the interface is easy to navigate.
The first KissAnime website has gone offline, but a new rebirthed version has surfaced – featuring a similar interface and a plethora of anime titles. All cartoons and animes on KissAnime are available for free and can be streamed on PC or mobile. There is a separate category for "Cartoons."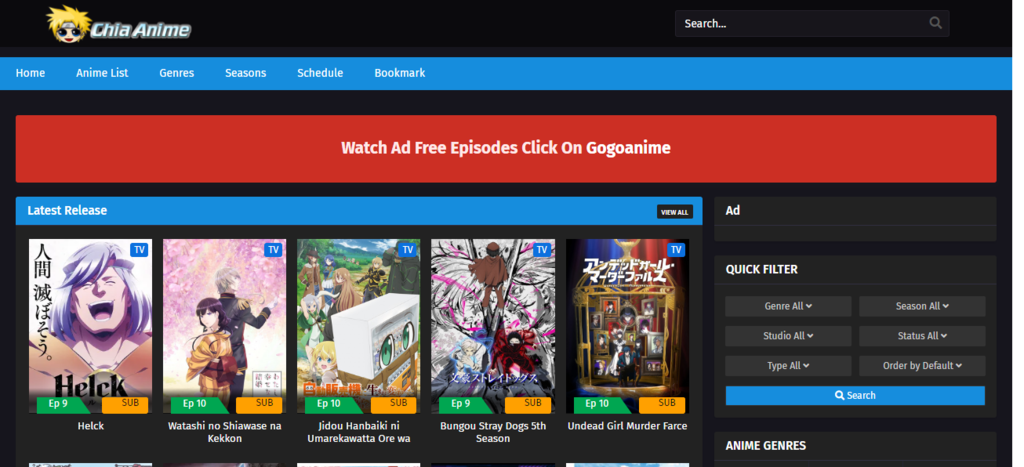 Chia-Anime is a well-organized cartoon/anime website you can access from any part of the world. It is a go-to resource for seasonal anime titles and global hit episodes. The Chia-Anime website lets you quickly navigate to find your favorite episodes, thanks to the many filter options available.
On this website, you browse animes based on genres or alphabetically. Also, the search bar is well visible so you can look up specific titles. Chia-Anime offers top anime and cartoon titles from around the world. There are lots of episodes to catch up – you'd never finish all that Chia-Anime has to offer as new episodes are added regularly.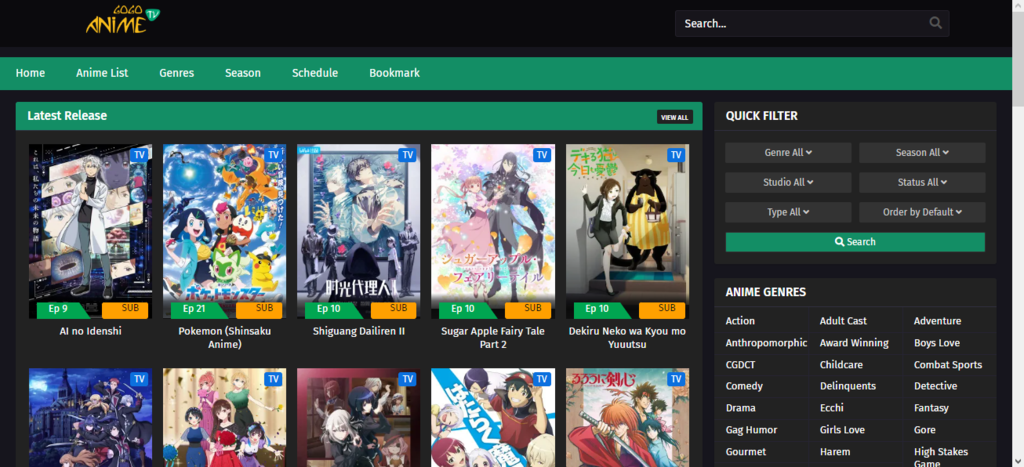 Gogo Anime is a much similar website to Chia-Anime and it lets you stream ad-free anime titles. The website is also accessible from any part of the world – you don't necessarily need a VPN.
This website lets you browse top anime collections – sorted into genres and categories for easier access. The Gogo Anime website hosts seasonal animes and new episodes are added regularly.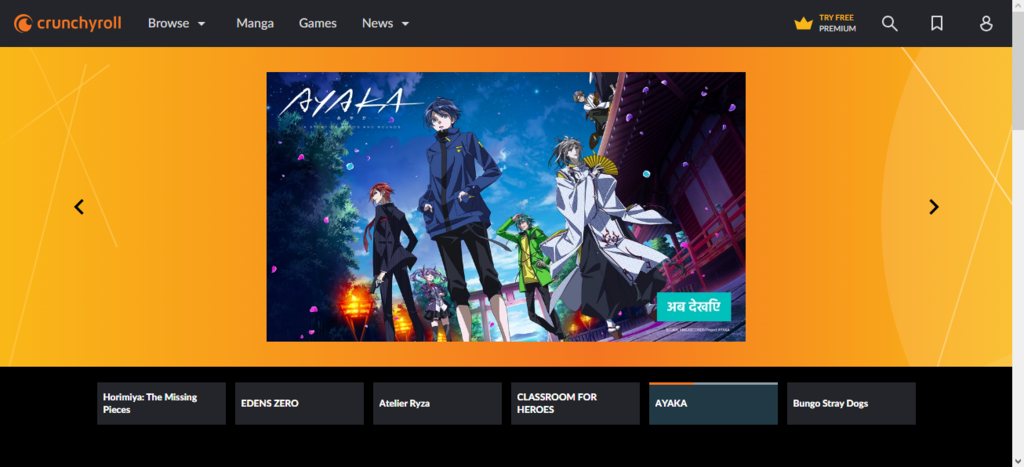 Crunchyroll is more than just an anime streaming website; it's a whole resource for cartoon and anime lovers. Offering Japanese manga series, cartoons, anime titles, and even anime stories, Crunchyroll is one of the best alternatives to watchcartoononline.org. The Crunchyroll website is intuitive and easy to navigate.
However, Crunchyroll is not entirely free. Yes, there are anime and cartoon movies you can stream for free on the website, but to get the most of the site, you have to subscribe. You'd get a 14-day free trial if you're a new subscriber. Crunchyroll also offers games and histories of anime characters.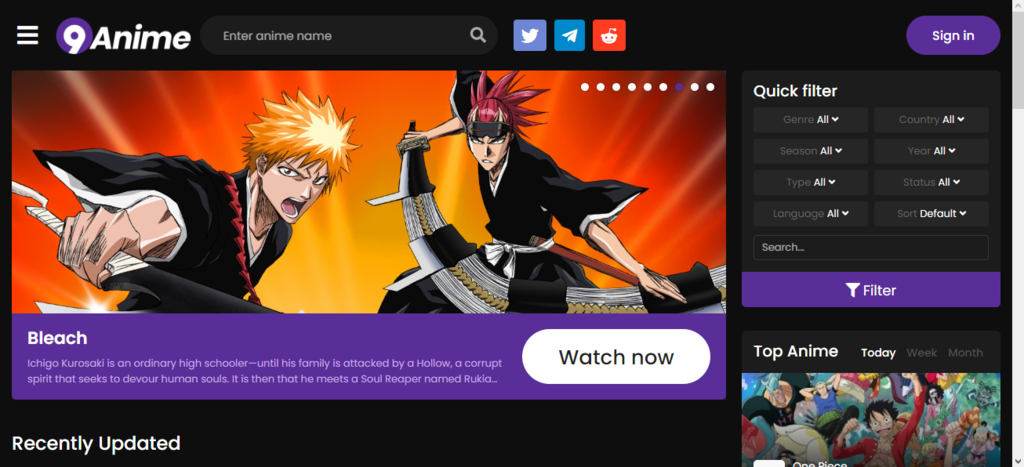 Among the reasons to make 9anime your favorite online anime streaming website include its offering of SUB and DUB anime. 9anime is a go-to streaming website when looking for where to stream trending and newest anime movies for free (with ads).
On 9anime, you can follow up on ongoing series; plus, the website is mobile-friendly and supports casting via Chromecast. This means you can cast your streams to bigger screens (your TV) all for free.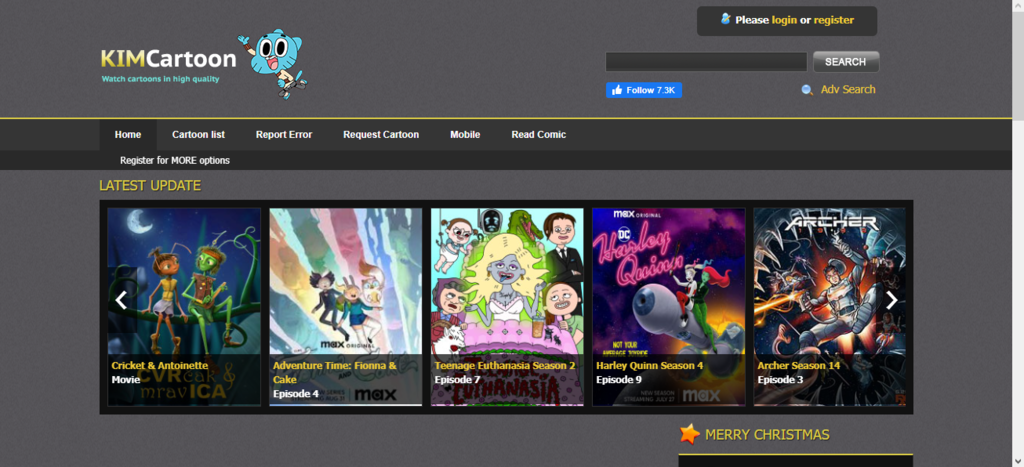 Although the name gives you a hint that this website might be offering only cartoon movies, the site actually offers trendy anime titles. Notwithstanding, there are so many interesting cartoons to catch up on KimCartoon and the website is accessible from any region. KimCartoon also lets you read comic stories online, which are quite interesting too. This is a useful resource and a handy alternative for a cartoon lover.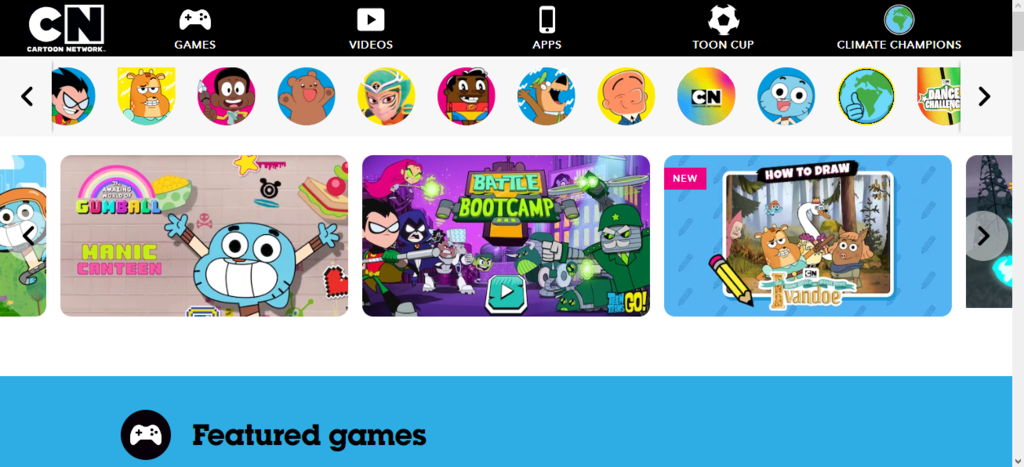 Obviously, Cartoon Network is home to hundreds of thousands of cartoon titles and series. The website is well-designed for swift access and navigation. You can quickly find any cartoon episode you wish to stream. More interestingly, you can choose cartoon series to watch based on popular characters.
Cartoon Network also offers games and quizzes to keep kids engaged for as long as possible. When talking about watchcartoononline.org alternatives, Cartoon Network is one of the closest. You can install the mobile app on your smartphone or smart TV to keep up with your favorite shows.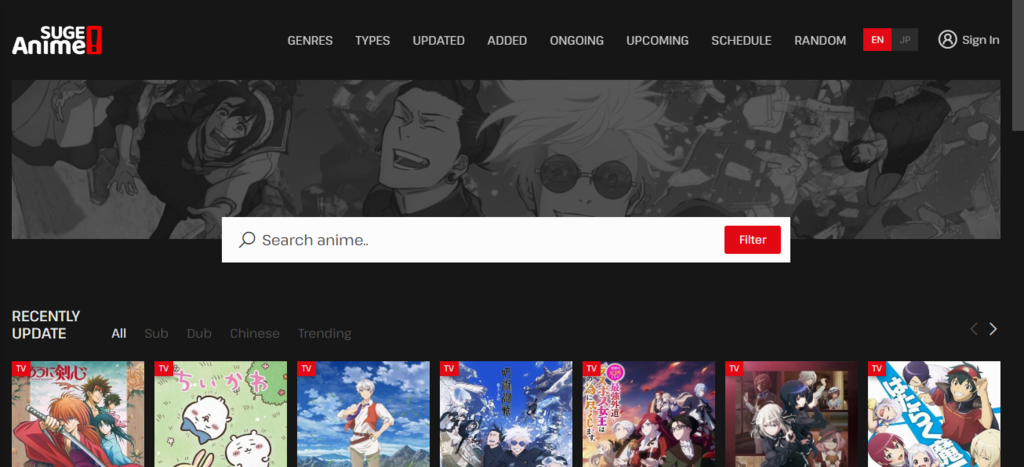 The main AnimeSuge website is off the internet – it used to be one of the best places to stream anime online. However, there are mirror sites that seem to bring back the offerings of AnimeSuge. On the new AnimeSuge website, there are many navigation options to help you quickly find interesting animes you'd love to watch.
Also, there's a clearly visible search bar for you to look up specific titles you have in mind. Streaming anime on this website is free (with ads) and there are lots of episodes to catch up with. Create an account and sign in if you want to explore all the features of the website, but you can stream without signing up.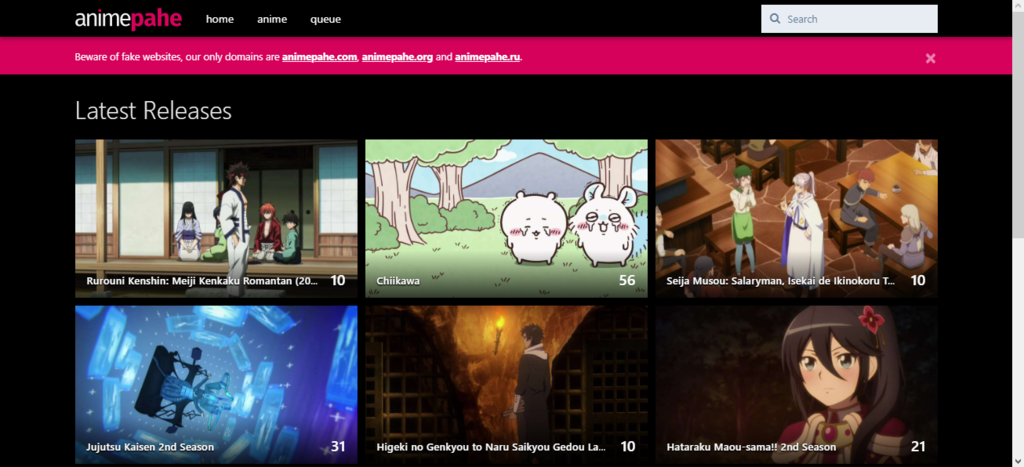 Going on with this list, AnimePahe is a website that updates its anime library quite frequently. Here, you will find the newest releases for popular series and titles. The website offers 720p quality and 1080p, so you get to choose your preference. Of course, there's a lower resolution too. Streaming anime on AnimePahe is smooth and seamless. However, the website doesn't offer a vast library compared to most other ones on this list.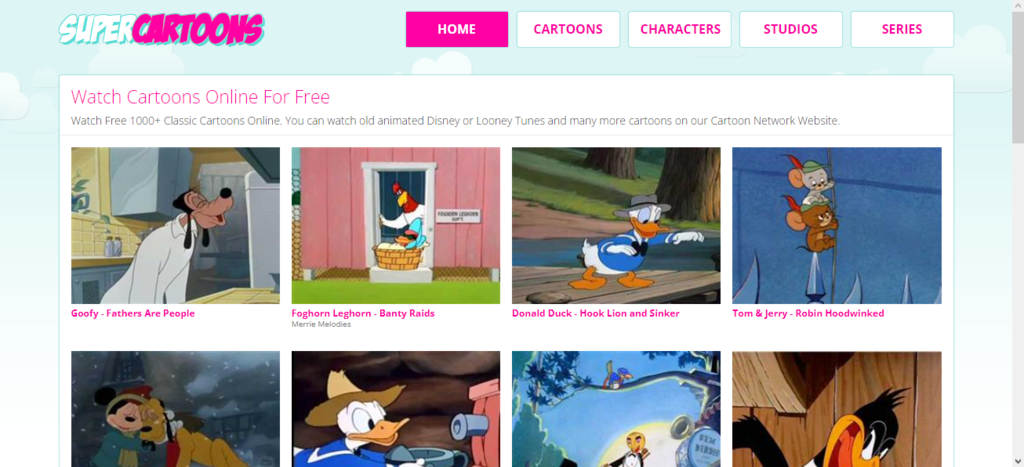 Super Cartoons is a place to find old-time classic toons from Disney, Looney Tunes, and other cartoon publishers that rocked the 90s. It is a super-intuitive website that loads pretty fast on any device. On the Super Cartoons website, you'd find blockbuster Tom & Jerry episodes that would crack you really hard.
Aside from allowing you to stream old-time classic cartoons for free, this website lets you learn more about popular cartoon characters and follow-up series. Love Scooby Doo? It's available for free streaming on Super Cartoons. You can switch to "Studios" and view cartoons from a particular studio like Warner Bros, Looney Tunes, Walt Disney, and others.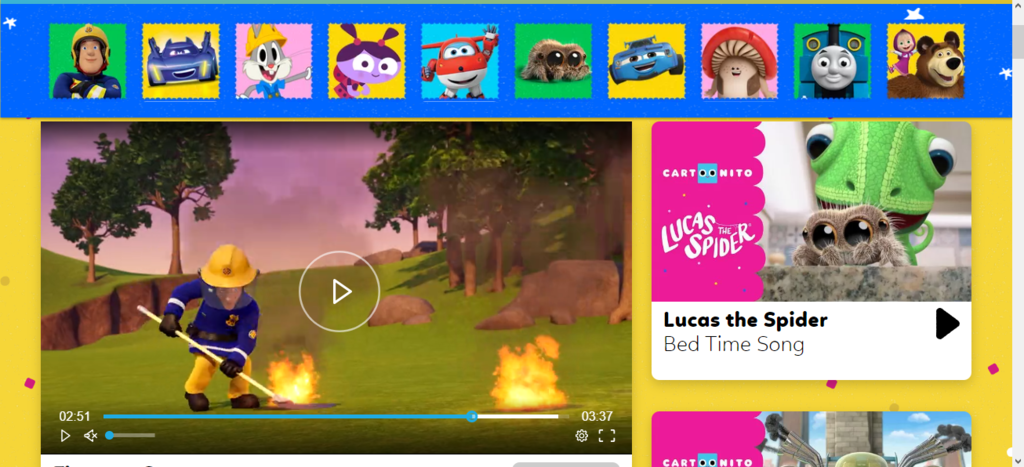 Cartoonito is a bit different from other websites here. It is a somewhat Cartoon TV channel for kids to watch different types of cartoon programs. The website also offers cartoon games and learning resources for children and teenagers. You can access the Cartoonito website from anywhere around the world; more so, the site offers stunning HD quality for all streams.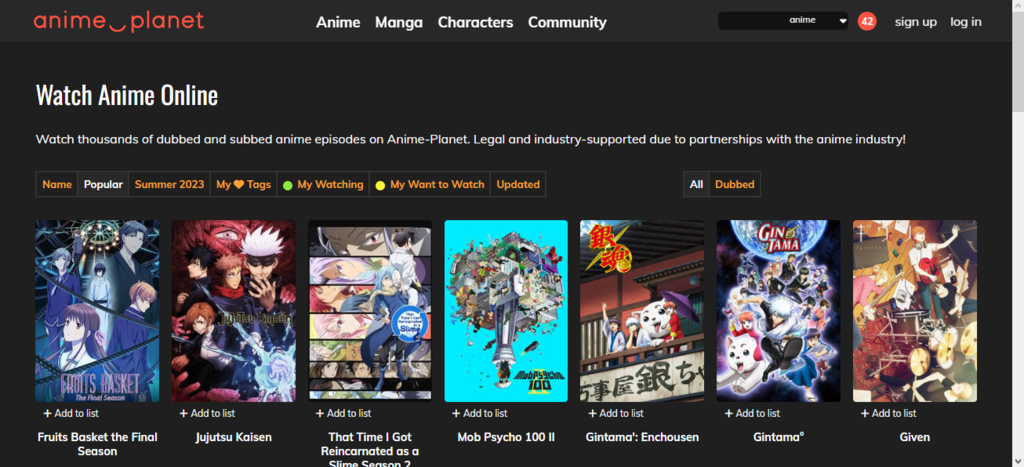 The name gives it away and you already know what to expect. Anime Planet is one of the best places to stream anime titles, and shows, or read Japanese manga series. This website has quite a versatile library, well-arranged in a way that you can quickly find any anime movie you want to watch. You can sign up for an account to save your favorite animes so you can come back and rewatch them easily. Dubs are also available in different languages.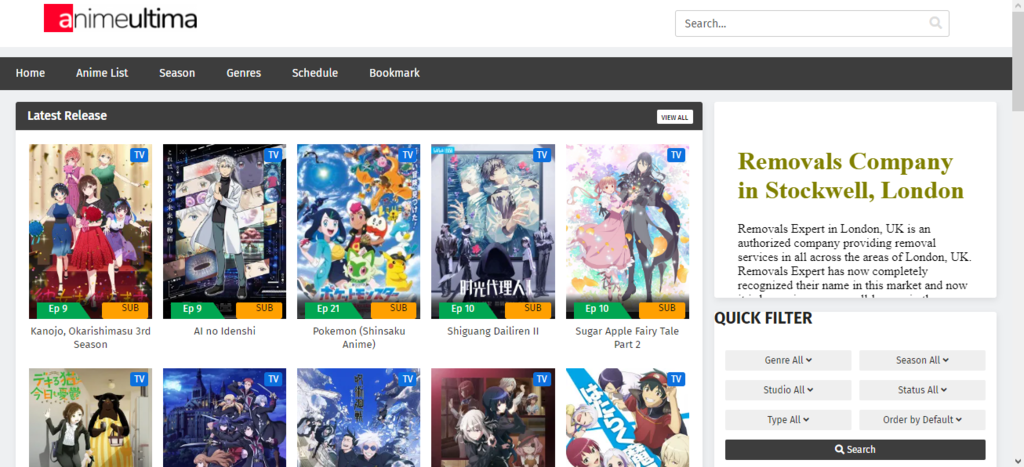 Anime Ultima is yet another website worth noting; it is one of the reliable places to find subbed animes of different genres and types. The website uploads completed and ongoing series; there are lots of episodes to watch at any time.
The Anime Ultra website is pretty easy to understand and navigate. Also, you can search for specific anime titles. How many anime seasonal series can you complete in one month? There are hundreds of them on Anime Ultima.
Similar to 9anime, this website is a multi-library anime hub with over 10,000 episodes to offer. Just as with other websites mentioned here, 4anime lets you stream anime episodes for free; there's no limit to the number of streams you can make each day. The website is well arranged so you can locate your favorite titles more easily; there's equally a search bar for site-wide lookups.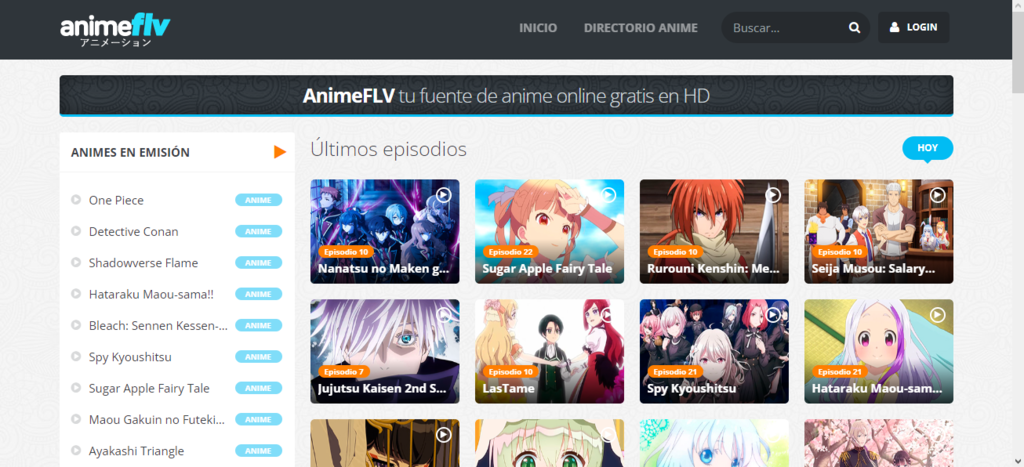 AnimeFLV provides a plethora of anime episodes you could stream for free on any device, regardless of your location. The website does not offer cartoons, but it does offer a library of thousands of anime episodes. One thing you may not like about this website is the fact that the website isn't available in English.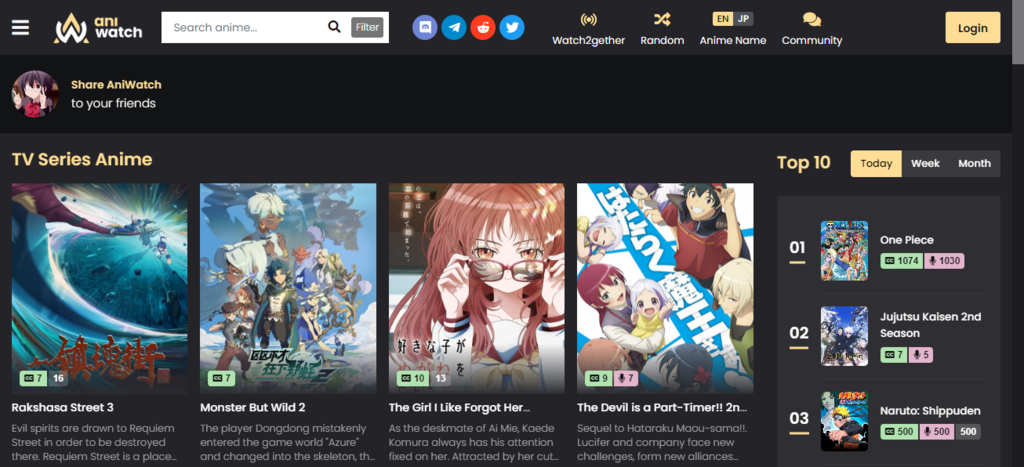 AniWatch is more than just a website to stream anime movies; the website offers many other useful features such as a community to meet like-minded pals and "watch2gether" to stream along with a friend. Also, the website ranks anime episodes weekly, so you can check out the top trending weekly animes.
Of course, you can stream without signing up for an account, but when you register, you get to explore the full features of the website, as well as engage in the community. AniWatch is accessible from any part of the world and the website is quite intuitive to navigate across devices.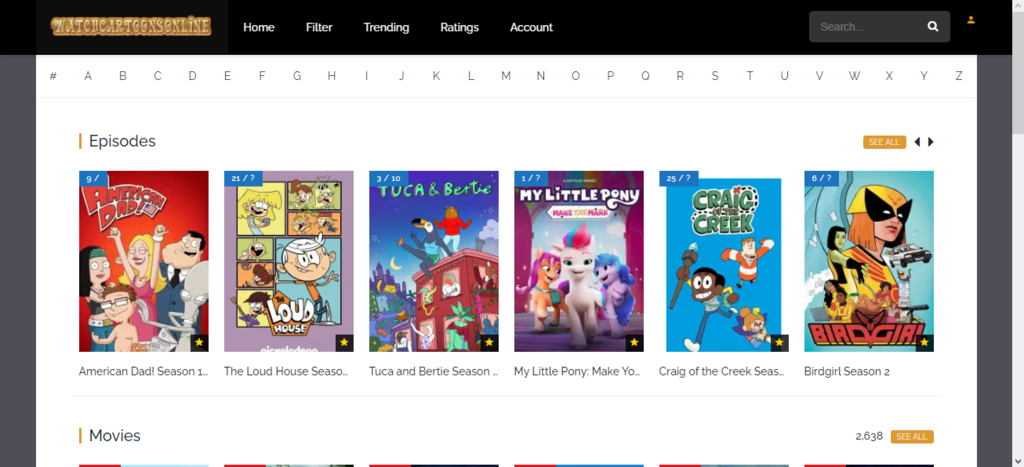 As the name implies, this website lets you stream thousands of cartoon episodes on your phone or PC. It is a reliable source for virtually any kind of cartoon movie. WatchCartoonOnline.eu is actually a mirror site of the initial watchcartoonline.org and they share a lot of similarities.
You can navigate the site and look for cartoons based on the first letter of their titles: from A to Z. Full movies, episodes, and notable cartoon TV shows are all available on this website and you can stream them all for free. The site's interface is simply intuitive and easy to navigate.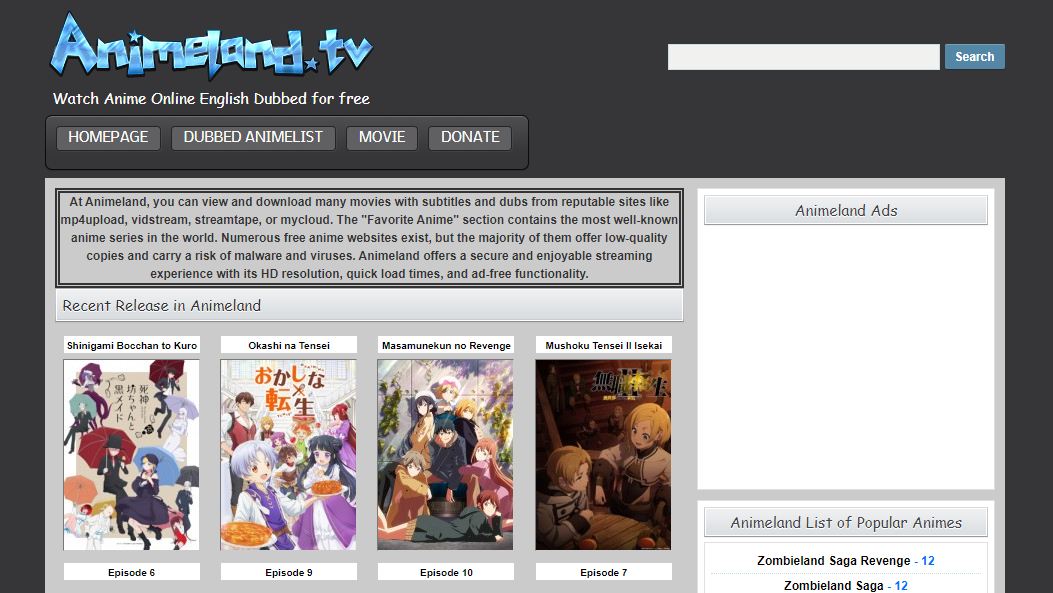 AnimeLand is not the most intuitive website right here, but it's pretty cool and adds up as one of the ideal alternatives for free anime streaming online. This website boasts a decent number of anime episodes you can stream from multiple fast servers on any device. There are both dubs and subs – each episode is well explained in the introduction section.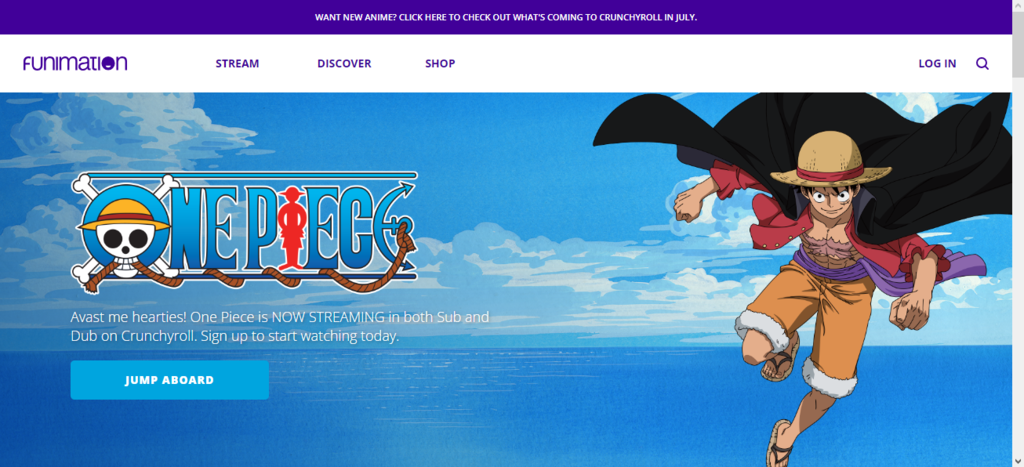 Funimation is often compared with Crunchyroll because the two websites offer almost the same content and features. However, Funimation is not available worldwide; it's only available in select regions. If you live outside the supported regions, you'd need a VPN to connect to the website and stream its massive library.
It is important to note that Funimation is not a website where you stream anime for free. You have to subscribe to one of the available plans to stream. The Premium Plus goes for $9.99 a month and you'd have access to a plethora of sub and dub anime titles. There is just so much to watch on Funimation.
What More?
These are some of the best websites where you can access and stream lots of anime and cartoon movies on the internet. Most of these websites offer entirely free streams, while some would require you to subscribe to enable all its features. Did we miss your favorite site? Mention it in the comments.