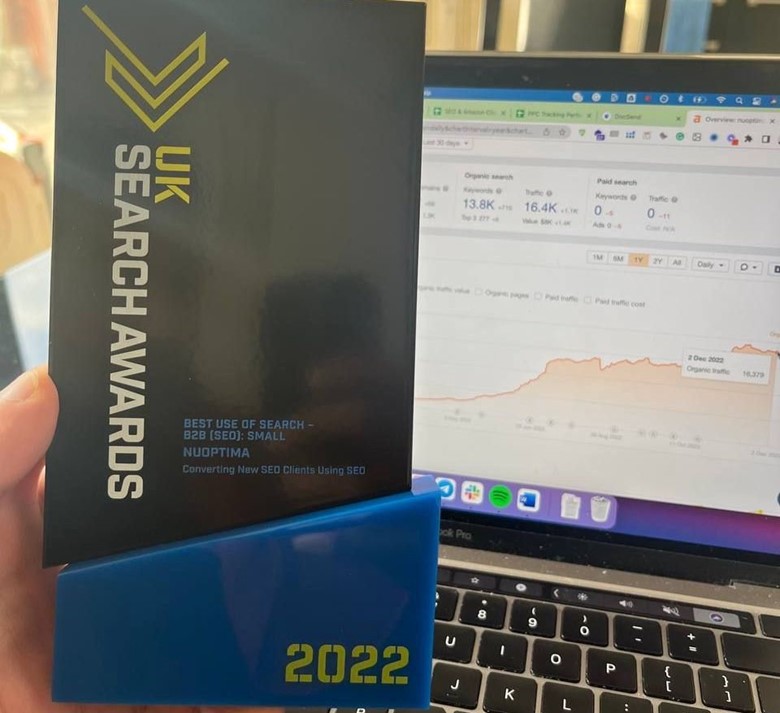 Recognition at the UK Search Awards
In acknowledgement of their exceptional work, NUOPTIMA was recently awarded the "Best Use of Search – B2B (SEO) (Small)" at the 2022 UK Search Awards. This distinguished award ceremony celebrates the most notable achievements in SEO, digital marketing, PPC, and content marketing in the UK, and NUOPTIMA's victory can be attributed to their skilful allocation of client-allotted budgets, resulting in the highest return on investment (ROI) and significant sales generation.
More specifically, their winning strategy involved a blend of innovative keyword targeting in untapped, sector-specific SEO sub-niches, meticulous competitor analysis, strategic content creation, and technical optimisation, all aimed at improving user experience and boosting conversion rates.
Despite the competitive nature of the digital marketing field and the challenges associated with converting B2B traffic, NUOPTIMA managed to exceed their key performance indicators (KPIs). To explore in detail, they accomplished the following feats:
Increased their organic keyword ranking from zero to 13,000 (with 1,000 on the first page)
Boosted monthly traffic from 400 to 12,000
Generated £18,500 of monthly revenue from organic inbound leads
These attainments resulted in the acquisition of four new clients on six-month contracts, amounting to an impressive contract value of £111,000.
Essentially, NUOPTIMA's achievements, combined with their creative approach, dedication to client success, and significant return on ad spend (ROAS), distinguish them in their field. Their success illustrates the potential of a well-structured and implemented SEO strategy, showing that even small businesses can achieve substantial results in a competitive industry.
Comprehensive SEO Services
NUOPTIMA started with a clear aim: to assist businesses in improving their online presence and meeting their digital marketing objectives. Over the years, the company has grown into a reputable SEO entity, respected for its commitment to quality and customer-centric outlook.
The agency prides itself on its unmatched take on SEO, which focuses on revenue generation, premium content creation, and continuous monitoring and reporting. They leverage keyword clustering and topical authority to maximise SEO growth and customise their approach to match the distinct goals and audience of each client. Moreover, their process also involves a thorough technical audit to identify opportunities for growth and avenues for backlink building to amplify website visibility.
This unique methodology, combining an understanding of specific niches with technical expertise, has delivered notable results. For example, they recorded a significant 988% revenue increase for 96North in only four months, demonstrating the effectiveness of their approach.
Case Studies: Showing Results
The evidence presented in NUOPTIMA's comprehensive case studies showcases a consistent track record of delivering exceptional results for their partners. These achievements underscore their expertise and commitment to generating tangible value for their clients, setting them apart as a trusted industry player.
Quolum: Tripling Organic Traffic
Quolum, a SaaS platform designed to help businesses save money, sought the assistance of NUOPTIMA to enhance their organic traffic. The primary objective was to expand brand visibility and invite more potential customers to their platform.
Approach
NUOPTIMA's strategy for Quolum was multi-faceted, focusing on both on-site and off-site SEO. They began by conducting thorough keyword research to find the most relevant and high-volume keywords in Quolum's niche. This was followed by optimising Quolum's website content to align with these keywords, thereby improving the site's presence on search engine results pages (SERPs).
As highlighted above, NUOPTIMA also implemented an off-site SEO strategy, which included building high-quality backlinks to Quolum's website. As a result, this not only amplified website traffic but also bolstered its credibility and reliability in the perception of search engines.
Results
Through NUOPTIMA's efforts, Quolum experienced a threefold surge in their organic traffic, from 1,027 to 2,947 in just four months. This substantial growth led to a surge in potential customers visiting the site, thereby enhancing Quolum's opportunities for client acquisition and revenue growth.
Zelt: Over 300% Traffic Growth and 500 Organic Keywords in One Month
Zelt, an HR SaaS platform, partnered with NUOPTIMA with the aim of boosting their website traffic and generating more leads.
Approach
NUOPTIMA's strategy for Zelt was centred around improving the website's SEO and enhancing its content. Accordingly, they created 10 editorial backlinks that ranked high on B2B keywords. The goal was to publish them on well-reputed and recognised third-party websites to increase Zelt's authority on Google.
In addition to improving the website's SEO, NUOPTIMA also focused on enhancing the quality of the content on Zelt's website. They created engaging and informative content that not only attracted more visitors to the site but also encouraged them to stay longer and explore more, thereby increasing the chances of conversion.
Results
NUOPTIMA's efforts resulted in Zelt's top pages almost doubling in impressions, from around 20,000 to 35,000, in less than a month and ranking for 500 additional organic keywords. This significant improvement in traffic and SERP positions greatly contributed to Zelt acquiring new customers and fostering overall business growth.
Bonnet: Fivefold Rise in Organic Traffic in Just Seven Months
Bonnet, an EV charging app, aimed to grow its brand awareness and boost app installs and subscriptions. They partnered with NUOPTIMA to achieve these goals.
Approach
NUOPTIMA implemented a large-scale SEO strategy for Bonnet. To boost organic exposure and convert visitors into installs and subscriptions, they prioritised bottom-funnel keyword structures and crafted compelling content in the form of informational blog articles to build topical authority and increase brand awareness. Bonnet's off-page SEO was also optimised by publishing content on excellent-domain authority websites relevant to the electric vehicle niche.
Results
Bonnet experienced a fivefold increase in their organic traffic to over 16,000 in just seven months. Their organic keyword rankings for positions one to three also rose from seven to 187, as did their domain rating from 38 to 44. This growth led to a marked increase in app installs and subscriptions for Bonnet.
The Team Behind NUOPTIMA's Success
The success of NUOPTIMA is owed to a team of experienced professionals who bring a wide range of skills and knowledge. Let's introduce the key individuals:
Alexej Pikovsky: The Guiding Figure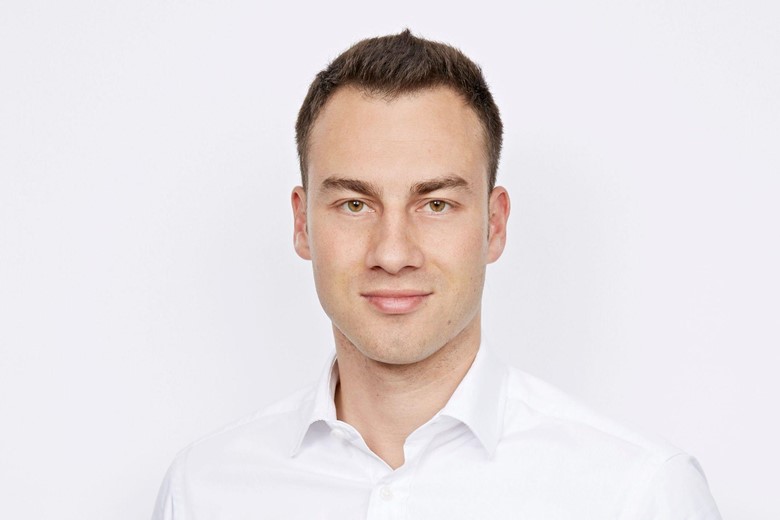 As the CEO and founder of NUOPTIMA, Alexej Pikovsky is responsible for the company's strategic direction and growth. His leadership and foresight have notably contributed to shaping NUOPTIMA into a reliable digital growth agency.
Aman Ghataura: The Growth Specialist
Aman Ghataura, serving as the Head of Growth at NUOPTIMA. His expertise encompasses working with a diverse clientele of over 30 and testing more than 25 growth channels. Simply, his proficiency in expansion strategies has been vital to NUOPTIMA's consistent delivery of strong results.
Viktor Bartak: Head of SEO
Viktor Bartak, the Head of SEO at NUOPTIMA, brings to the table 15 years of SEO expertise, during which he has contributed to the growth of over 300 businesses spanning both B2B and B2C sectors. His diverse portfolio includes industries such as social media, tourism, cybersecurity, eCommerce, fintech, and SaaS, among others. His SEO strategies and thoughtful approach have played a major role in NUOPTIMA's recognition at the UK Search Awards.
This trio forms the very core of NUOPTIMA. Their combined expertise and commitment to outcomes have distinguished NUOPTIMA in the field of SEO and digital growth.
The Future of NUOPTIMA
Moving forward, NUOPTIMA has a promising future. Their recent acknowledgement at the UK Search Awards demonstrates their capability to deliver strong results. However, they are not complacent.
They plan to broaden their services into more new niches, using their approach to SEO to generate even better results for their clients. Simply, it's evident that NUOPTIMA is a respected name in the SEO industry, setting high standards of quality and innovation.
About NUOPTIMA
NUOPTIMA is a digital growth agency that specialises in providing reliable SEO services. Established by Alexej Pikovsky, the company has made an imprint in the digital marketing field. With a team of experienced professionals, including Aman Ghataura, Head of Growth, and Viktor Bartak, Head of SEO, NUOPTIMA focuses on assisting businesses in enhancing their online visibility, attracting more traffic to their websites, and increasing sales.
Their thoughtful and meticulous SEO strategy, which involves identifying and focusing on specific sub-niches, has been effective, leading to considerable improvements in organic traffic for their clients. Upholding a commitment to quality and a customer-focused approach, NUOPTIMA consistently meets high standards in the realm of digital marketing. For more information, visit the NUOPTIMA website.