We all love a fast and responsive site, wordpress makes that even simpler by providing this awesome plugins for free. These plugins will make your site go faster, improve your website response time, improve user engagement, improve server load, memory load and confer a surer better experience to your visitors.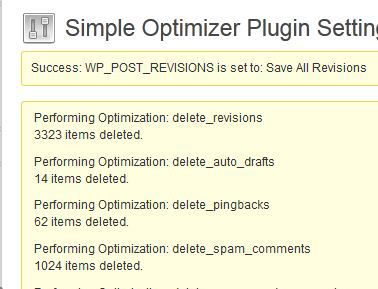 1.  Simple Optimizer
The wordpress Simple Optimizer Plugin does only one thing best; ensuring that your blog has an optimized and less-bloated database. It has easy to set options for you  to delete those millions of spam comments, trackbacks and auto-pings, you can also select automatic options for handling revisions, auto-drafts and pings.
What else can you ask for? go ahead to the official wordpress plugin repository to grab a copy of simple optimizer plugin for improved speed and optimized database.
2. W3 Total Cache
Any WordPress site with good traffic will be a pain in the neck to shared servers or even VPS and Dedicated servers without a proper caching system in place. This is because of the several HTTP request and even that of cron job processing that comes with this many visits. Most host has put in place a better caching system while the others are yet to do something about it. W3 Total Cache WordPress Plugin comes handy when saving your server some juice and having a faster loading site is of any concern to you.
3. Better WP Minify
I can't imagine a faster wp site without this plugin in place, it combines all your  CSS files, minify JavaScript and CSS properly. With the improved features of the plugin coupled with how often it's updated, I can't see any reason for not using the Better WP Minify Plugin today.
Also see: Reduce image size quickly: 7 best free tools for image compression
4. CloudFlare
Cloudflare WordPress Plugin will make sure that your site is secured and %100 protected from spammers, hackers and malicious persons. It steadily protects against DDos attacks and the likes, it also challenges spammers by checking their individual I.P. addressees. This plugin connects you to the official cloudflare superb services, ensuring the best performance for your site, server and visitors.
5. WP Smush.it
WP Smush.it Plugin steadily reduces image file sizes and improve performance using the Smush.it API within your WordPress install. It handles whatever expert recommendation you will ever think of when it comes to image optimization, from striping useless meta info from jpeg to optimizing .png images. Wp Smuch.it plugin will save your site some face and your server some juice.
6. nrelate Related Content
Some related post functions that are coded into most wordpress themes will only display some random post from same category, other wordpress plugins that seems to handle this function do so at the detriment of your limited server resources. nrelate Related Post plugin does that for you in such a superb manner without messing with your C.P.U. and memory resources at all.
7. nrelate Most Popular
Apart from jetpack plugin and some less bloated themes functions, every other plugins in the official wordpress plugins repository seems to be so server hungry when it comes to handling popular post on blogs, this is wholly unrelated to the many MySQL request needed to have this function in place. nrelate Most Popular Plugin handles the popular post function properly without using your own server resources at all. Think about how many juice you will end up saving by using this awesome plugin.
Must Read: Why skip Installing this 7 most important wordpress Plugins?
My Thought and Conclusion
You can save your host some juice and help these machines go a little bit longer than their proposed lifespan. There is no how you are going to have a slow blog or site after implementing the full potential that comes with these awesome plugins. Grab my Bonus tips by installing the P3 (Plugin Performance Profiler) plugin that will help you detect those server hungry plugins that also do slow down your site at times.