When taking your business online, you should try to be specific with your "offerings," and choose your "powerhouses" carefully. By "powerhouses" I mean to say your business name, website hosting, domain registrar, CMS, and other inevitable elements/services that would power your site online. Similarly, when I say "offerings," I'm referring to the services you are going to provide on the website.
For example, are you going to sell technical services, products, online courses, one-on-one consultation, etc., or are you setting up another type of website (- maybe an info blog or something else)? Whatever the case may be, the focus of this article is on how you can sell your products and services online in 2022 using the best-in-class "powerhouses."
Choosing Your Website Powerhouses
At this point, I will assume that you have already settled for a suitable business name and are now on the lookout for the right tools to take your business online.
Domain Registrar
First things first, before a website can exist, the owner must have gotten a suitable domain name for the site. Domain names act as unique identifiers for all websites on the internet. So, you have to secure a domain name with a reputable and reliable domain registrar.
Namesilo is one of the leading domain registrars at the moment. The company provides a flexible domain registration process with unwavering support for when things tend to go south. The importance of choosing the best domain registrar cannot be overemphasized. It is the first step to taking your business online.
WordPress and WooCommerce
Arguably, you have heard about Content Management Systems (CMSes), and how you can use them to design stunning websites. Yeah, Content Management Systems have replaced the need of having to write the backend codes of your website from scratch to finish. By using CMSes (such as WordPress), creating online stores, e-commerce sites, and every other type of website is much easier as it's merely a work of dragging and dropping elements on the intended webpage.
WordPress (WP) is arguably the best and most flexible content management system (CMS) for designing any type of website for any occasion as it has so many plugins for all known functions. Thus, it is advisable to use WordPress CMS for your new website, and we're going to discuss every step required for creating WordPress websites for your online store.
WooCommerce is the WordPress plugin that lets you create an online store for selling products, courses, or services. Actually, it is the most popular WordPress plugin for designing e-commerce sites. It is an open-source plugin with a lot of handy features for providing online services that require payments.
WooCommerce typically isn't the only e-commerce plugin available for WP sites, but it is by far, the most used, advanced, and more flexible than many other ones you know. In fact, WooCommerce stands as a benchmark if you're creating a WP site for selling products and services online.
Now that you have understood the basics; it's time to decide on the main powerhouse of your online store, which is, a managed WooCommerce hosting.
Managed WooCommerce Hosting
There's Managed WordPress Hosting, and there is Managed WooCommerce Hosting; they're not the same – don't make that mistake of seeing both as the same. Managed WordPress Hosting works perfectly fine if you're just creating a WP site for blogging, company, marketing, or informational purposes. On the other hand, Managed WooCommerce Hosting is a more specific WordPress hosting package for e-commerce sites or online stores that are built with the WordPress CMS.
Different hosting companies provide a couple of managed WooCommerce hosting packages at different prices. However, the Liquid Web Nexcess Managed WooCommerce Hosting is one of the best out there.
Liquid Web is a top web hosting company that provides a wealth of hosting plans & packages for every possible web hosting need. The Nexcess Managed WooCommerce Hosting plans are packed with impressive features that would grab your attention. Let's see a quick review of this recommended managed WooCommerce hosting for your online store.
Liquid Web Nexcess Managed WooCommerce Hosting Review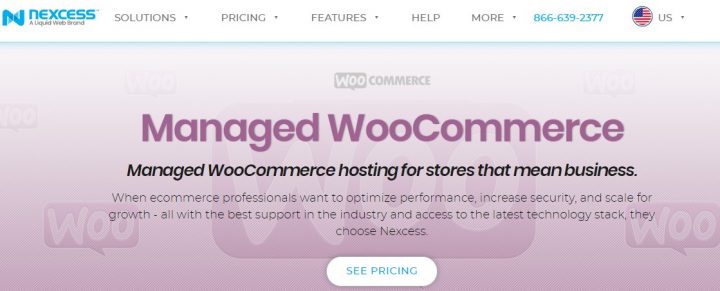 Liquid Web's Nexcess Managed WooCommerce hosting is an elevated version of their regular managed WordPress hosting package that comes with more speed and resources for managing online stores. The Nexcess WooCommerce hosting plans provide a lot of storage space, alongside broad bandwidths, and tools to effectively manage busy online stores.
Features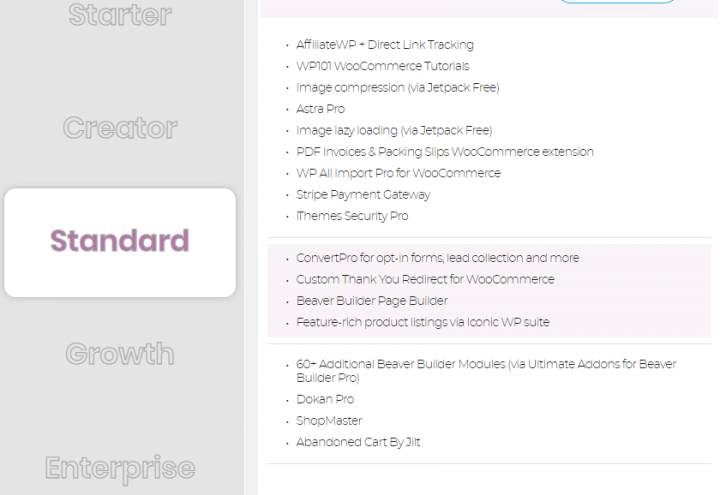 Some of the most pronounced features of Liquid Web Nexcess WooCommerce Hosting include:
AffiliateWP + direct link tracking
WP101 WooCommerce tutorials
Image compression via Jetpack
Astra pro
Image lazy loading via Jetpack
PDF invoices & packing slips WooCommerce extension
WP All Import Pro plugin for WooCommerce
Stripe payment gateway
iThemes Security Pro
ConvertPro for opt-in forms, lead collections, etc.
A custom thank you redirect for WooCommerce
Beaver Builder page builder
Feature-rich product listings via Iconic WP suite
and lots more.
Interestingly, the "Starter Plan" of Nexcess Managed WooCommerce hosting leaves you with virtually all of these features above. Plus, you will get more interesting features when you pick a higher plan.
More so, Nexcess offers 25% off its WooCommerce hosting plans for the first three months by using the GetOnline coupon code on the signup page.
Pricing

Nexcess offers five unique managed WooCommerce hosting plans and packages, which are – Starter, Creator, Standard, Growth, and Enterprise. The monthly cost for these hosting plans are $19, $79, $299, $549, $999, respectively.
Choosing a suitable hosting plan from the Nexcess WooCommerce hosting packages for your new e-commerce site is an ideal decision. This is because, Liquid Web promises a 99.9% uptime guaranty and dedicated support, irrespective of your hosting plan.
So, now that you've known much about choosing your website powerhouses, it's time to get started with tips on how to sell your products and services on the website.
Tips for selling products and services with WordPress
At this point, you definitely must have decided on the products or services you wish to sell on your site. So how do you list the products to entice your website visitors to the point of clicking the "Order" or "Buy" button?
Keep the website design user-friendly and intuitive
This is the handiest tip for getting your customers/visitors to spend more time on your online store. This would lead us to learn top tips on "how to design an eCommerce website."
There are lots of plugins needed to make an e-Commerce website user-friendly and easy to use. However, with WooCommerce integration and Managed WooCommerce hosting comes a whole lot of free sub-plugins that would help you design/customize your website to the desired look/appearance.
Place CTR buttons at strategic positions. Ensure that your products' description pages contain as much information as possible for each product. This is because when a product description page doesn't say much about the product, the customer may decide to search elsewhere and thus, may end up on another e-commerce site; you wouldn't want that to happen, right?
Also, make sure that your website loads at a fast speed; activate lazy-loading for images to improve your site's loading speed.
Other ways to keep your e-commerce website intuitive and user-friendly can include choosing a simple theme, strategic "menu" placements for swift navigation, and arranging your products into categories.
Focus on a niche
Focusing on a niche simply means to offer services or products that serve specific interests. For example, you can start by providing online courses, or selling health products, or advertising your consultancy or freelance services. When you focus on a niche, it helps to build a stronger and targetted audience, as well as helps to build your band.
Nevertheless, you can still run a multi-niche eCommerce site where you can list a lot of services and products for various needs. This is still a good way to start your eCommerce site, but it costs more expense when running adverts and promotions to targeted audiences.
The best way to run a multi-niche eCommerce store is to carefully categorize the products and services, thereby, making it easier to rank individual categories, run targetted adverts, etc.
Integrate LearnDash if you'd sell courses online
LearnDash is the ideal plugin solution for selling courses online – it can be integrated with WooCommerce, and packs a wealth of impressive features. More so, LearnDash supports drip-feeding, interactive tools, reward tools, and so many other important tools for selling courses online.
Most Fortune 500 companies have attested to the relevance and effectiveness of the LearnDash plugin in regards to selling online courses. Interestingly, Liquid Web's Nexcess Managed WooCommerce hosting plays well with LearnDash and other tools for creating and selling online courses.
Responsive and fast customer support services
A business that would scale rapidly is the one that provides satisfactory customer support and after-sell services to its clientele. So, you should try to attend to your customers' requests as fast a possible – it helps to build their trust and retain them.
What more?
This article has provided every detail you need to create an e-commerce website and take your business online by using WordPress plus WooCommerce and Managed WooCommerce hosting. Following the tips and guidelines in this post is necessary for your business growth.   More so, LearnDash integration is perfect if you'd offer online courses or sell courses on your site. You drop your comments or share your concerns if there's anything you aren't sure about.