When looking for a perfect balance between the "very-limited" WordPress shared hosting packages, expensive managed WordPress hosting services, and the inexpensive unmanaged VPS hosting, going for feature-rich, cloud-based WordPress Control Panels can be your best bet. What does this mean?
Well, it means deploying your WP website in a cloud-based infrastructure with minimal but important tools for WordPress management: Mitigating the long-list of unnecessary features that are provided with shared hosting packages and allowing you to pick the most important features that'd work best for your WordPress site.
What is a WordPress Control Panel?
Literally, Control Panels are used by developers, administrators, and other IT professionals to manage servers, applications, infrastructures, etc. That said, it is safe to say that a WordPress Control Panel is simply a "Hosting Control Panel" designed for WordPress management, specifically.
Regarding our topic, the WordPress Control Panels (reviewed below), provides you with VPS management tools that are tailored for WordPress. Hence, using the VPS management tools provided by these control panels, you can easily deploy your WordPress website(s) on a cloud server – having the privilege to choose the features you want and those you don't.
However, there are free and paid WordPress control panels. Your choice would depend on the purpose your website is meant to serve and the features you need for WP management on server-levels.
We'll start by listing the paid options and then the best free WordPress control panels tailored for super users, simple information sites, non-profit sites, etc.
The Best WordPress Control Panels for Cheaper Managed WP Hosting
Since these options are "Paid," you'd definitely expect to get more features, and well, you'd get that! These paid WordPress Control Panels provide you with more advanced tools to control your private server and manage your deployed apps like a power user. This includes advanced firewall tools, WordPress staging, backups, server-level cache, etc.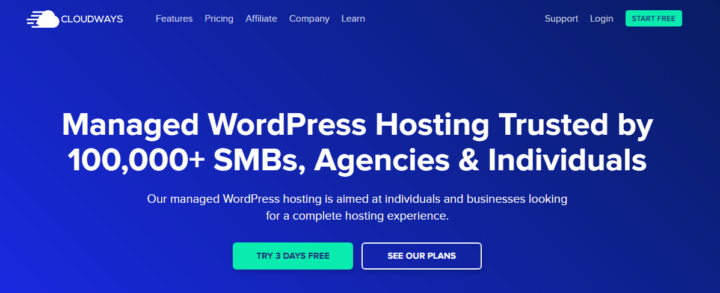 Vertical scaling
Unlimited WordPress hosting on any server (You'd be privileged to know the hardware that's powering your site but won't tinker with setting them up).
Dedicated firewalls
Varnish and Redis object caching for greater speed
Unlimited WordPress Staging
Cloudways is a popular server control panel that supports a wealth of intuitive management tools and security features for your deployed apps. It supports most major VPS providers, including Linode, Vultr, Digital Ocean, AWS, etc. Whether you're hosting a business site, individual site, or eCommerce site, Cloudways provides virtually everything you need.
With support for Varnish, Memcached, and Redis, Cloudways makes your WP site load at blazing speed. Also, it comes with a seriously optimized stack that comprises Apache, NGINX, PHP-FPM, MySQL, and MariaDB.
The only difference between Cloudways and other tools in this section is – they (as a managed hosting provider) will set up the server for you; hence, you won't have root access to the VPS.

Atomic/GIT deployment – ZERO downtime assured
WordPress staging
NGINX Configuration, Cloudflare DNS integration
ModSecurity
6G and 7G Firewall
A hidden free plan that's activated once your 5 days trial period is expired
Runcloud literally eliminates the need to hire a professional Linux operator to manage your sites that are hosted on a cloud server. This cloud control panel lets your run WordPress and other PHP apps on any VPS of your choice, including Google Cloud, Vultr, Digital Ocean, Linode, AWS, etc.
Interestingly, you're getting a 5-day free trial window, and you don't need to provide a credit card for the trial. With RunCloud, you can stage your WordPress sites for test and troubleshooting. It also provides formidable backup and firewall tools.

Lots of security tools, including Modsecurity WAF, 6G WAF, Fail2Ban, etc.
Nginx Hardening, WP CLI, etc.
Let's Encrypt SSL
WordPress staging
A hidden free plan for Amazon AWS servers
GridPane is a cost-effective WordPress control panel that provides you with everything you need for managing a WP site(s). It works like Cloudways and ServerPilot but has support for more server providers. With Gridpane, you can use Google Cloud, UpCloud, Vultr, Linode, Digital Ocean, and other Linux VPS. If you wish to start WordPress hosting business, GridPane is a good WordPress control panel to go with.
Inarguably, GridPane provides you with a ton of necessary tools for effective WordPress hosting. More so, it works for WooCommerce – promising fast website speed, responsive page load, and formidable WP security tools. It is easy to integrate third-party tools for more features.

Automated updates and firewalls
Supports HTTP/2, Nginx, PHP-FPM, Apache, MySQL, Brotli
Lots of security tools to protect your site(s)
Responsive U.S. support team
ServerPilot allows you to easily deploy multiple WordPress websites on any server of your choice. It supports Amazon AWS, Digital Ocean, Google Cloud, UpCloud, and other VPS providers. More so, Serverpilot supports other PHP applications and not just WordPress. It is safe and secure – providing you with security firewall features – plus support for cutting-edge caching tools for speed.
Furthermore, ServerPilot allows Let's Encrypt integration to secure your WP site with a reliable SSL certificate. The "One-Click" WordPress installer is a great feature since we're looking at control panels that are optimized for WordPress hosting and deployment.

Advanced firewall
Nginx, MySQL/MariaDB, PHP, and Redis
$100 in DigitalOcean credits (for new users)
Free Let's Encrypt SSL/TLS certificate
SpinupWP is specifically designed for WordPress; it provides WP management tools and allows you to access your server from any device remotely. This server control panel supports AWS, UpCloud, Vultr, Azure, Digital Ocean, etc.
Interestingly, SpinupWP helps you configure SSL, caching rules, Cron jobs, and other challenging settings required for WordPress optimization. You can deploy dev sites, production sites, staging sites, and any other solution you want to take online.
Install multiple sites per server, access to site cloning, and multiple PHP versions
Free Server-level Caching and SSL certificates
Nginx, MySQL/MariaDB, PHP, MEMCACHED, and Redis
Multiple sFTP Users and 6G Firewall
Automatic Backup To AWS S3
FireupWP is a new but revolutionary WordPress control panel that's built for modern users. It combines the features of existing WordPress management platforms into one, thereby making WordPress management seamless.
Just like Cloudways, you can create unlimited staging copies, do server Syncing, Server-to-Server transfers, and lots of WordPress-specific functions. The functional file management module makes it a great option for all types of WordPress sites.
7. Ploi.io

1-Click WordPress Installer
Server health monitoring, load balancing, and free Lets Encrypt SSL
A dedicated file manager
Multiple PHP versions
While ploi.io does not have many WordPress-specific tools (such as Staging and WP CLI), it's an easy server management tool for WordPress. You can do a daily backup, server cloning, and multiple WordPress site management on ploi.io.
Just like Runcloud, Ploi.io gives you a 5 days trial period, after which your account would be downgraded to their severely limited free plan. Note: There's no file manager access for low-tier plans on Ploi.io.
Best Free VPS Control Panels for Cheaper WordPress Hosting
Do you have some VPS lying somewhere simply because you're afraid of tinkering with codes and console instructions? Well, you're not alone, as this is the case with most persons that received free VPS server from Google (Google Cloud), Amazon AWS, Digital Ocean, Alibaba Cloud, etc.
These free VPS control panels for WordPress would let you install and manage WordPress like a power user. It doesn't matter where you got the server from or how it was delivered to you; these management tools will work with your server as long as you have the root password to access them.
Come along with me as I walk you through the best free WordPress control panels for deploying and managing WordPress on your own (VPS) server:

Free SSL by Let's Encrypt
HTTP/2, PHP v7.4, FastCGI Cache, and Redis Object Cache
Guarantees A+ grade on Qualys (SSL Labs) Test
Allows Backups and supports SMTP
Webinoly is a seriously-optimized LEMP Web Server that also acts as a WordPress control panel for hosting WP sites on virtual servers. It supports Linux Ubuntu, Nginx, MariaDB (MySQL), and PHP to provide you with the actual parameters you need to configure your WordPress website's host on a cloud server.
Whether you're deploying your WP site(s) on AWS, Vultr, Digital Ocean, Linode, or any other VPS service provider, Webinoly provides the set of tools you need to fortify security and optimize your sites for speed.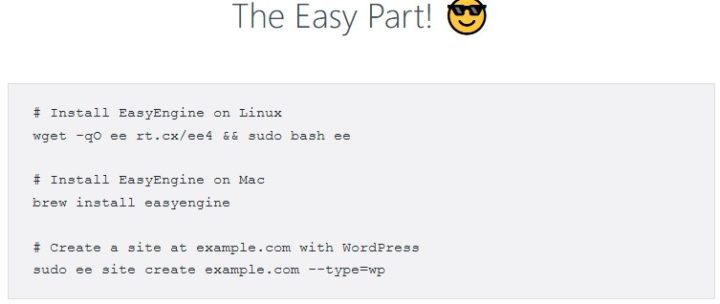 Free SSL by Let's Encrypt with support for wildcard and auto-renewal
HTTP/2, PHP v7.4, Nginx Server, MySQL
Support for Redis object & Nginx full-page cache
Fully supports WordPress native Cron
EasyEngine, during its early days, was mostly used by web developers and senior WordPress developers. But now, it's super easy to the point any average Joe can deploy it for installing an unlimited number of WordPress sites on their VPS.
With EasyEngine, you'll only enter the code once to unlock the door of limitless WordPress management on your VPS box. It's an open-source tool, hence 100% free.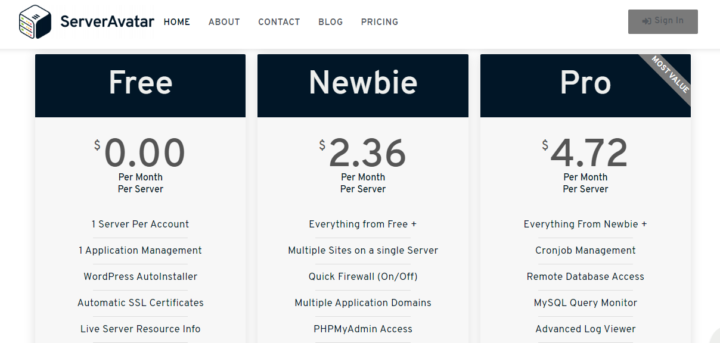 100% free plan
Auto SSL certificate installation
Redis, Apache, PHPMyAdmin, NGINX, etc.
Fast and reliable
The 100% free plan offered by ServerAvatar is quite feature-rich; it provides WordPress auto-installer, auto SSL certificates, custom SSL installer, live server resource info, custom PHP-CLI version, and more stuff. Also, ServerAvatar supports all the cloud server service providers you know, including Vultr, AWS, and Digital Ocean.
If you're starting a new WordPress site, the WordPress auto-installer tool available on all accounts can be of great help. ServerAvatar works for PHP-based sites; plus, it provides many security/firewall tools (for paid accounts).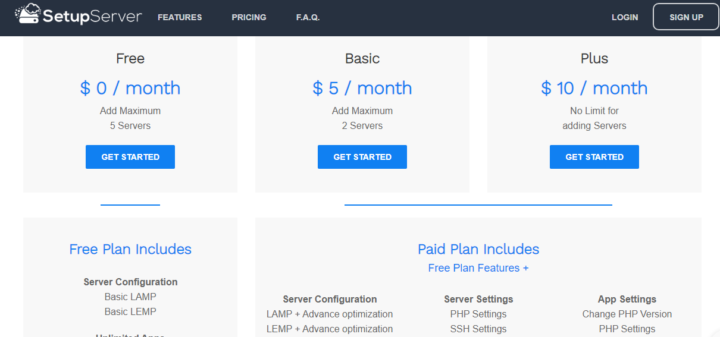 100% free plan
One-click WordPress installation
Custom SSL installation
Reliable and secure
Although the free plan is well-limited (as expected), it yet comes with many features you'd find handy for managing WordPress sites irrespective of your VPS service provider. SetupServer supports major VPS providers except for NAT VPS providers. The interface is simple to understand – such that newbies could easily find their way around.
The paid plans support Apache, Nginx, Varnish cache, micro cache, and other formidable features. You are provided with Basic LAMP/LEMP tools, database & WP management tools, plus custom SSL installation for the free plan.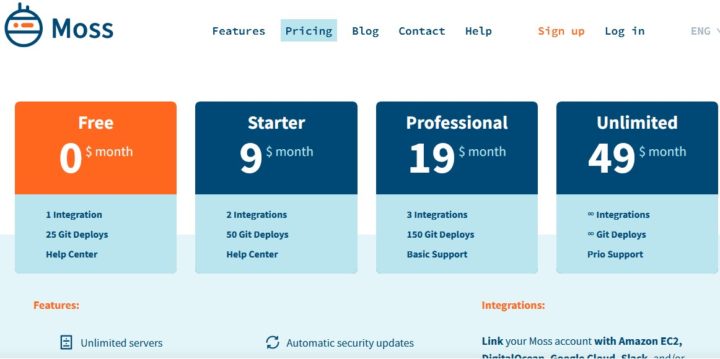 Unlimited number of server and sites
A 100% functional free plan
Zero-downtime deployments and WordPress Firewall
Automatic updates
Seamlessly integrates with Amazon EC2, Google Cloud, Slack, DigitalOcean, and Vultr
Moss.sh has been around since 2018 and makes WordPress deployment and management seamless. It has the option to select Nginx (standalone) or Nginx plus Apache hybrid when adding a new site or web application.
It's super easy to streamline your workflow with this free VPS management tool. You can change the PHP version, set up security updates and custom firewall rules, manage SSH/SFTP access and user permissions, monitor your Nginx, Apache, PHP-FPM, and MySQL options.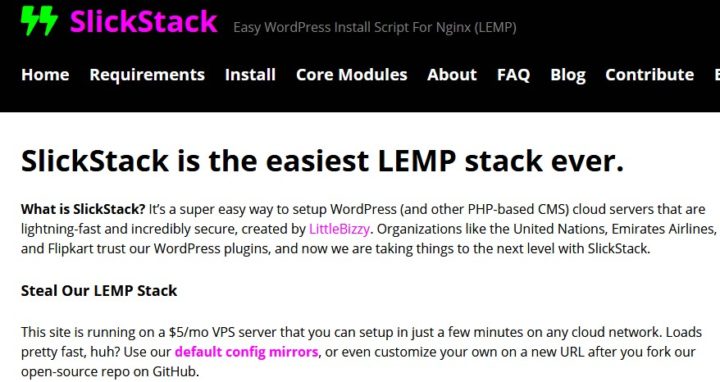 Super light and, as such, can work on any VPS size.
Simplifies WordPress provisioning and deployment
Fully Open Source
Integrates with CloudFlare, fully.
SlickStack is a 100% Open Source WordPress Management Software for provisioning and deploying WordPress on your Linux VPS. It's an alternative to EasyEngine and Webinoly (from our list) and works seamlessly with Woocommerce stores.
With SlickStack, you can create and manage WordPress for $5 monthly (or even for FREE with Digital Ocean free $100 Credit or Vultr $50 hosting credit) and still have it blazing fast like a $20/month managed WordPress hosting plan.
Wrapping it Up:
These server control panels (that are tailored for WordPress) will supercharge your WordPress site or app for better speed and performance. Most of the free options listed above have paid versions that include more (advanced) features for WordPress optimization and management.
In all, either of these WordPress control panels is what you need to unlock your WP site's best performance and break free from the super bloated traditional shared hosting services that are still stocked with the 1999 hosting interface.