Saving data on our android device has always been one problem faced. There are always a bunch of Apps staying on a low key, and siphoning our  data. At the end, The Telco guys are actually the people to take the blame. If you are with, i think you might just have to Say Hello to A Smarter Data Saver by Android 7.0 Nougat.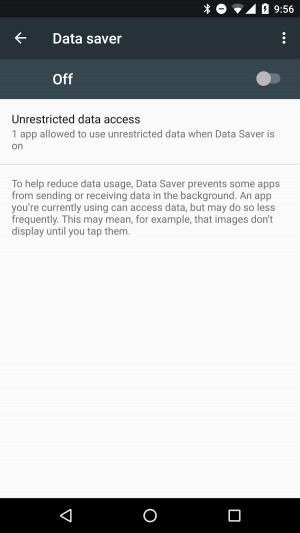 There have always been a data saving feature found in the Android Os for quite some time now and the working principle is simple, You set a limit at which you want your cellular data to get turned off. When you reach that pre-specified limit,  Android will discontinue the use of cellular data. This way, you might have a moderate way at which you use your data.
The coming of Marshmallow, brought a "more cooler" data moderation method. With Marshmallow, you can be able to set the apps you want to make use of your Data connection. This way, apps that are not designated to have cellular access usage would remain still. Though this seemed better as compared to previous versions of the Android OS, it still needed extra tuning and  i think Google team just made that possible with the Android 7.0 Nougat.
With the Android 7.0 Nougat, data saving will become smarter and actively work towards conserving your data. Now the sweet thing on regards how it would work is, The Android 7.0 would see your data rate( The data plan you are subscribed to) and will be able to limit the amount of data any specific app is allowed to use up. Also, you have the option of white-lisiting apps you wish to not have access to the data saver. The redefined Data saver would also be able to detect if you are roaming out of your home area and hence insert a local prepaid SIM.
All these were deciphered via the  "ConnectivityManager" API in the Android Nougat SDK.
The Android 7.0 Nougat have also been rumored to hit devices this month (Not day specific actually) But until then, Tell us what you think about this update.