Should have done this earlier but time and condition won't let me.But then, We have it.2016 April fool Day Pranks from Our Tech Giants.
April 1st was April fools day and trust me, it was fun as usual but there is something unique and cool about tech giants , they follow up with trends.
Actually so many pranks were laid out on the 1st of April which so many people fell for but me, Am to strong for that. :D . Actually i never fall for April fool pranks due to some undefined reasons. But just in case you did, Sorry.. and you missed ? Here we go…
……
1. Opera Mini
Opera mini published a posts on regards their plans to creating Paper which actually will become their latest invention to the opera list of products. The paper will look like a technology that allows users browse on paper. Actually the image made it look fake but their long detailed post was a killer.
Thumbs up to opera, they got some people though not me :-) .
2. Gmail got us too
Gmail introduced Gmail mic which is a platform to let users send messages and will won't actually allow anyone respond to the Email. Though it turned to be bad on Google's side as stress replaced laughter on regards the purpose of the feature. Actually google dropped an apology messages on regards this. See details below as posted by the Official Gmail's Blog.
"Email's great, but sometimes you just wanna hit the eject button. Like those heated threads at work, when everyone's wrong except you (obviously). Or those times when someone's seeking group approval, but your opinion is the only one that matters (amirite?). Or maybe you just nailed it, and there's nothing more to say (bam).
Today, Gmail is making it easier to have the last word on any email with Mic Drop. Simply reply to any email using the new 'Send + Mic Drop' button. Everyone will get your message, but that's the last you'll ever hear about it. Yes, even if folks try to respond, you won't see it."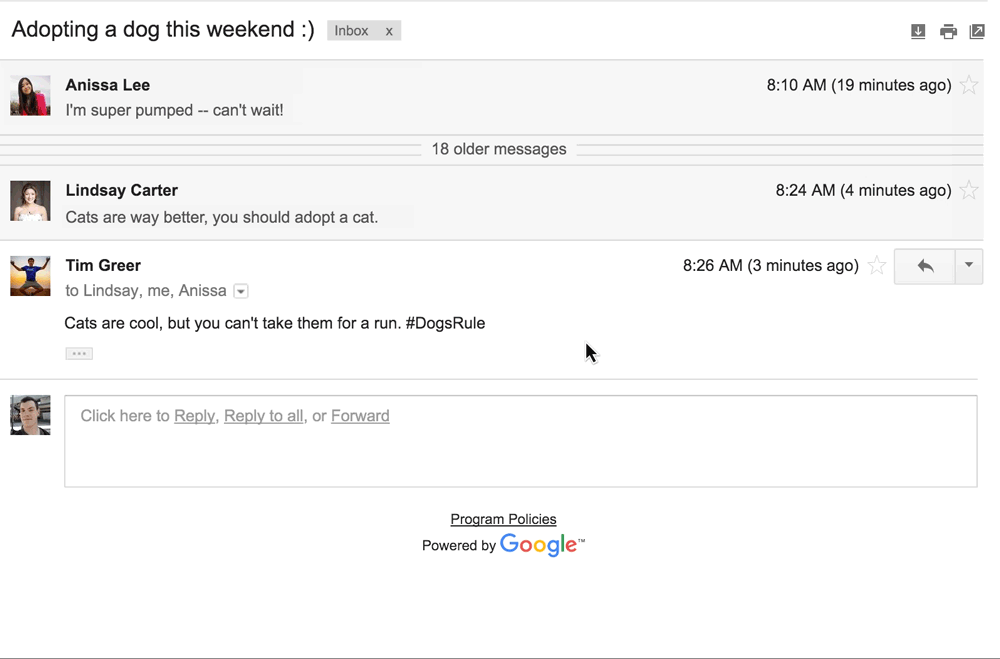 Actually, it turned out to be red for them as they released an apology as cited below:
"UPDATE April 1 2pm: We heard feedback that some of you were negatively impacted by this feature, so we quickly turned it off late last night. In addition, we are working to bring back Mic-Dropped messages that had subsequent replies to your inbox, so you can read those.

We realize many of you use Gmail for very important messages, and we are sorry if Mic Drop was in any way harmful to you. Note that if you're a Google Apps business, education or government user this feature was never turned on.
3. YouTube
YouTube also tried using  us with the YouTube SnoopaVision. Google launched this new feature to allow YouTube users watch every video in 360 with Snoop Doggy.The company said it was giving into intense public demand with the addition of this new technology, and was surprised to see the artist so involved in getting SnoopaVision up and running. "This technology is so immersive that sometimes I forget if I'm in a video or real life," Dogg said of the new feature. Only a select bunch of videos are currently available under SnoopaVision, and YouTube throws up random dates of availability if you try to watch other videos with Snoop Dogg.
4. Samsung Internet of Trousers
As funny as this initiative was, i think it would be a cool thing if this feature is implemented. The Samsung internet of trousers would alert you when your zip stays open for more than 3 mins and trust me, this is going to be a great tool if implemented properly.

These are some i could lay my hands on.. Would keep updating this list as i get to see more. Watch this Space. Know of any missing from the list, don't forget to drop it via the comment box.