The work of car amplifiers is quite simple; they help to improve the sound you hear while playing back audio and/or video files in a car. Although cars do come with built-in stereo, without an amplifier, the stereo won't be able to power (provide sufficient wattage for) the aftermarket sound system or speaker you use.
If you modified your car's sound system or installed more speakers, then you should pick up a car amplifier to enjoy the best sound and bass quality. There are different types of car amplifiers, and you will find so many models out there (built by different manufacturers). Hence, it may be difficult to discover the best choice for your car sound system.
Therefore, I have compiled this list of the best car amplifiers that work on different cars and provide enough power to run any aftermarket sound system or speaker. This is going to be a concise listicle for the very best amps for cars.
The 12 Best Car Amplifiers
Here are the 12 best car amplifiers for the lovers of quality, class, and style.
1. Rockford Fosgate TM400X4ad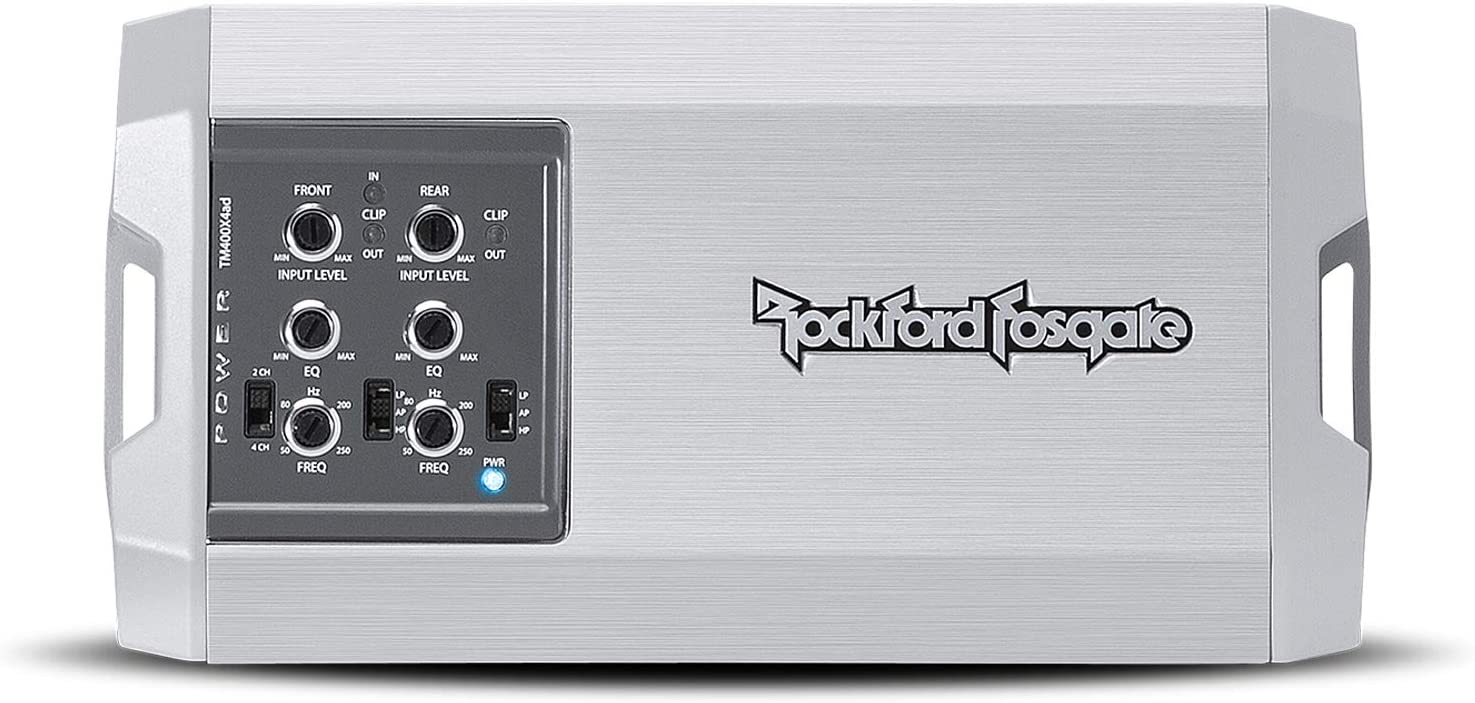 On top of my list is the Rockford Fosgate TM400X4ad amplifier, a portable 400-watt, four-channel amplifier that works on all automobiles. This amplifier is designed with the manufacturer's patented Class-AD technology to ensure the finest performance and optimal compatibility. It is easy to integrate this amp on any vehicle.
Delivering 100W per channel at 4-ohm or 2-ohm, and featuring an onboard punch EQ with +18dB boost @ 45Hz and 12dB/octave, this car amplifier system is on of the top best you can get at the moment. More so, the Butterworth crossover design adds more power and clarity to the sound you hear.
2. Alpine PDX-V9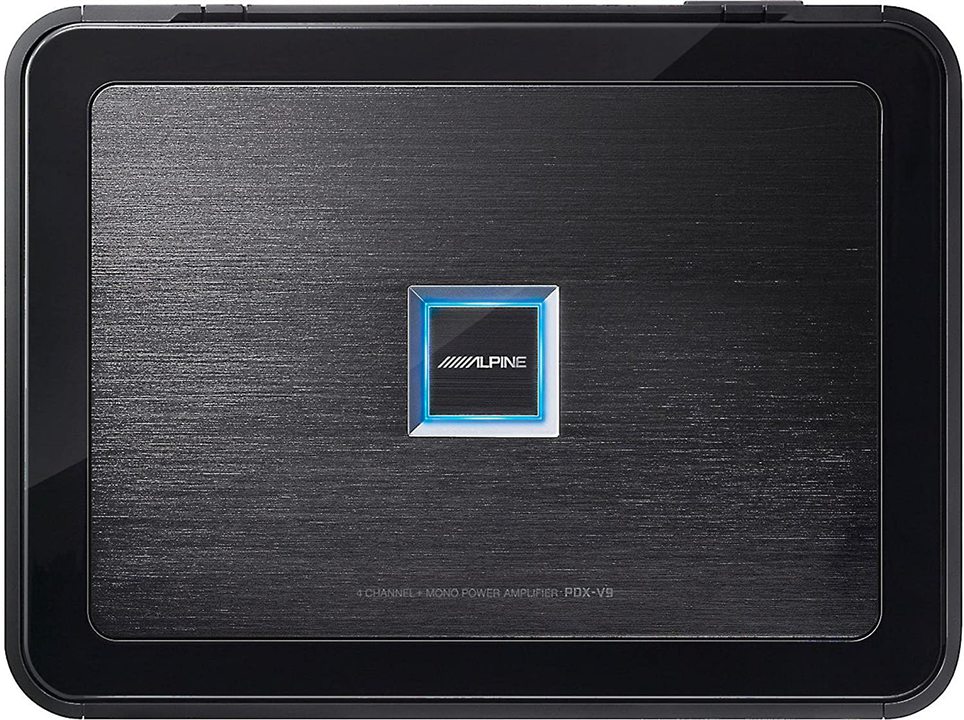 A 5-channel car amplifier comes in handy for audiophiles and hi-fi sound lovers. This power amplifier delivers up to 500W (100W x 5) and features a stackable installation design with front-panel controls. It is an amplifier system that can be easily connected to any car audio system.
As a class-D amplifier, Alpine PDX-V9 delivers clean high-quality audio with deep bass. It can power all the speakers in your vehicle, plus any subwoofer that may be available. The design is compact and best for its purpose.
3. Planet Audio AC1500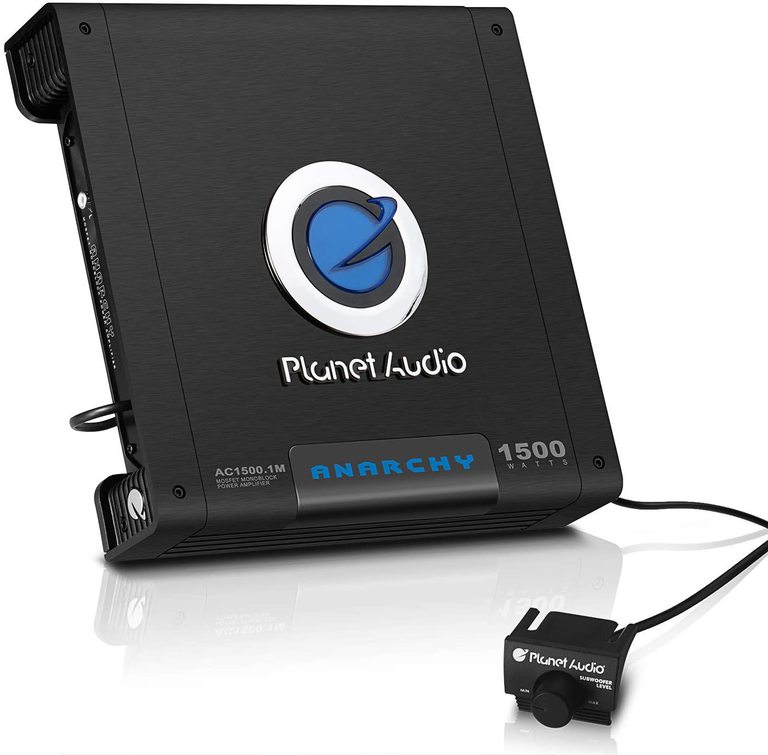 The two amplifiers listed above this one are pretty expensive models(although they deliver exceptional audio and bass quality). However, the Planet Audio AC1500 amplifier retails at a very low price (compared to the units above), and yet provides sufficient power for your car's sound system. Planet Audio AC1500 is a class A/B amp that delivers 1500W maximum power.
It features a compact design, weighing around 6.8LBS with a low-pass crossover design. This power amp supports thermal overload speaker protection. With a price tag below $80, apparently, this should among your top choices for the best car amplifier.
4. Skar Audio RP-1200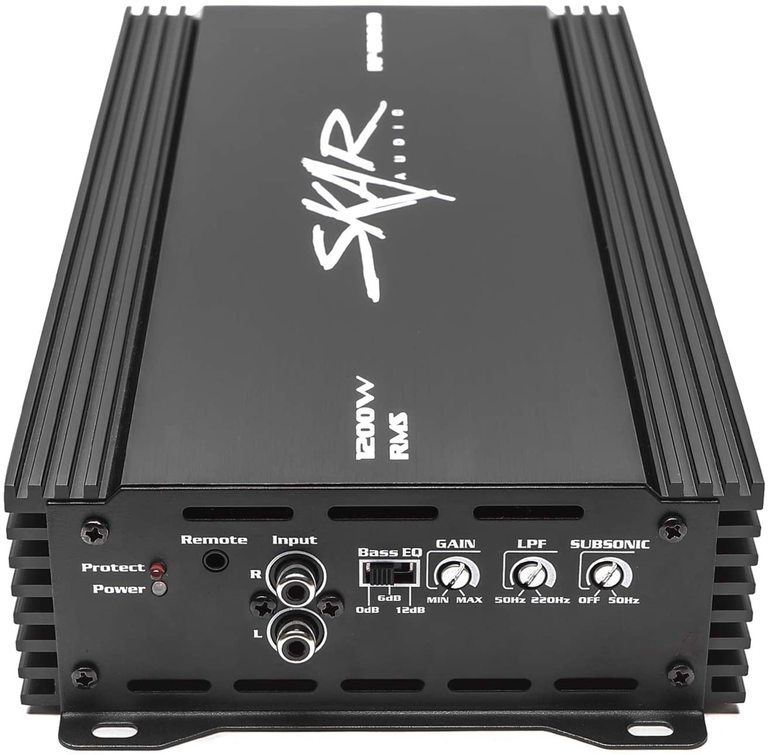 The Skar Audio RP-1200 is a Class-D car amplifier with remote subwoofer control level control. It is a good pick for truck and van owners. With an RMS power rating of 1,200 Watts @1-ohm, and a frequency rating of around 20Hz – 250Hz, Skar Audio RP-1200 will power all kinds of aftermarket car sound systems.
There are different sizes of this amplifier available in different stores. More so, it provides 4-way protection circuitry for seamless current flow and performance.
5. BOSS R1100M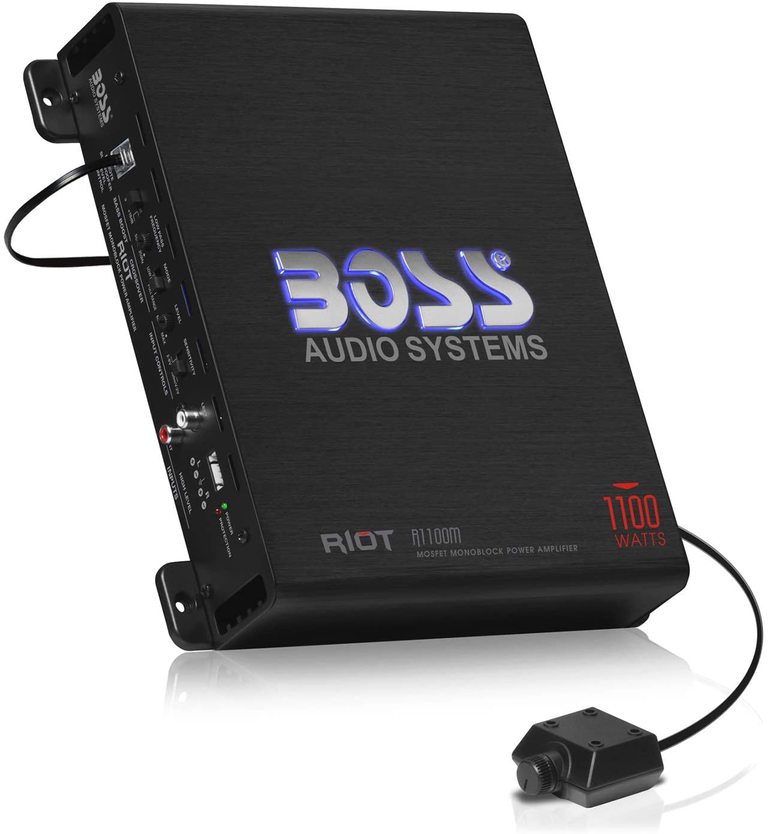 Boss is a popular brand among audiophiles and home audio enthusiasts; the brand is remarkable for making quality audio/sound stuff! This Boss R1100M car amplifier offers 1100W maximum power @ 2-ohm (for one channel). Practically, this amplifier will power any subwoofer installed in your car.
It features low-level and high-level inputs.  If you won't mind using a class A/B car amplifier, then this is a good choice – BOSS R1100M retails at an affordable price in various stores.
6. Blaupunkt 1600W 4-Channel Amp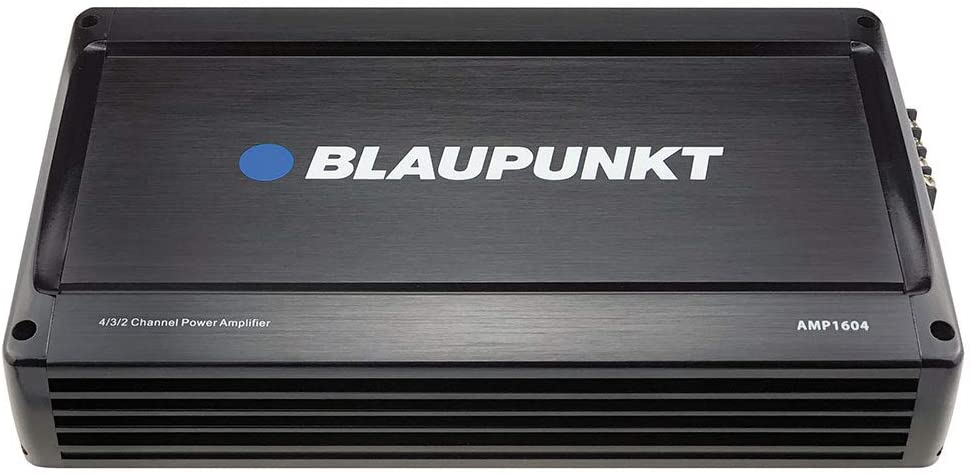 This 1600W amplifier is suitable for all kinds of vehicles. It a 4-channel full-range amplifier with a 10Hz – 30Hz frequency response range. Also, it has a crossover frequency that falls 50Hz – 250Hz; plus, the power output is 55W x 4 @ 4-ohm, 79W x 4 @ 2-ohm; you will definitely enjoy hi-fi audio quality with this amp.
Thanks to the compact and lightweight design, this car amplifier is easy to install. The price is budget-friendly, and it makes a good buy for car owners.
7. Taramp HD 3000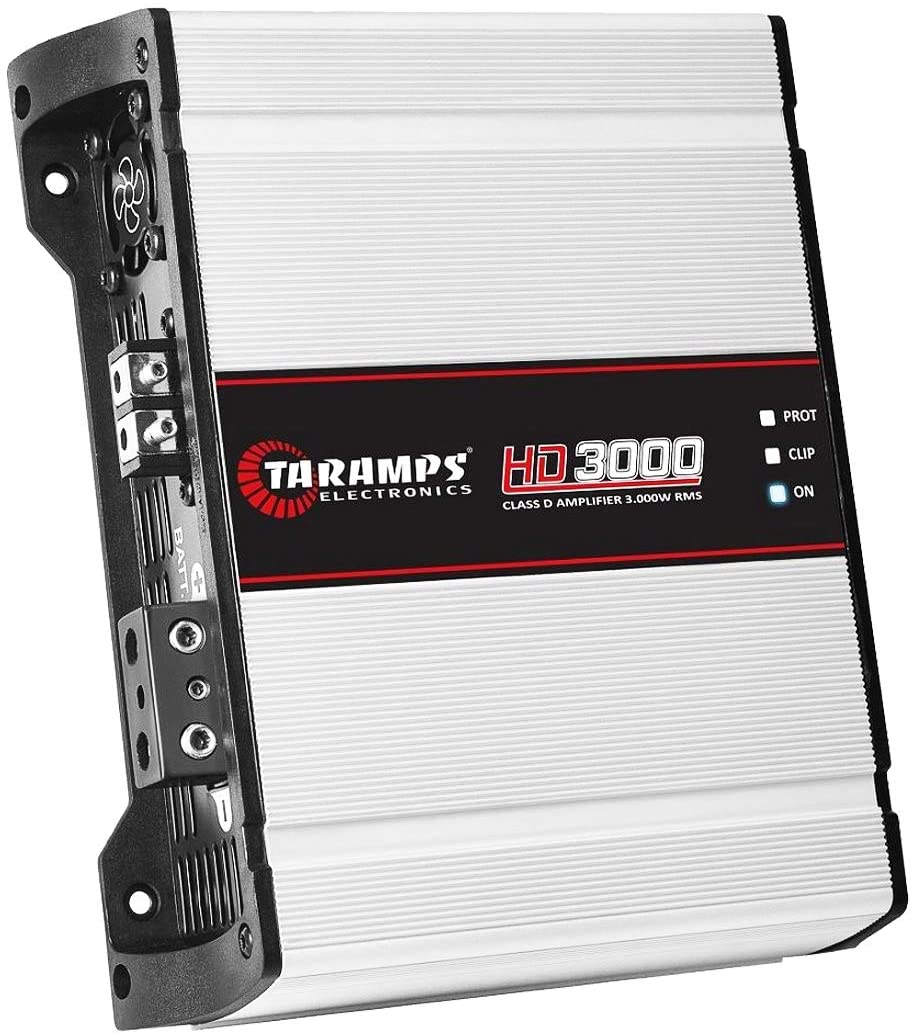 Class D car amplifiers typically outperform the other types of car amplifiers. This Taramp's class-D amp outputs up to 3000W – that's undoubtedly sufficient to power any size of car audio system. However, this is a mono amplifier – features a single channel @ 1-ohm. Taramp HD 3000 car amplifier goes on to support bass boost, as well as conceal the manufacturer's patented audio technologies for optimal performance.
Whether you own a truck, van, SUV, sedan, or any other type of vehicle, this car amplifier is sure to power your sound system and deliver clear audio that's accompanied by thumping bass.
8. Pyle PLA2200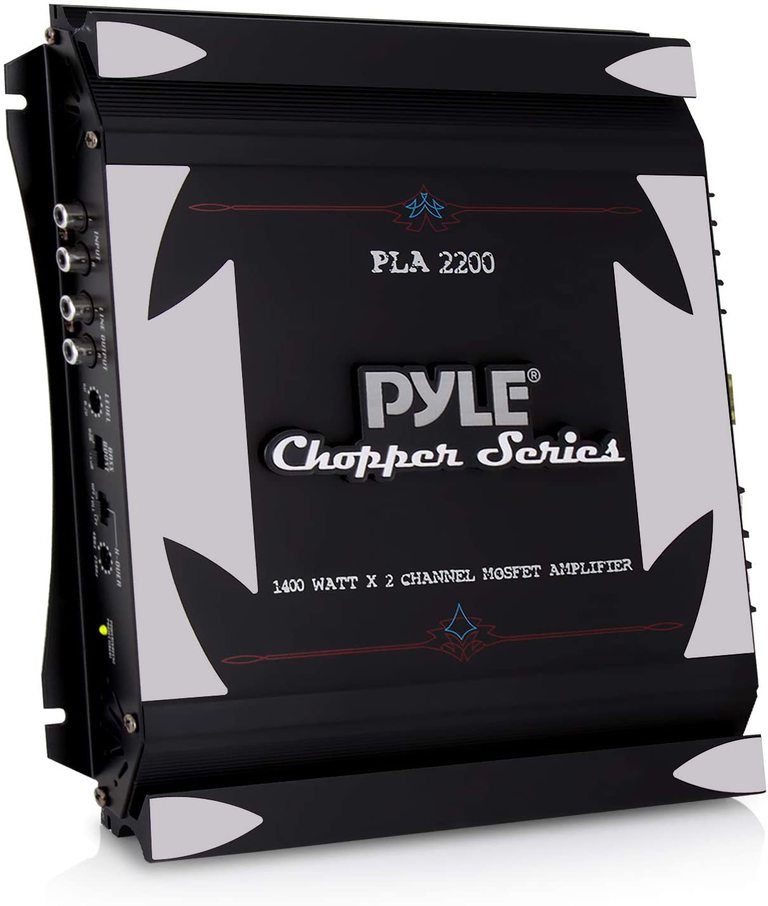 Have you considered using a dual-channel car amplifier? Such amplifiers are also a good option to boost the audio you get from your OEM stereo. Particularly, the Pyle PLA2200 is an excellent dual-channel car amplifier, performing at 1400W bridgeable output with quite a couple of impressive features you would find handy. It flaunts a slim/compact design with gold-plated RCA ports to checkmate signal loss.
Also, this amplifier, as expected, supports bass boost, low-level inputs, thermal/overload/short-circuit protection, and LED indicators. It retails at a price below $80 in different stores (online and offline).
9. KICKER CX400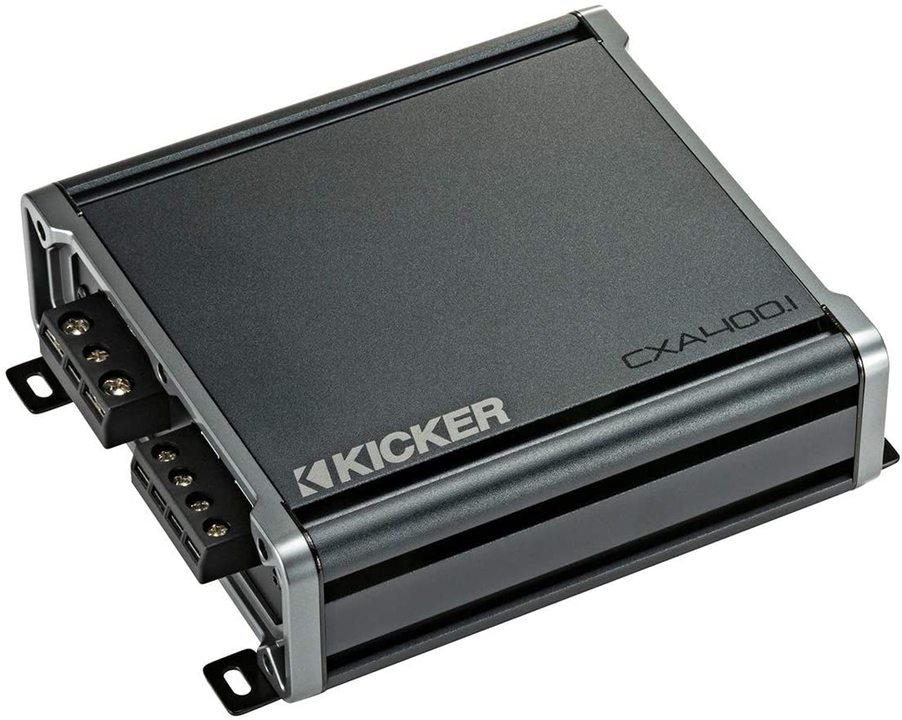 Class-D amplifiers can be very expensive (priced above $500). However, ut the Kicker CX400 isn't one of those highly-priced models, yet it delivers what you want. Typical of Kicker's CX-series, this car amplifier is efficient, features a 3-secs on/off delay that helps to checkmate irrelevant interferences, and features variable 12dB crossovers.
Kicker CX400 is ideal for different cars – the KickEQ 6dB variable bass boost delivers stunning low frequencies while the 24dB subsonic protects your speakers from damaging frequencies. This is a smart and budget-friendly car amplifier for all car owners.
10. Lanzar Amplifier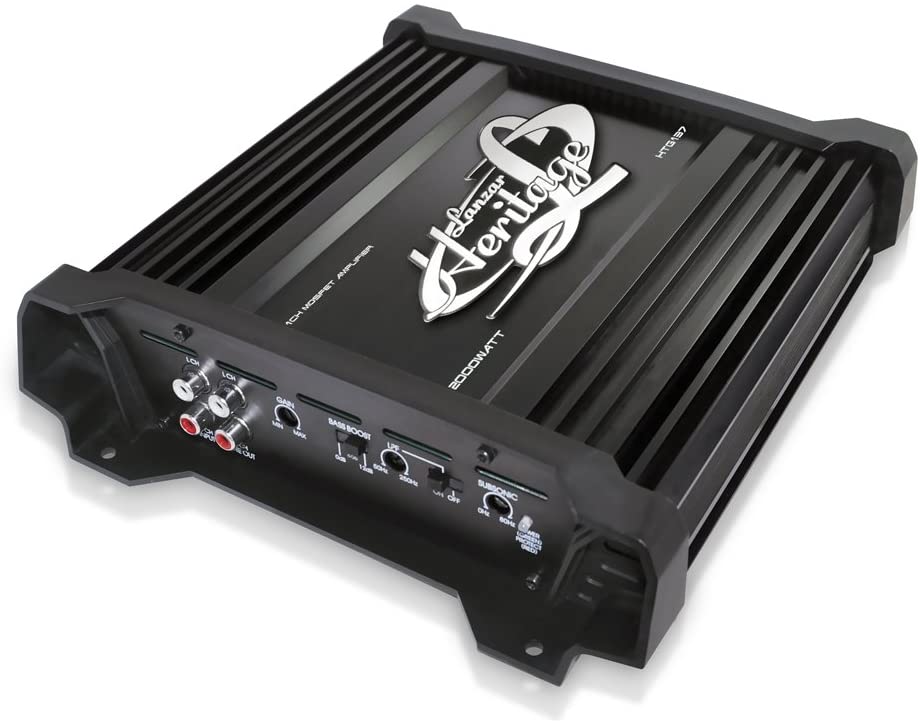 Choosing this Lanzar Amplifier isn't a bad pick – this car amplifier features one channel with excellent frequency response rates. Also, the crossover network is strategically crafted for optimal performance, and inside the hood lies a variety of cutting-edge tech components that power the amp.
The RCA connectors are well-designed to assure distortion-free sound. Power and protection LED indicators are available on this monoblock amp. It makes a good choice for audiophile drivers.
11. Hifonics ZG-3200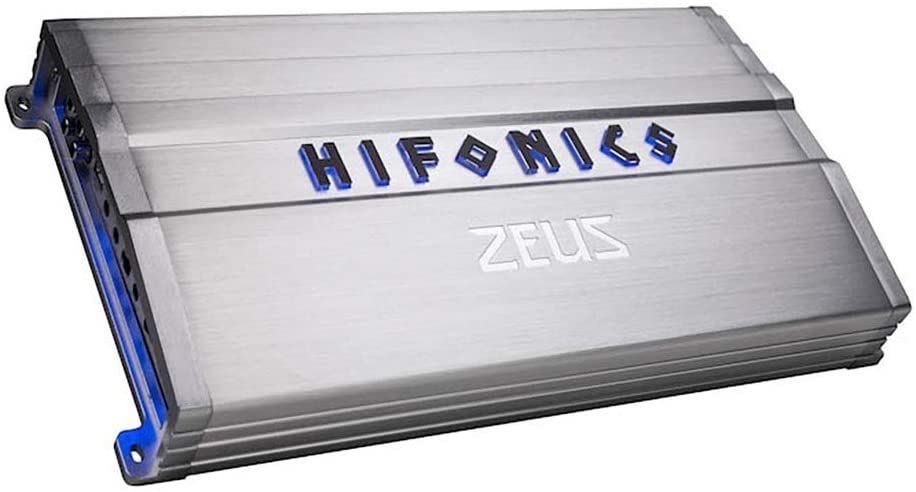 Here's another class-D car amplifier with many features you will find useful for managing your car audio. The Hifonics ZG-3200 car amplifier powers your car speakers to deliver clean and detailed sound with deep bass. It is actually a 3200-watt, monoblock car audio amplifier with techs that assures minimal distortion.
This amplifier is intuitive and easy to install – the design is flexible and would fit any space. Hifonics ZG-3200, as a class-D amplifier is one of the best car amplifiers you can buy at the moment.
12. Rockford Fosgate R500X1D Prime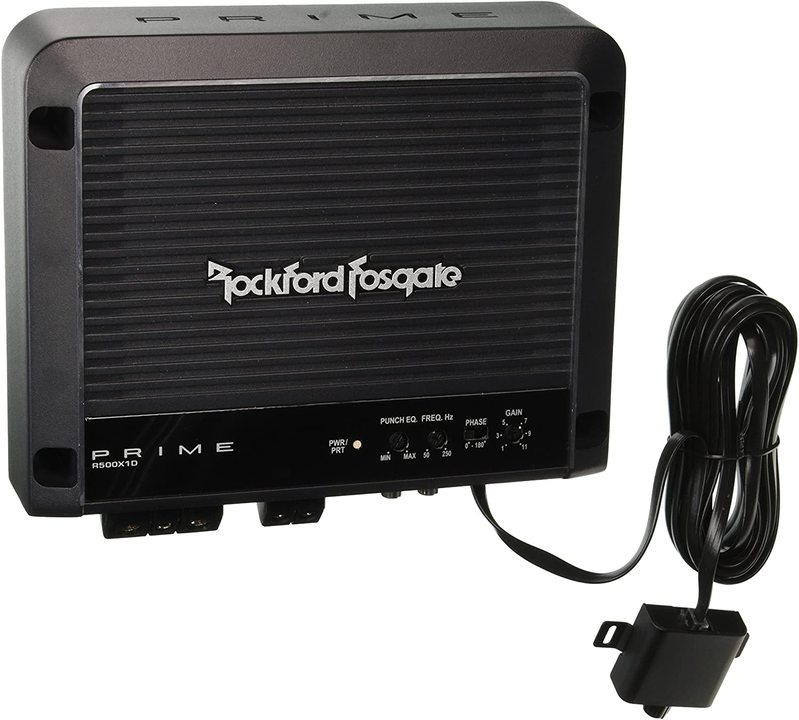 The Rockford Fosgate R500X1D Prime is the last on this list; however, this doesn't dispute the fact that it is a reliable car amplifier you can use on different cars. This is also a Class-D amplifier – it outputs 300W @4-ohms, and 500W @ 2-ohms. The frequency rate is 20Hz – 250Hz (+/-1dB).
Also, this amplifier goes on to feature an onboard punch EQ with a +18dB boost at 45Hz. There is a wired remote (Punch Level Control) included in the box. The Rockford Fosgate R500X1D prime is simply a highly efficient car amplifier sold at a reasonable price.
What More?
These are 12 of the best car amplifiers you can purchase from different stores and outlets. Each of these amplifiers will work on all kinds of vehicles. More so, you can easily install them on your car.