Most modern TVs we use these days don't have built-in speakers; thus, a soundbar is needed to use with the TV in order to enjoy quality sounds from your playback or favorite channels. Soundbars are pretty much compatible; they are designed to occupy less space in the room while delivering stunningly clear, cinematic-level sound, and deep bass.
However, over time, the number of soundbars in the market is on the increase; many are specially designed for TVs, some are designed for PCs, others are designed for general purposes. Nevertheless, there are also a lot of them that are smart and compatible with voice assistants such as Amazon's Alexa or Google Assistant.
In today's article, you'll learn about the 13 best soundbars that are compatible with Alex voice assistant. These units are from popular and unpopular manufacturers. Also, they are reasonably priced and flaunts compact designs that will not occupy much space or stress you out looking for where to place the bar.
Either of these Alexa-compatible soundbars would perfectly match your home decor.
1. Yamaha YSP-5600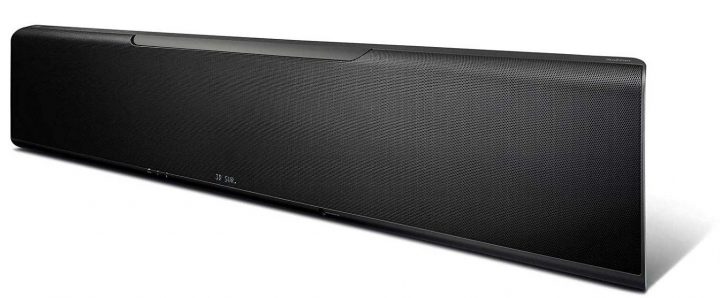 Speaker drivers: up to 46 remarkable drivers
Channel: complete 7.1.2 channel
Support: Bluetooth, WiFi, AirPod, Music Cast
Sound: DTS:X, Dolby Atmos
Power: 128W total
Yamaha is a popular brand that manufactures musical and sound instruments/gadgets. This soundbar from the brand supports Alexa control, and it comes with exceptional components to offer the best performance. Also, this soundbar is a complete 7.1.2 surround sound setup with HDMI inputs to connect 4K UHD pass-through and HDCP 2.2.
Yamaha YSP-5600 can be used with TVs, PCs, and other compatible devices; it supports Wi-Fi, Bluetooth, AirPlay, and Spotify connectivity. With the help of the 46 speaker drivers concealed by this soundbar, you'll enjoy a stunningly clear sound and deep bass.
2. BYL Soundbar
Speaker drivers: dual drivers
Channel: 2.1
Support: Bluetooth 5.0, Optical input
Sound: DSP technology, 360-degree sound
Power: 40W total
Soundbar Length: 28-inch
The BYL Soundbar is a compact wireless soundbar with quite a lot of technologies that help to generate high-level of crystal clear sound. It comes with an advanced Bluetooth technology and handy remote control.
This soundbar delivers intense bass even though the price is considerably low. With the integrated DSP Technology, you'll get three unique sound effects to choose from – news, movie, and music.
3. Polk Audio Command Sound Bar
Speaker drivers: dual drivers
Channel: 2.1
Support: Alexa voice, fire TV, amazon music, Pandora, iHeartRadio
Sound: Dolby and DTS
Power: 40W total
Soundbar Length: 28-inch
This happens to be one of the best soundbars with Alexa voice control support. It is designed by Polk Audio, a renown consumer electronics manufacturer with decades of experience.
The Polk Audio Command Soundbar is very much flexible and can be mounted anywhere in a room. It supports 4k and HDTVs, thanks to the HDMI input ports.
Also, this soundbar looks attractive, and there is a dedicated, portable subwoofer that comes along with it. Polk Audio has carefully implanted robust drivers into this soundbar to enable it to deliver great sound and bass.
4. Sonos Beam

Support: Alexa voice, AirPlay, Sonos App
Sound: high quality with deep bass
Soundbar Length: 25-inch
Sonos Beam looks attractive in its compact design. It is a fairly-priced soundbar with inbuilt support for Amazon Alexa voice control, remote control, as well as a mobile app.
Setting up this soundbar with your smart TV is not a problem at all. Also, its compact design makes it possible to situate the soundbar in any available space in your room. Interestingly, you can add more speakers to this soundbar and turn it to a 5.1 or 7.1 surround setup.
5. Samsung Sound+
Speaker drivers: 9 robust drivers
Support: Alexa voice, 4K Pass-through, WiFi, Bluetooth
Sound: High-Res Audio (24 bit)
Soundbar Length: 41-inch
Up to nine (9) drivers are hidden in this soundbar offered by Samsung. The Sound+ Soundbar utilizes its multi-speaker drivers to deliver precise sound with deep bass capable of shaking your walls even at a low-frequency of about 27Hz.
Quite a lot of technologies are supported, including swift music streaming from support platforms. This soundbar can be mounted on the wall or kept under the TV, on a shelf. The flat design blends perfectly well with most home decor, and there are HDMI and USB ports to connect your TV, Macbook, and desktops.
6. Sonos 3.1 Entertainment Set
Speaker drivers: 9 robust drivers
Channel: 3.1
Support: Alexa voice, AirPlay2, WiFi, Bluetooth
Sound: HiFi
Soundbar Length: 35.5-inch
When you're looking for a smart soundbar to complement your smart home, this can be an ideal option if you'd love a 3.1 audio setup. This Sonos soundbar comes with a dedicated subwoofer and goes for a considerable price.
You can connect this system with a lot of devices including your HD TVs, smartTVs, laptop, and other mobile devices with wireless connectivity support.
The set delivers room-filling sound and deeper bass. Moreso, you can buy/add other Sonos speakers to increase your sound setup up to 7.1 channel or even more.
7. Bose Soundbar 500 
Support: Alexa voice, AirPlay2, WiFi, Bluetooth
Sound: High-quality sound
Soundbar Length: 31.5-inch
Unlike some other soundbars, this unit comes with built-in Alexa support, which means that you do not need an external Alexa device to control the soundbar virtually. The sound quality of this soundbar is top-notch, and its design will definitely blend with most modern home decor.
Bose Soundbar 500 supports wireless connectivity via WiFi or Bluetooth. Plus, it can be controlled with a remote controller or the Bose mobile app. You can also add more Bose speaker to increase your sound setup for multiroom. This soundbar will work with your TV, computer, or mobile devices.
8. SuperSonic SC-1419SBA

Speaker drivers: 6 drivers
Support: Alexa, Spotify, Pandora, and Apple music
Sound: Room-filling sound
Soundbar Length: 41-inch
This is one of the best soundbars with Alexa support. It flaunts a stylish design that will draw you close. The soundbar produces quite a powerful sound and bass. Even, it is straightforward to set it up with your HD TV or any other compatible media device.
Also, you can seamlessly stream music from platforms such as Spotify, Pandora, Apple Music, and other supported ones. SuperSonic SC-1419SBA conceals a bunch of high-performance speaker drivers to deliver precise room-filling sound at different frequencies. This soundbar can be synchronized with other wifi-enabled speakers for multi-channel setup.
9. Yamaha YAS-108 Sound Bar
Speaker drivers: 4 drivers
Support: Alexa voice, remote control, 4k pass-through
Sound: DTS Virtual:X
Soundbar Length: 35-inch
Not only does this soundbar support Alexa control, but it also comes along with an inbuilt subwoofer to deliver deeper bass. The Yamaha YAS-108 soundbar has a slender design that fits into many home decors.
Also, you can easily install this soundbar in any location around your room. This soundbar supports 4k pass-through; thus, you can connect it to your HD TV using an optical cable or HDMI.
10. Bose Soundbar 700
Speaker drivers: 5 drivers
Support: Alexa voice, remote optical, Bluetooth, HDMI-ARC connectivity
Sound: Stunning clear, high-quality sound
Soundbar Length: 38.5-inch
Among the many Bose soundbars, you'll find in the market; this is practically the best unit available. This soundbar is quite long at 38.5-inch, and it produces stunningly clear sound with room-shaking bass.
The soundbar is packed with robust speaker driver that delivers great cinematic (surround) room-filling sound. It flaunts a sturdy/stylish glass top, and you can virtually connect more Bose Surround Speakers for an immense surround sound.
11. VIZIO SB3220n-F6
Channel: 2.0
Support: Alexa voice and Bluetooth
Sound: DTS technologies
Soundbar Length: 32-inch
Here comes a compact soundbar with a lot of modern sound features. It provides you with 97 decibels of room-filling, crystal clear sound with less than 1% total harmonic distortion. This is a complete 2.0 surround sound system with full DTS audio technologies.
You can easily connect this soundbar to your compatible devices in a few minutes. VIZIO SB3220n-F6 is not so popular out there, but it is certainly one of the best Alexa-compatible soundbars you can buy.
12. HYASIA Soundbar

Channel: 4.0
Support: Alexa voice, WiFi, Bluetooth, 4K pass-through
Sound: DSP Technology
Soundbar Length: 34-inch
This soundbar provides you with a standard 4.0 sound system in a compact/flexible packing. It comes with four robust drivers of about 2 inches in size. The peak power usage is 40W, and the soundbar length is 34 inches.
HYASIA Soundbar produces stunning clear sound with a decent level of bass. Also, it supports a variety of wireless connections and can be connected to HD TVs or Smart TVs. Also, this soundbar has a remote controller, and there is a LED display panel; its design is stunning, and it would blend with most home decors, practically.
13. Sonos Beam (Black)
Channel: 5.1
Support: Alexa voice, WiFi, Bluetooth, 4K pass-through
Soundbar Length: 25.6-inch
With this set, you'll enjoy a solid 5.0 surround sound setup in your home. The soundbar comes along with a pair of HiFi speakers to deliver the best precise sound you will enjoy. Also, the bass output quality is commendable, and it comes with built-in Alexa support.
This system will work with any TV, as well as PCs or other portable media players such as smartphones. One of the interesting things about this soundbar is that it is very easy to set up with your gadget and its compact design makes it fit into any position.
Wrap up:
These are the top best soundbars in the market with Alexa voice assistant support. They can be connected with any TV, as well as compatible systems, smartphones, portable gadgets, and tablet devices.