"Oh, I love doing laundry so much," said no one ever. The fact that your load of laundry stinks and takes you at least 30 minutes to wash and another 30 to put it out for drying makes this job one of the most irritating ones. Procrastinating when it comes to your laundry is always to be expected when you are all alone.
However, if you have access to some nifty and cool gadgets that help you deal with the amount of work laundry brings, won't that be a lifesaver? Well, here are some gadgets that one can use to take care of their laundry in no time!

Easy to use: Clothes Folder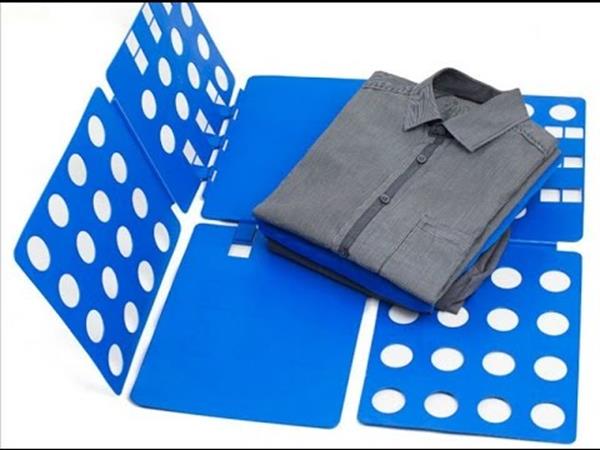 Ever wondered how Sheldon from Big Bang Theory managed to get his laundry done in no time? Well, our first choice will remind you of him. If you haven't guessed it yet, then it is a clothes folder. This plastic case helps you fold your laundry in no time.
With flaps on every side, it is easy for you to fold the clothes in a jiffy. With this device, you not only save the time taken to fold your clothes, but also get a neat pile of clothes at the end!

Drumi Sustainable Laundry Machine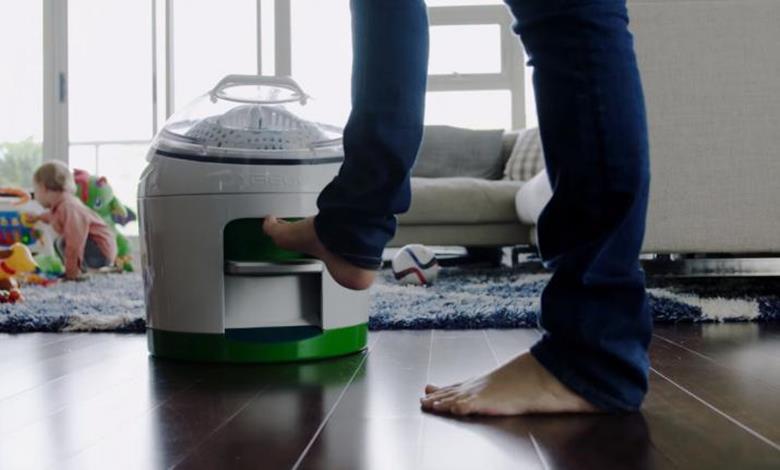 Do you want to live in the future and wash your clothes, as well as save energy? Well, Drumi is the answer for you. The best thing about this beautiful, compact and extremely useful device is that it does not require any electricity to run. You can operate this by paddling it.
Drumi is built with a capacity of 2 kg, which is enough for your everyday requirements. What's more, is that this device takes about 5 minutes to wash one load. Furthermore, the compact nature of the washing machine helps you to wash your clothes on-the-go!

Washing on-the-go: Washwow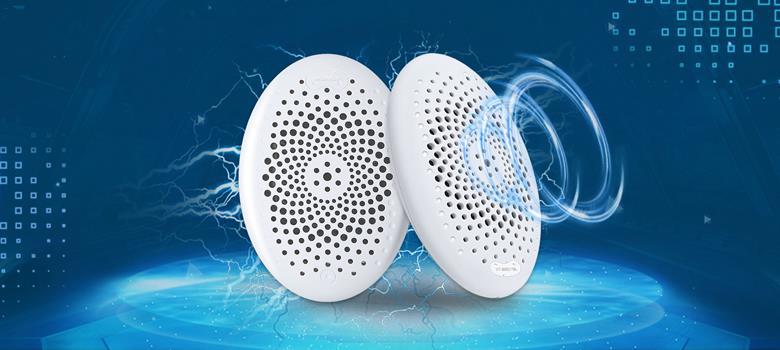 Washwow is a relatively new device developed and created by Washwowtechnology. If you wish to clean their load of dirty clothes at home or on-the-go, then this device is the one for you. Small, nifty, resourceful and compact enough to fit in your bag, this device not only washes your clothes but also disinfects them.

The best benefit of this compact device is that it removes odours from the washing load and takes care of washing almost instantly. Although this device is compatible with only small loads, the machine offers great easy to all of those who travel a lot.

Detangle those Socks: Sock Clips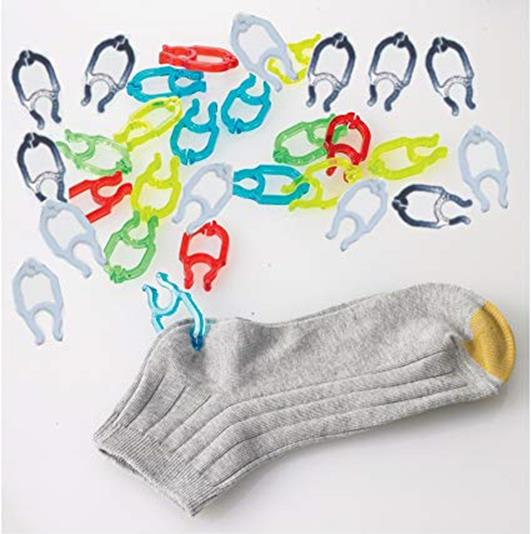 One of the biggest nuisance while washing a load of laundry is lost pairs of socks. If you have ever washed a load of laundry with pairs of socks, then you know that no two pairs come out together.
Forget about fishing for these socks and their pairs by making use of sock clips. Small and compact, the uses of these sock clips are fantastic.
These clips help you keep a pair together and enables you to forget about fishing for socks from your load. Furthermore, you could even dry your stockings with these sock clips.

Tersa Steam 10-Minute Clothing Care System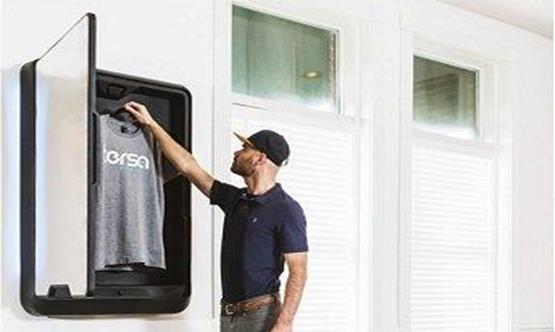 Tersa Steam 10-Minute Clothing Care System is one of the best inventions that helps you take care of your laundry as well as helping you keep your clothes fresh. This 10-minute system helps you de-wrinkle, deodorize and dry your clothes, with the help of plant minerals and all-natural distilled water. The device makes use of recyclable Tersa Pods, which adds a refreshing smell to your garments and helps you find fresh smelling garments all the time.

Avoid Spillage: Laundry Appliance Guards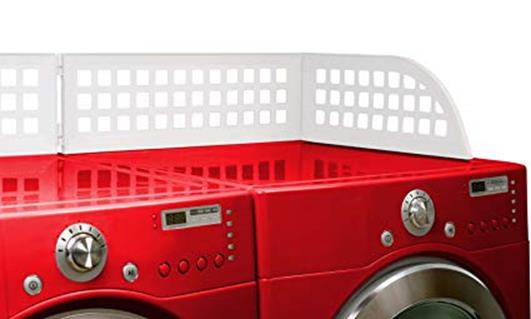 Washing clothes is never an easy task. Apart from worrying about washing your clothes and bringing out the socks in pairs, you have to worry about the things that you put on the top of your washing machine as well.
Although the flat top of your chosen washing machine may look pretty and sleek, there are more chances of something falling off from the top as well. Making use of laundry appliance guards will not only help you keep your clothes and socks on top of the washing machine, as well as keep your detergent and cleaners from falling off.

Sort your Laundry with mesh Laundry bags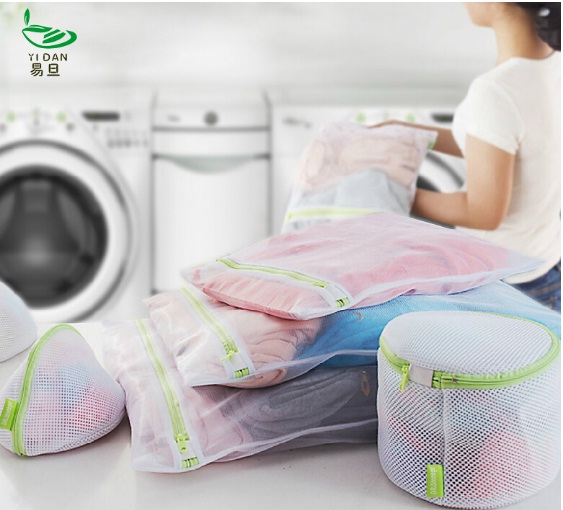 The worst part of washing laundry is the fact that you have to sort your clothes. However, with the use of laundry bags, you can find it easy to keep everything in place and make sure that washing them does not make a lot of noise. Furthermore, the mesh laundry bags are made of various kinds of breathable material, which makes it possible for you to keep your clothes dry, clean and in place.

With various options in the market, you do not need to rely only on your washing machine to clear up your laundry. With the help of several types of gadgets and devices, it is possible for you to make cleaning and washing your clothes easier.

Keep moulding at bay with Laundry Lasso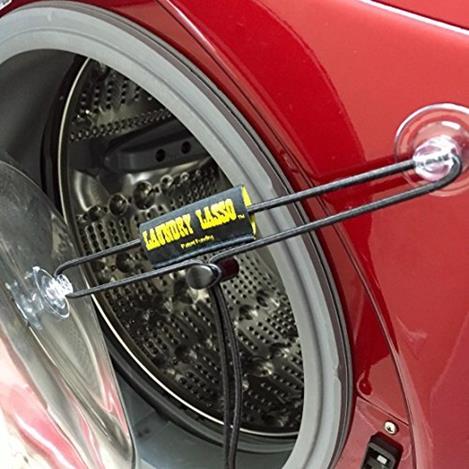 As we know having a front loader washing machine lying around can lead to the formation of bacteria and mold on the inside and on the rubber seals. This is caused due to the excessive moisture, leftover detergent and dirt.

In order to reduce the mildew and mold odour and formation, you can leave the door ajar, but with regular use, you may tend to accidentally close the door. This can further add to the same problems. That is exactly what Laundry Lasso hopes to solve.
It uses suction cups and elastic cords to make sure the door stays open even if you accidentally shut it. And when you do want to use your washing machine, the gadget can be easily tucked away but still attached to your machine.

Ironing made easier with the Ironing Mat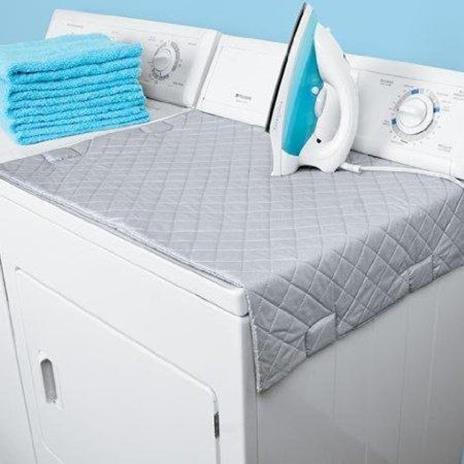 If you are short on space when it comes to ironing your clothes, there is one small gadget that can help convert any flat space around you into a nifty ironing board. The ironing mat allows you to do just that.
You can place it on your washing machine, your table, or anywhere else and quickly iron the creases of your laundry. Plus it doesn't take any time to set up or fold away. Talk about saving time and space.

Drying clothes now easier with the Retractable Clothesline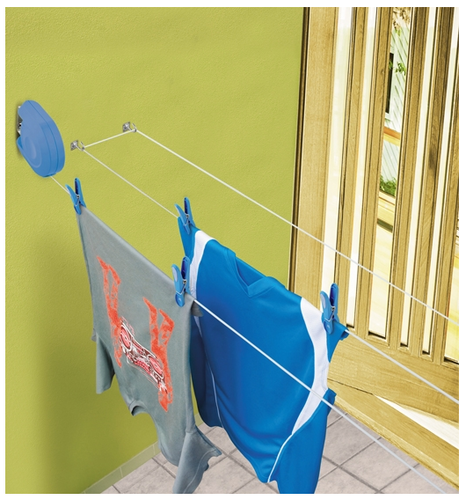 Are you living in a studio apartment and finding it hard to dry your clothes? Well, you can look at the retractable clothesline which not just gives you the convenience of the conventional clothesline but also saves a ton of space due to its retractable design.

Wrap Up:
While there are some devices that help us do tasks, there are always some handy gadgets that help to ease our work further when doing those tasks.
Listed above are just some of the gadgets that help with your laundry. Do you have any other gadgets that can help speed up or save time with laundry and house cleaning? Share your views in the comments section below.