Nowadays, every organization working in Europe or targeting EU customers should follow GDPR standards. However, the General Data Protection Regulation is one of the most rigid privacy and security law. Therefore, companies often face some difficulties trying to comply with GDPR. If you use Zendesk, we understand how long it takes to delete customer personal data because you can't do it in bulk. Thus, what if I say, there is a solution that can save you time, money, and stress on GDPR? Zendesk GDPR Compliance app can help you with it.
 The GDPR Compliance app is a convenient and effective way to process sensitive personal information. And we are going to be covering how this tool can assist you to comply with GDPR easily, what additional benefits it will bring, and how it will solve your struggles with following data protection regulations.

What is Zendesk GDPR Compliance?
GDPR Compliance for Zendesk Support is an application designed to relieve process users' queries about their data accordingly to European data protection law. Whenever clients want to receive a report containing their personal data, the GDPR app helps perform such a request quickly and safely. By the way, GDPR Compliance is also about anonymizing or deleting sensitive personal information. Therefore, it is useful when you need to process, for example, ticket statistics excluding significant users' important data.

Why do I need the GDPR Compliance app if Zendesk also can delete users' data?
The answer is that you only can delete manually chosen tickets, users, or organizations. It doesn't sound quite convenient, does it? Otherwise, GDPR Compliance easily integrates with Zendesk Support, allowing deleting, and anonymizing all necessary data in a one-click. Besides, such performances can be adjusted as automation so those processes can turn on and off automatically. The main advantage of the Zendesk app,  it can save a tremendous amount of time. And we all know how important time is in our unpredictable and developing world. 
Well, now we know what GDPR Compliance is and for what purpose it was created. However, you might have many questions about its functionality. So, let's have a look at it in detail.

Deleting and anonymizing data in Zendesk
We start with the most wide-used options required by Zendesk users. Nobody likes to delete information manually, marking each checkbox, one-by-one. Especially if you need to select more than 100 items;  Moreover, you must do this regularly after you stop providing customer service on European and Californian privacy protocol demands. This way, GDPR Compliance assists you in permanent and fast information deleting. Zendesk GDPR Compliance allows you to delete users, organizations, tickets, and all related information. So, with GDPR Compliance, you can be sure all bits of personal data are entirely removed from the Zendesk system. By the way, some clients work with several Legal and GDPR-related requirements. The main issue they face is that thousands of users' data are collected daily. In such a case, a bulk-delete option is a rescuer.

On the other hand, not always data deletion is what you are looking for, right? You would probably say, 'I need to leave some general information to improve my service, but, following GDPR, I can't store users' credentials and other sensitive data.' It's when anonymizing becomes valuable.

So, the app provides anonymization of:

Credit card numbers;


Names;


Email addresses;


Tags;


Tracking numbers;


Other personal data you can choose in GDPR Compliance settings.

However, the information essential to accurate business reports is still in Zendesk Support.

In addition, the app also allows deleting or anonymizing personal data from CSV files.

Retrieving data from Zendesk
By the General Data Protection Regulation, all individuals have the right to have personal data erased or downloaded at users' request. If you have a data request from your customer, you can easily retrieve all information from Zendesk in a CSV file with just a few clicks and send it to a requester. Tickets, public comments, internal notes, user info, and attachments are well sorted by folders.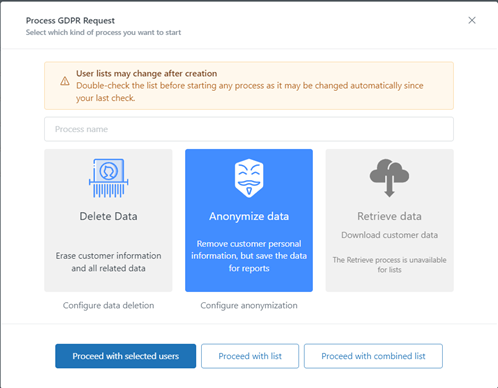 Source: GDPR Compliance app

Plan the start and the end of GDPR processes
What if we say there is an easier way to comply with GDPR Compliance? We discovered some of the app's main benefits from the text above. However, the GDPR application can schedule deleting and anonymizing whenever you need. Therefore, you can automatically delete or anonymize personal data every day, week, month, or year.

Admin rights
We need to note that deleting, anonymizing, and retrieving can run an administrator as these are essential and responsible processes. Thus, you no worry that every agent has access to it. Also, when a company has more than 200 employees, there might be situations when an agent with admin rights does not have time to run GDPR processes or confirm requests because of different circumstances. So, the best solution might be to delegate this work to a worthy-trust colleague. GDPR Compliance allows to set up such an option and point out who can run processes without administrator confirmation.

Reduct lists
Maybe you are still unclear on how you can quickly delete or anonymize about 50 users at once. This process is performed with the help of user lists, ticket lists, and organization lists. First, you create the necessary list based on the criteria or conditions you require and then launch the GDPR process.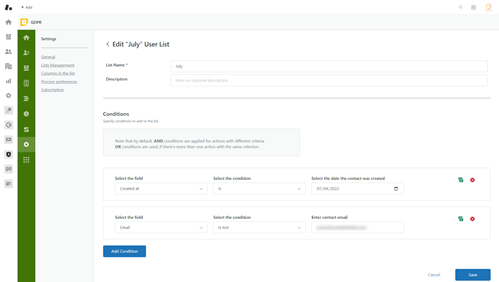 Source: GDPR Compliance app

View statistics
Last but not least is the Zendesk GDPR Compliance statistics option. Manage all actions made in the app during all time or defined periods. You will get accurate reports in a graphic displaying where you can use filters to analyze processed GDPR actions. So, there you can observe who is responsible for a specific process, what kinds of operations were performed, and when.

Other benefits
Except for GDPR functionality, the app also can please you with:

A user-friendly interface. Intuitively go through the navigation panel, find necessary features, and effortlessly run processes.


An easy-going support team. It's good at communication and uses a hands-on attitude to make a user's path smooth and pleasant. You will receive a product consultation, a detailed guide/tutorial, or a problem solution at any time.


A magic dev team. Suppose you have some propositions, and the development team is ready to transform your ideas into reality. Thus, you will get a personalized solution that suits your desires or eliminates work difficulties.

Sum up
Using GDPR Compliance relieves your working path while following GDPR protocols in Zendesk. Thanks to it, you do a job efficiently, show the company's responsibility and transparency, and save an immense amount of time and nerves. Thus, don't wait and hurry up test GDPR Compliance for Zendesk Support with a free trial.  We bet you will enjoy it.