If you need an accurate and fast PDF converter that you can use for free, then look no further than HiPDF. As an online tool to convert PDF to Word and other formats, HiPDF can be used in your browser without the need to install any software.
You can easily convert PDF to Excel, PPT, Word, or JPG with this amazing free online PDF converter that works on all major OS platforms. As long as you have an up-to-date browser, you're good to go on any device, whether it's a desktop, tablet, or smartphone.
So, how do you use this versatile PDF to Word/Excel/PPT converter tool, and what are its main features? Let's take a peek.
Introducing HiPDF PDF to Word/Excel/PPT Converter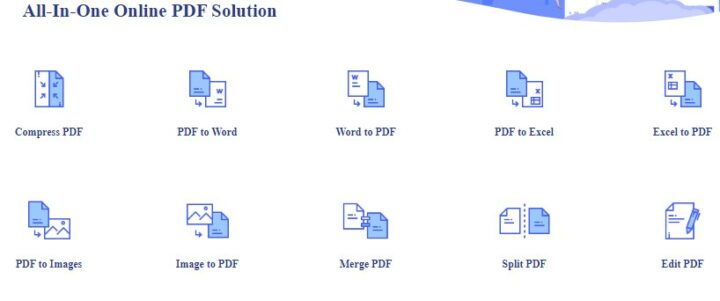 This amazing PDF converter is a cloud-based tool that you can use on any modern browser such as Chrome, Firefox, Edge, Safari, etc. It's a versatile tool that's not only a PDF conversion service but also contains a host of other tools such as file optimization, PDF security, page management, file management, and even advanced OCR that has a high degree of accuracy and speed.
In simple words, it's an all-in-one solution for handling PDF workflows over the web. As a secure and reliable web service, HiPDF goes above and beyond the basics, providing users with all the accessories they need to manipulate and manage PDF files. Whether it's a simple annotation or an elaborate editing and conversion job, HiPDF has your back.
The Features
HiPDF is an advanced web-based PDF converter and document management service that works with all PDF versions and performs as well as a dedicated desktop PDF converter or editor.
Here are just a few of the key features you can expect from this amazingly versatile PDF converter:
Convert files to and from PDF with great accuracy
Process heavy workloads with ease – Batch Process (Pro feature)
An extensive collection of PDF tools for editing, security, conversion, optimization, etc.
Fast processing – ideal for large files if you have a robust Internet connection
Securely upload and download documents on HiPDF
Intuitive UI with easy drag-and-drop and click-to-process operations
API option to integrate the PDF converter with your product
Flexible pricing plans with 100% free option
Price
HiPDF is absolutely free if you're a light user who needs to process just one or two documents per day. You can process files of up to 10MB or 50 pages long. For most casual PDF converter users, this is the perfect free utility.
If you're a medium or heavy user, you can opt to upgrade on the HiPDF website for as little as $6 monthly or save 33% with the annual plan of $48, which works out to just $4 a month!
What's more – if you're looking for a hybrid desktop + web PDF to Word converter with a host of rich features, you can opt for the HiPDF Pro Plus for a monthly subscription fee of just $8 or an annual plan for just $62 or around $5 a month. T
How to Convert PDF to Word/Excel/PPT Online
The steps to use HiPDF are very simple, and we'll show you the easy way to use this PDF to Word converter on your browser.
Go to the HiPDF URL for the PDF to Word Converter or PDF to Excel Converter or PDF to PPT Converter.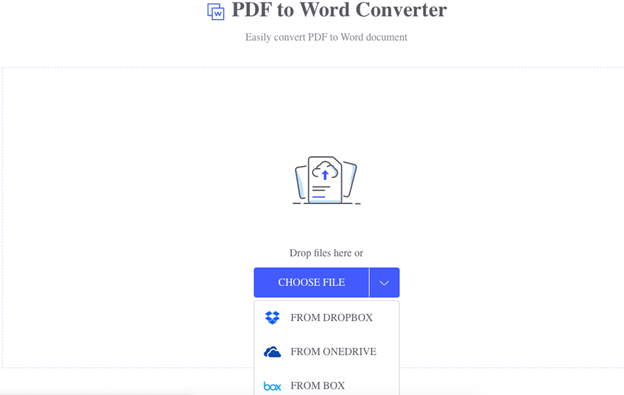 You can either drag your PDF file from its drive location and drop it into the HiPDF web interface or click the Choose File button – you can also upload a file directly from Dropbox and other cloud storage services.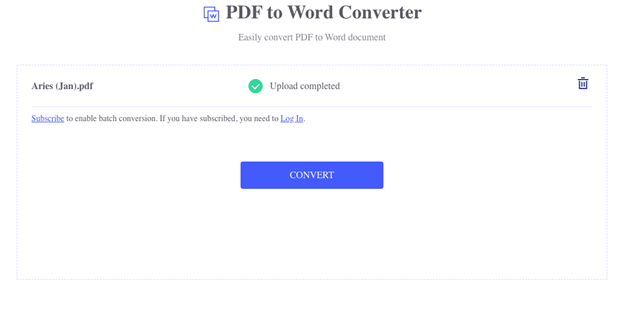 After you upload the file, you will see the file name displayed on your screen and a Convert button in the section below it – click Convert to initiate the process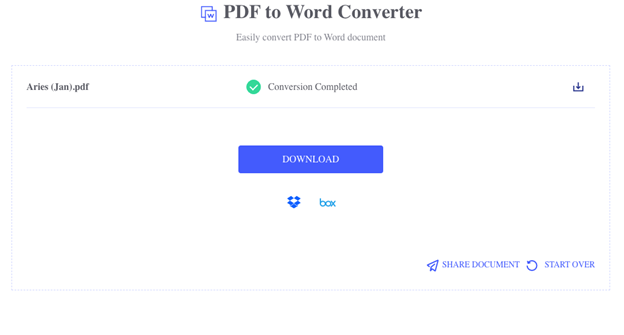 Once the conversion is done and you see the success message, you can perform one of these several actions: –
Click Download to save the file to a local folder
Click Share Document to share with others online
Click Start Over to process a different file
Once the file has been downloaded, you can double-click to open it with the default program, such as MS Word, Excel, or PowerPoint. It's super-fast, convenient, and simple!
Final Thoughts
HiPDF online PDF to Word converter offers a great value because you can basically store your files on Dropbox or OneDrive and then access HiPDF from any device to quickly convert them into other formats.
In addition, you can perform several other advanced actions such as image extraction, OCR, redaction of sensitive content, applying restrictions, reducing file size, etc. The comprehensive capabilities of HiPDF will make you significantly more productive because you can work from practically anywhere, whether you're at the office, working from home, or traveling somewhere.
In short, it's a super-functional PDF converter and one you can use for all your document workflows.