Sometimes we just feel like hiding our personal file on our computer from friends, families or colleagues . But it seems impossible because even after you use the default method of right clicking on the file and then changing the file or folder attribute to hidden, they can still find it if they change file and folder options to
"Show Hidden Files"
when searching. So how do you now hide your files in a way that only you the hider can find it? Well its quite simple. We would be using some basic command prompt codes to do the hiding.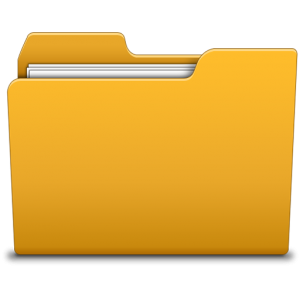 The good thing about using this method to hide files and folder is that even if the person looking to pry into your files, goes to folder options and choose "Show Hidden Files" the files or folder would not be showed to them. So follow the method below to completely hide your file. And yes, it works on all Windows OS versions (XP/7/8/vista)
How To Easily Hide Folder and Files Using Command Prompt
Lets look at it from this angle. Say you have a folder in your Drive C: named "videos" and you want it to be completely hidden from others and view-able by only you. Follow this trick below
1. Open command prompt by clicking the windows icon then in the search box search "CMD". You can also open it by holding the windows shortcut key on the and press R at the same with "Windows Shortcut key + R". After pressing this, it would open the run box as shown in the image below.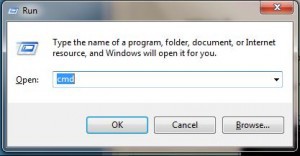 Now type "cmd" (without the quotes " ")in the run box that opens, after that hit the enter key on your keyboard and the command prompt windows would open.
2. type "attrib +s +h C:videos" in the command prompt and press enter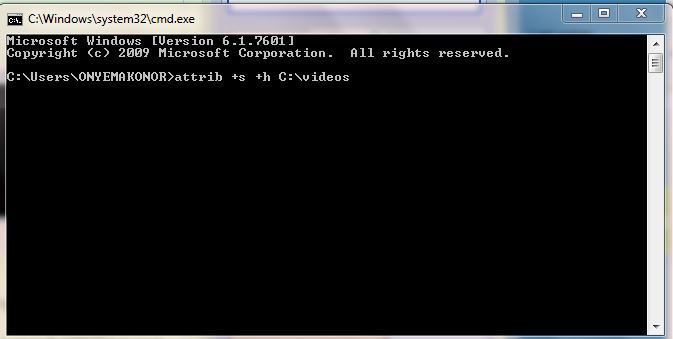 3. The folder would be completely hidden. It would not show up in search result.
Tips: If you want to hide a file/folder, move it to your hard disk so it would be easy to refer to in cmd. So if the file is on the deskop the file part is C:DesktopVideos, it may be difficult to refer to in cmd, so best move it to the hard disk so it would be C:Videos
Now you have succesfully hidden your file. If you wish to view the file you have hidden, all you need to do is to replace all the plus sign (+) with minus(-) so the code looks like this "attrib -s -h C:videos" to view the files
How was this tutorial? Please do leave a thoughtful comment below to tell us how you feel.