Often, lapses in security aren't discovered until it's too late. Take preventative measures for your office building using these tips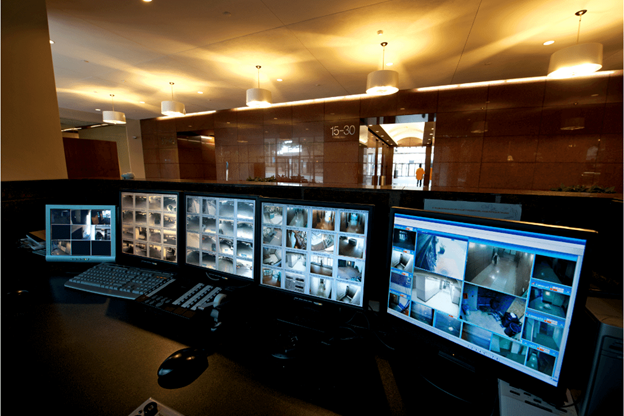 If you are the owner or operator of an office building, it can be easy to assume that as long as everything is working properly there is no need for an upgrade. However, if you aren't staying up to date with the latest requirements in office building development and renovation, the building could fall out of date before you know it. Two of the major areas that office buildings need to pay attention to when it comes to upgrades are safety & security.
Security is a top concern for building owners, operators, employees, and visitors alike. After all, any time you enter a building you want to feel safe and secure. If there are lapses in security due to an out-of-date building, it puts the people inside and any sensitive materials at risk. In order to ensure that your building has the highest level of security, there are a few things you need to audit and improve to bring everything up to speed. By following the suggestions we're going to detail in this article, you will be able to set security goals and find places to start making improvements. If you are interested in learning more about how building security can be improved, keep reading!
1. Take Advantage of Building Automation Systems
Building automation systems are powerful tools that allow devices in your building to automatically communicate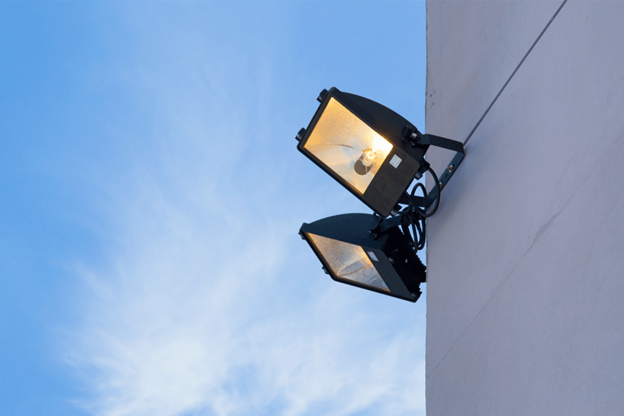 If you are a building owner or a tenant, then you have likely dealt with a building automation system (BAS) before. While not every building has a dedicated BAS control system, almost every office building incorporates some aspect of automation. Building automation can be anything from a single smart device to a system that controls every aspect of the building.
For security purposes, we are going to be discussing automated exterior lighting, motion sensors, and cameras. If your building does not already have exterior lighting or security cameras, it is recommended that these are installed as soon as possible. As we mentioned, you don't want to wait until it's too late for security upgrades.
Once cameras, lights, and motion sensors are installed, it is important that building automation is used to connect these devices. For most applications, these devices are interconnected either using the Internet of Things (IoT) or Power over Ethernet (PoE). Once connected, these devices are able to automatically communicate with each other to protect your building from intruders or other security breaches.
For example, when someone walks past a motion sensor on the exterior of your building, the motion sensor triggers and will automatically turn on the lights and security cameras. The lights serve two purposes. First, they are there to illuminate any walkways surrounding the building as people pass by. Second, they are there to illuminate the area so cameras can pick up any potential intruders.
By using building automation to increase security, you are using all of the technology available to keep your property safe. If you haven't previously considered building automation for security purposes, now is the time to start researching appropriate applications for added security measures.
2. Manage Parking Areas
Parking lots and garages require different security measures than the inside of a building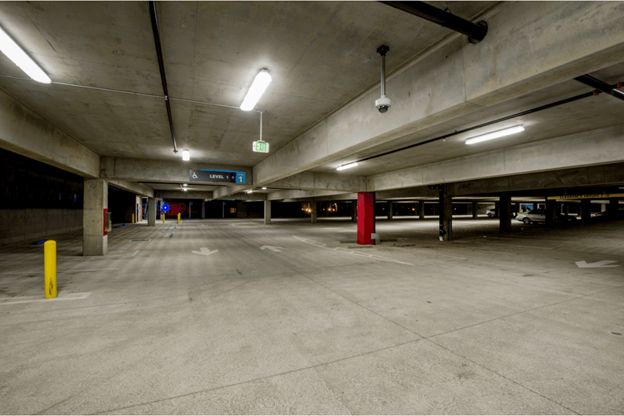 When it comes to safety, as a building owner or operator it is extremely important to make sure everyone feels safe from the time they arrive on your property to the time they leave. This includes parking areas and the walk to and from the building. Often, these can be areas where people feel unsafe for a number of reasons. In crowded parking lots and garages, people drive too fast which presents an immediate danger for any pedestrians. Many people also feel unsafe in parking garages after dark as they enter or exit their vehicles. In order to help all visitors feel safe on your property, there are a few steps that you can take.
The first thing you should do is add additional lighting and replace any outdated lighting in the parking garage. If areas of your parking lot or garage are still using incandescent or fluorescent light bulbs, then it is definitely time to replace them with high-performance LEDs. Additionally, if there are areas of your parking lot that are underlit, it is time to add additional lighting in order to provide the best visibility possible.
It is also important to have proper signage and barriers to increase safety and security for pedestrians. When it comes to garages, everyone is a driver and a pedestrian, so it is important that both are equally protected. By posting signage signifying a low-speed limit and watching for pedestrians, you can prevent accidents from happening. Additionally, many office buildings are installing barriers in their garages to further discourage unsafe driving. As you add these features to your parking area, all building visitors and employees will feel safer for the last segment of their commute.
3. Closely Monitor Building Access
One of the best ways to increase security is by limiting building access to only employees and approved visitors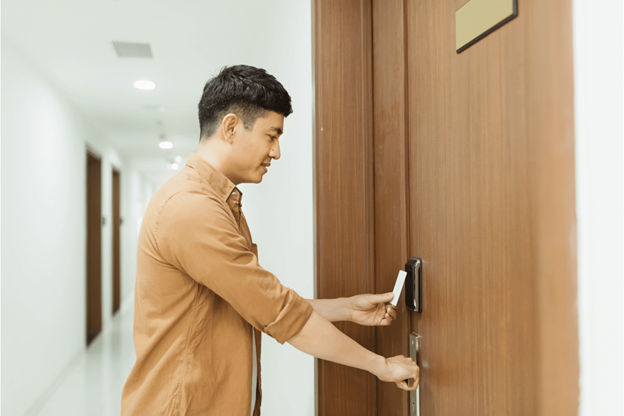 When it comes to building safety, one of the most obvious ways to keep everyone safe is by limiting access to your building. If you do not currently limit access to your building in any way, this is your sign to take some additional precautions. Before we had the type of security technology we are currently using every day, the only way to monitor access to a building was by hiring a security guard and designating a single point of entry. This is still a valid way to limit access to your building.
However, there are more intuitive ways to limit access beyond hiring security guards. One of the most common solutions is by issuing badges or key fobs to anyone who requires access to the building. That way, anyone who is unauthorized will be unable to enter at the designated access points. If you haven't already considered implementing added security measures to keep all building inhabitants safe, this is your sign to get started.
4. Revamp Fire Safety Measures
Fire safety is critical in the case of an emergency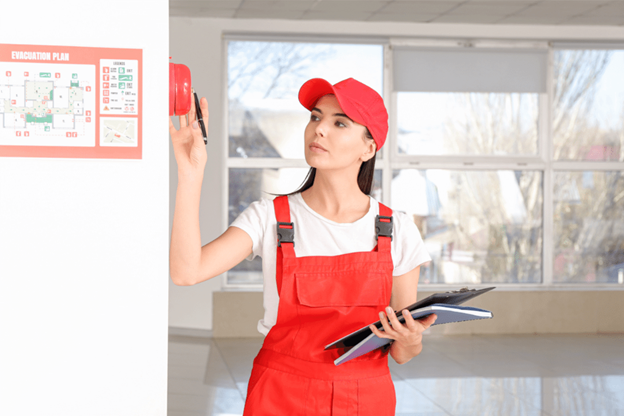 Arguably the most important aspect of building safety is safety in the case of an emergency. One of the ways that you can ensure the safety of the building's inhabitants is by revamping your fire safety devices and protocols. Often, fire safety measures become easily neglected since they go the majority of their service life unused. However, neglecting fire safety measures can lead to dire consequences. That's why we recommend increasing a building's fire safety measures as a way to increase overall security.
To get started, it is a good idea to take stock of all of the different materials that were used in the construction of the building. If there are any flammable materials, it is in your best interest to take steps to replace them. From there, you can begin testing and replacing any elements of your detector and sprinkler systems. This also presents a great opportunity to take stock of the fire extinguishers in the building and make sure none of them are out of date.
In some cases, it may be necessary to hire a contractor to assess your floor plan. Some floor plans are more conducive to spreading flames than others, which means that you may have to make some adjustments to keep all inhabitants safe. This is especially true if you are in an older building that has not been updated in the last few decades.
Wrapping Up:
Now that we've taken the time to talk about the most important elements of upgrading your building security, it is up to you to determine which upgrades your building needs. If you are taking stock of all of your security measures, it is best to upgrade the ones that are most lacking first.
Once you have addressed the problem areas, it is a good idea to upgrade every aspect of your safety & security. After all, you can never be too safe or secure! Trust us, your everyday employees and visitors will take notice of the upgrades. Upgrading security measures could even increase the value of your building, which is a major plus for building owners.