IoT technology is, no doubt, one of the most trending high-tech of the moment. A lot of devices, gadgets, and accessories we use today are practically using IoT technology. However, most people are yet to understand this technology and how it works. IoT is the acronym for "Internet of Things;" it is a system where multiple connected devices can share data and files between themselves over a network without any form of human interaction.
Over time IoT has caught the interest of many businesses as it proves to be a handy technology for analytical reasons, as well as data computing challenges. Here are the top IoT ideas and business trends of the moment.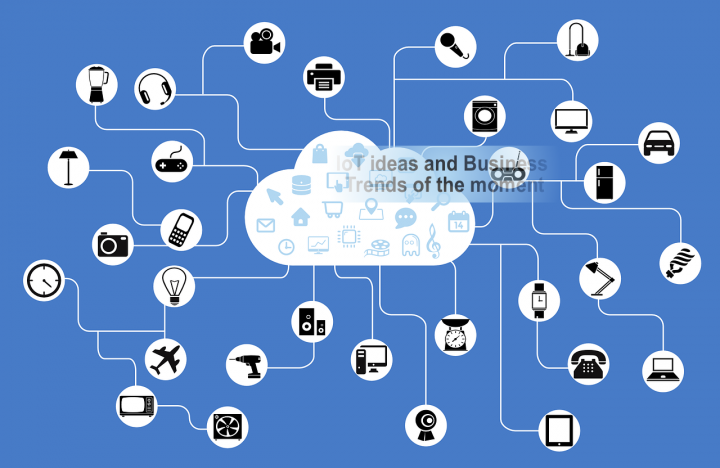 1. IoT will increase among business in the health care sector
Already, the health care sector are utilizing IoT in several means to improve people's health. Smart wearables and ultra-low power devices are all linked to the healthcare sector, and IoT will undoubtedly continue to grow stronger in this sector.
Also, IoT technologies are deployed to various hospital equipment to perform different actions as regards health, treatments, care, and more. In years to come, the healthcare sector may happen to be the most promising space for IoT innovation.
2. Smart techs will grow in urban cities
Most urban states and towns have used IoT in the past for data collection and the development of technologies/sensors to make life easier for its inhabitants. It is no surprise that developed cities will leverage IoT for data exchanges between private and public organizations with the citizens. IoT integration into devices will minimize traffic problems in urban cities, as well as improve the safety of its citizens.
This is where smart techs will come into view. McKinsey, of McKinsey Global Institute, published a report tagged "Smart Cities: Digital Solutions for a More Livable Future," that "We find that cities could improve some key quality-of-life indicators by 10-30 percent—numbers that translate into lives saved, reduced crime, shorter commutes, a lower health burden, and carbon emissions averted." Smart City tech will also touch small cities, as reported by IDC.
3. AI, data science, and machine learning will improve alongside IoT
As IoT grows further, it implies that more devices or systems will be connected to grab more data for specific reasons.
AI specialists and assistants alongside data scientists will be involved to work with IoT technology to handle the chunk data that is obtainable from the more connected systems.
4. IoT will power smart stores
Smart stores being powered by IoT is one IoT business opportunity that most retail stores are yet to embrace. Although many stores are already using RFID – Radio Frequency Identification tags to share insights on product inventories, a few are yet to modernize theirs.
Also, a smart lighting algorithm tells the duration a customer stays in a particular aisle or interact with items on the shelves in an aisle. Thus, IoT technologies will improve in this aspect to power smart stores to offer distinctive customer/consumer services based on preferences.
5. IoT will enhance transportation
With IoT technology, it is possible to detect free parking spaces for vehicles and other automobiles. While we are sure that self-driving cars will not take a bow this year, IoT tech will undoubtedly influence all forms of personal transportations. With automobile driver assist technology improving all the time, transportation will be swift with IoT technology over time.
Also, smart street lightings are designed with IoT, and they make the roads safer for pedestrians. Furthermore, we see IoT integrated into data-driven parking apps powered by smart sensors embedded in light poles; this technology will help drivers to park their cars easily. In conclusion, IoT will improve commuting between multiple modes of transportation.
6. Improved retail experience
Through IoT technologies, the retails supply chain management of recent are seen to be more efficient than before. Now, with the use of smart beacons and sensors, it is easier to achieve an accurate and swift retail/shopping experience.
IoT will improve further in this aspect to make shopping much easier for everyone (store owners, employees, and customers). We are looking up to a year that IoT will take retailing to a whole new era by powering devices to offer personalized experiences.
7. Watch out for smart warehouses
Everything is turning smart, and warehouses are not left out. IoT is being applied to manufacturing and warehousing to make operations easier. "A Smart Warehouse is connected and automated, meaning that it's data-driven" (Said by Stefan Karlöf, a logistics expert).
In a modern smart warehouse, "The physical operation is firmly integrated with the digital processes with the sole aim of cutting the need for manual handling, thereby increasing the speed, efficiency, quality, and flexibility of the logistics processes." IoT promises to shape warehousing, modern logistics, and manufacturing operations into a whole new thing.
8. IoT Will Enhance Buisneses Workforce Management
For quite some years now, we have seen beacons helping out businesses to communicate targeted messages to customers' smartphones. In years to come, beacons will also help out with workforce management. Wettemann pointed out that beacons can even take the place of timesheets or clock in. Also, as odd as it may sound, it is possible to schedule and monitor your employees using beacons.
However, previously, beacons were quite expensive, but now they are considerably affordable for businesses. "Beacons have gone way down in terms of cost, so we're not talking about being as cost-prohibitive as they used to be," – Wettemann. More companies will start to implement beacons, thereby using IoT technology to improve their workforce management.
9. Improve CRM automation
According to Nucleus' Wettemann, IoT will be vividly seen improving CRM in many ways rather than none. Talking about CRM, Wettemann has this to say – "With field service and service itself being such a differentiator for companies, there's real value there." IoT technologies can be deployed to automate customer service, as well as sales efforts through customer relationship management software solutions.
An example of how IoT will help in CRM will be a situation whereby an IoT device is designed to alert the company when a customer is facing challenges. In this case, the smart device will notify the service desk software even before the customer reports the issue. CRM systems that work with IoT technology will be on popular demand from now henceforth.
10. Preventive maintenance will be easier with IoT integration
"In the manufacturing space, we see a lot of smart factory-type deployments nowadays, where we have wearables for maintenance where they're connected to mobile devices. It's to make more effective use of time, make more effective use in terms of safety, and get feedback from the factory floor," – Taher Behbehani (V. President and GM, Mobile B2B, SEA)
IoT-powered sensors can detect the actual problems of a manufacturing machine before a technician is called to fix it. Preventive maintenance is mostly seen in smart factories where employees put on smart wearables that provide them with reports about the factory conditions and safety. More preventive maintenance stuff will be in trend in the upcoming year; it has been rapidly advancing, so one can't guess less.