If you own a MacBook and also uses Spotify as your favourite music streaming platform, then TunesKit Spotify Music Converter for Mac software is a must-have Mac-app for feature-rich music streaming experience. It comes in handy when you need to convert some songs in your playlist in-between formats so that you can play them on various media players.
Typically, you cannot play the songs on your Spotify playlists while offline. However, with this software program, the solution you need to make the songs on your Spotify playlists playable on any media player is just a few reads away.
TunesKit Spotify Music Converter for Mac Overview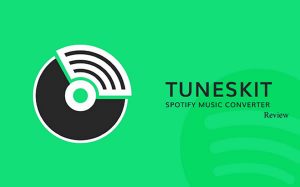 The TunesKit Spotify Music Converter for Mac is a powerful utility software that promises to convert all kinds of Spotify music and playlist from one format to another. It comes with a couple of built-in tools, specially designed to help simplify how this software works, as well as help you increase productivity.
This Mac music converter is developed by Tuneskit, and it is specifically meant for Spotify users. With the help of this software program, Spotify users can actually convert any music in their playlists into various audio formats for offline playback on several music players such as iPod, Zune, Creative Zen, etc.
TunesKit Spotify Music Converter Pricing and Availability
TunesKit Spotify Music Converter is available for both Windows and macOS at the TunesKit website; however, the version reviewed in this article is the Mac version. It is not a freemium software as you have to buy the pro version to enjoy every one of its features. Nevertheless, there is a trial version of the app with several limitations.
The pro version of this software is available at $29.95 for a single (1 PC) user license and $39.95 for the family license (3 – 5 PCs). All the paid versions come with lifetime support and update.
Features of TunesKit Spotify Music Converter
Here are some of the most pronounced features of TunesKit Spotify Music Converter for Mac software.
Customizable settings
This Mac music converter for Spotify comes with a variety of configurable settings to personalized the converted audio. Thus, you can change the audio channel, codec, bit rate, sample rate, and other aspects of the audio as you wish.
Converts Spotify playlists to various audio formats
The TunesKit Spotify Music Converter supports up to six different audio formats, which are MP3, AAC, M4A, WAV, M4B, and FLAC. Using this software, you can convert your Spotify songs to any of these supported formats.
Lossless conversion
More interestingly, this software promises to convert your Spotify playlists losslessly. This implies that your songs won't lose their quality even as you convert them between various formats. Also, the ID tags and other metadata information of your Spotify songs will be preserved in the output files.
Faster conversion process
Developed with advanced decrypting and accelerating technologies, TunesKit Spotify Music Converter for Mac converts your Spotify songs and playlists at great speed, up to 5X faster speed. However, if you wish for lossless conversion, you can set the conversion speed to 1X speed in the "Preferences" menu.
Works with Minimal System Requirement
TunesKit Spotify Music Converter for Mac can work on virtually every Mac PC that's still actively used in home and offices. This is because the software is light, straightforward, and very user-friendly. The officially stated system requirement for TunesKit Spotify Music Converter for Mac is as follows:
Operating System: Mac OS X 10.8, 10.9, 10.10, 10.11, 10.12, 10.13, 10.14
CPU: 1GHz processor or above
Memory (RAM): 256MB or higher
Monitor: 1024 x 768 pixels or higher resolution
Supported input: Spotify music (track, artist, playlists)
Outputs: MP3, AAC, M4A, WAV, M4B, and FLAC
How to Use TunesKit Spotify Music Converter for Mac
Firstly, you'll need to download the TunesKit Spotify Music Converter Mac software from their official website. After downloading the software package, double-click on the installer – to install TunesKit Spotify Music Converter app on your MacBook. When you're done with these, proceed with the steps below to use the software.
Launch the app and add your Spotify files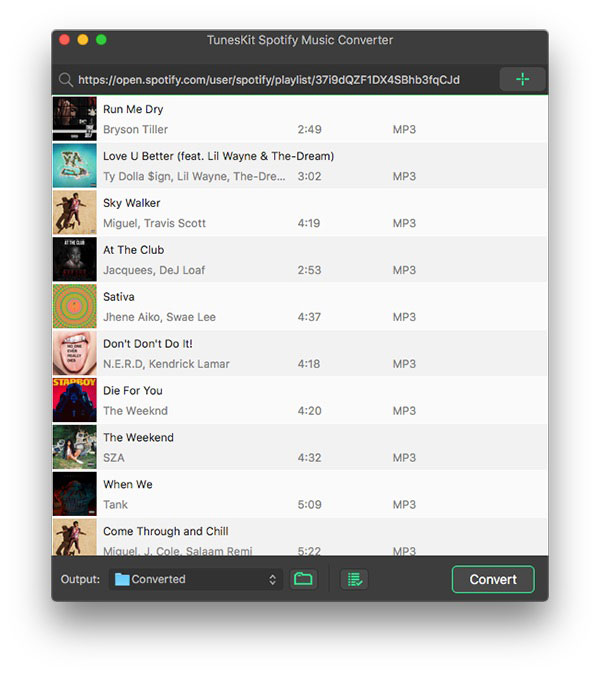 Once you launch the app on your MacBook, it notifies you to add music files or playlists from a Spotify account. If you have the Spotify software app on your Mac, you can easily drag and drop your playlists or songs from the Spotify app to the TunesKit Spotify Music Converter's interface. Alternatively, you can copy the playlist's or song URL and paste on this software to load the file. You can add up to 10 or more files and convert them at a go.
Configure a few settings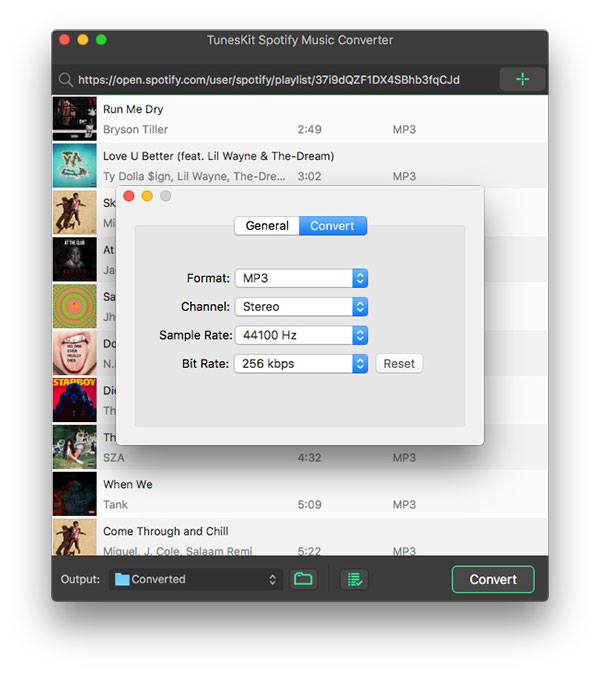 The few settings to configure include the output format of your choice, as well as tweaking the bit rate and other advanced audio settings. TunesKit Spotify Music Converter comes with a couple of settings, and they are all customizable.
Choose an output folder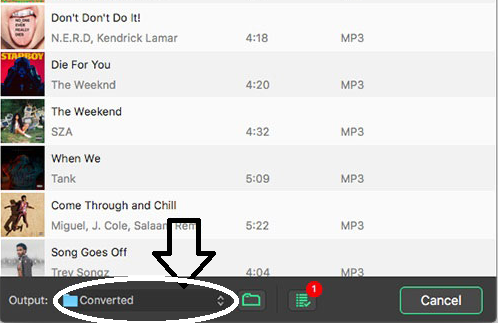 Also, you have to define the output folder where the converted files will be saved. Although the software automatically saves all converted files to a specific default folder, it is important to choose your preferred folder for easy access to the files at any time. To select an output folder, click on the folder icon on the bottom area.
Hit the convert button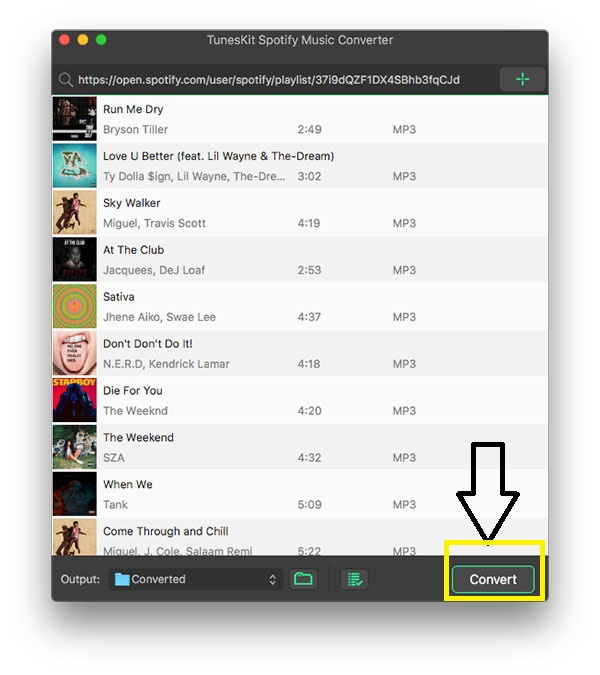 Once you're done with the steps above, the next thing to do is "Hit the Convert" button. This will trigger the conversion process, and depending on the number of files you uploaded for conversion, the time duration is quite unpredictable from a general perspective.
TunesKit Spotify Music Converter for Mac Review and Verdict
The Tuneskit software for converting Spotify songs on macOS comes with an intuitive, easy-to-use interface. It works perfectly well for the purpose it is designed to serve. Plus, the conversion speed is fast, swift, and considerably smooth.
However, you must be a Spotify subscriber to use this software as it requires that you sign-in to your Spotify account to import your songs and playlists. You will find the advanced settings to be useful if you really know what the settings in there imply.
TunesKit Spotify Music Converter for Mac is excellent for its purpose and performs very well. The converted Spotify songs are saved in a user-specified folder. Interestingly, the whole conversion processes are swift.
All in all, this software proves to be very efficient for its purpose. Plus, the drag and drop support makes it super easy to add your music files from Spotify. The app is super intuitive; you arguably do not need a guide to use it perfectly. Also, the pricing is fair, considering that it is a onetime payment and with lifetime support.