It's only a matter of a few short weeks since Apple announced their latest mega selling smartphones the iPhone 5s and iPhone 5c but already rumors are mounting about the launch of the next generation in Apple's hugely popular iPad range with both an iPad mini 2 and a brand new iPad 5 strongly rumored to be announced later this month.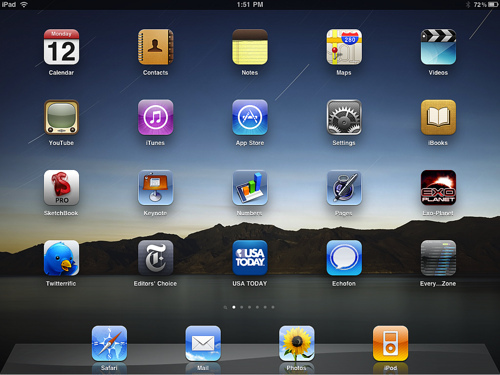 Image credit : flickr
To all extents and purposes the original iPad essentially invented the tablet category back in 2009 – yes there were clunky touchscreen convertible laptops before that and yes Microsoft did launch an early tablet friendly version of Windows several years before but it took the launch of the iPad to make the category mainstream and Apple have gone on to sell tens of millions of them ever since.
As a result, announcements of new iterations of the massively popular device are almost as widely anticipated as the latest iPhone announcements and not surprisingly rumors tend to leak and mount up in anticipation of the launch.
Here's what I think we know so far about the latest iPad.
1.    It will only run iOS7
No surprises there, Apple finally got around to a mainstream launch of their latest operating system only a matter of weeks ago but it has closed the gap on Google's rapidly advancing Android OS and we can be 100% certain that the latest version of the iPad will ship with the new OS and you will not be able to downgrade this to earlier versions.
This means great new features like Air Drop, Command Centre and the Today page but will mean users can only go with the new visual design which has been a little divisive with some loving it and some hating it
Also see: IPhone 5s Release date and rumored new features
2.    It will feature high speed 4G
4G is undoubtedly the future of high speed mobile internet connections and as long as you have good 4g coverage and a data plan to go with your new iPad 5 this means that you will be able to benefit from mobile data speeds of up to 100 MBps, comparable with fibre optic broadband speeds.
3.    It will be thinner and lighter than the current iPad
Rumours are very strong that the new version of the iPad will be up to a third thinner and lighter than the current version, with a design style closer to the iPad Mini (with a larger screen obviously).It is widely reported that the device will be as little as 7mm thick and weigh only 500g making it more portable than ever
4.    It will feature an upgraded camera
The camera has improved on every iteration of the iPad so far and the iPad 5 is likely to be no exception. I expect to see an 8 megapixel snapper included, very similar to the one used in the current versions of the iPhone. There's unlikely to be a flash but even without that this version of the iPad is starting to look like a genuine camera replacement.
Also see: Turn your iPhone into a burglar alarm with latest home security systems
5.    It will feature a faster processor
Again, every new release of the iPad so far has featured a faster processor to cope with more demanding tasks and apps and the latest version will be no different. Given that older devices show noticeable slowdown with iOS7 this will be essential and I would be absolutely shocked if we don't see a significantly upgraded processor to counter every improving Android tablets that are starting to eat in to Apple's market share
6.    It will probably come in different colours
Just as the iPhone 5s and iPhone 5c have introduced new colour options there are strong rumours that we will see more colour options on the new version of the iPad. It's unlikely that we'll see the full colour range of the 5c but silver, white and gold options look a certainty.
7.    It's likely to feature Touch ID
Apple has invested a lot in the fingerprint security sensor in the iPhone 5s and given that if anything iPad's tend to hold even more secure data that iPhones and that they're trying to present this as a mass market innovation I fully expect to see this added to the iPad 5.
Not only that but leaked photos appear to show the new iPad home button matching exactly to the one on the iPhone 5s which hasn't been the case previously and adds a lot of credence to this rumour
8.    It's likely to be priced the same as current models
We can never completely bank on Apple not raising prices but given that there are more and more Android competitors at more and more aggressive price points it seems highly unlikely that Apple would launch the new iPad at a price premium and I fully expect it to have the same standard pricing as current models meaning you are going to be getting much more bang for your buck
9.    There's likely to be a 128gb option
Apple have always steered away from micro SD card slots but there is more and more pressure on storage limits with even 64gb models struggling to hold a great deal in the way of video content, especially if they are also packed with apps, photos, files and music. It seems logical therefore that there will be a 128gb version at launch and internet rumours back this up.
Past Reviews: Meet The IPad 4
10.    It's coming very soon
Apple are not exactly renowned for announcing release dates early but sources are converging on October 22nd being the announcement date and shipments starting within two weeks of that date. Never bet against things changing but right now it's hard to believe that you won't be able to have an iPad 5 in your hands in a month from now.