Kaspersky Internet Security
$59
Summary
Kaspersky Internet Security is an award-winning antivirus software from Kaspersky Labs.
Undaunted is an understatement when it comes to the premium protection Kaspersky Lab antivirus solutions gives to both industries and individuals that considers the overall protection of their electronic devices as priority.
Kaspersky Internet Security is basically not the only product from kaspersky Lab security solutions as they also have much more compelling products in this hierarchy;
Kaspersky PURE – More comprehensive solution for windows pc, latest version of it is 3.0
Kaspersky Internet Security – Ultimate protection for windows pc and Mac Os systems. The latest version for windows users is 2014
Kaspersky Internet Security – Multi-Device -> Serves all your electronic machines including computers, Apple Ios devices, smartphones and tablets using a single product license.
Kaspersky Anti-Virus – Provides basic protection for home users. The latest version of it is 2014, it's only available for windows pc
Kaspersky Password Manager – Securely and conveniently stores all your passwords and personal data, quickly logs you on to websites, and automatically fills in web forms.
Kaspersky Internet Security for Android – Delivers advanced protection for Android tablets and smartphones, an option if you aren't already using the Multi-Device version of the internet security already.

Kaspersky Endpoint and Total Security for Business – Provides industry specific protection for business environments.
For this review, we want to specifically flaunt the Kaspersky Internet Security; A single anti-virus software that gives you unrivaled and ultimate protection. Securing your digital identity and your documents, photos, music and passwords – against the latest, sophisticated malware, adware, cyber-criminals and Internet threats.
Also see: How to get your New Windows 8 Machines Last Longer
Features of Kaspersky Internet Security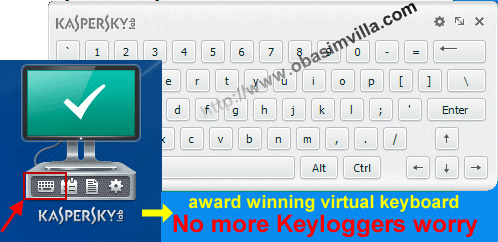 Safer Online Transactions
With Kaspersky award winning virtual and secure keyboard technologies you can easily bypass all those malicious keyloggers and other dreadful programs that captures the information that users type on their computer keyboards. This ensures your online banking and private transactions are done securely.
Better Virus & Spyware Detection

When the need for premium antivirus and antispyware protection arises look no further than grabbing a Kaspersky internet security as ensures you of better security when compared with other security programs. It can detect almost all known computer viruses type including; worms, trojan viruses, spyware, rootkits, bots, malicious adwares and other apps that could make a system vulnerable to security risks.
System Watcher and Cloud-Based Protection
Kaspersky internet security has the latest technology to guaranty you up-to date protection even when your software itself isn't up-to date, it also adds malicious websites to it's database, scans your network ports for other network specific threats.
Other Premium Features
Kaspersky internet security is very user-friendly, has a neat interface, comes with a widget to help you access your most needed functions easily. It also have features such as; trusted application mode, automatic exploit prevention, url advisor, anti-spam protection, anti-phishing protection, safe money, parental control, anti-banner and many other essential functions needed to attain a perfect protection status.
Also see: How to secure sdcard and Usb Pendrive with a password
System Requirement for Kaspersky Internet Security
Since the version of Kaspersky internet security used for this review is 2014, it will be very wise to use it to figure out what spec and features a basic computer or mobile device should have before it can be able to run and use the program optimally.
Microsoft Windows xp services pack 2 – Microsoft windows 8, Mac OS X 10.6 – 10.8 and Android 2.2 – 4.1 of min 320 x 480 screen resolution
Minimum of 512 MB RAM for xp and 1GB for other operating systems including Mac
Minimum of 800 MHz C.P.U. for xp and 1GHz for others
Free space on your hard disk drives
System that are already infected will be required to use a special tool from Kaspersky labs to remove the threats before installing the internet security program.
See more features and requirement from their official website
Will I advice you to do away with your current antivirus software?
Sure, why not?
Except what you currently have installed is the free version of avast antivirus I see no other reasons while you should be paying for another security software other than kaspersky internet security.
Any Other word of advice on kaspersky internet security?
I am currently using the program and quite understands how much a live safer it has been in recent years after trying other less effective solutions like Norton internet security and Bitdefender total security.
Kaspersky internet security isn't that expensive compared to what you are going to benefit from it, you can even start by trying a version from their website for a period of 3odays or using some available coupon codes to purchase it for a lower amount. I even over-purchased two additional licenses 'cos that's what I use on all of my devices and would advice any other person to do so.
Do you have a thought to share with us concerning kaspersky internet security or any other computer antivirus solution?
Drop it below……………………….using the comment form……………