Vacation rental management has become a lucrative industry with Airbnb alone boasting millions of listings. The growth of this industry has also meant that many tools have been developed to help you set your business on autopilot. If you are seriously into short-term rentals, a tool such as iGMS is a must-have.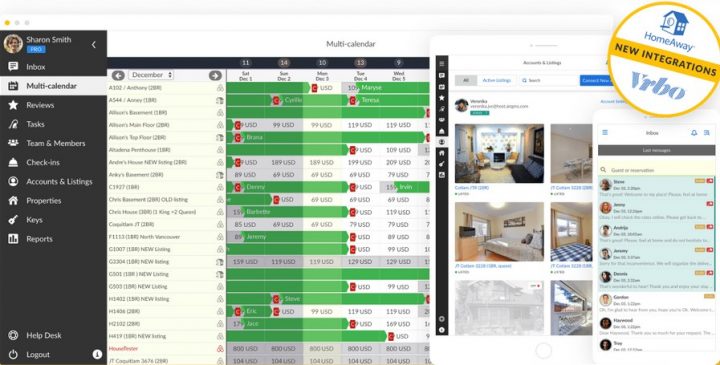 It comes in handy when you need to assign tasks to your cleaners, communicate with your guests quickly and efficiently, and manage numerous listings on different platforms. Vacation rental owners are usually searching for ways to automate many of their routine tasks and, with iGMS, the solution is just a couple of clicks away.
Who Needs iGMS?
Whether you are a host with a couple of listings or a professional vacation rental manager with multiple listings who is searching for ways to reduce your workload, iGMS can help you to manage your daily tasks.
It is the perfect management system for hosts and property managers who want to boost their occupancy rates, increase their revenue, and ultimately grow their business.
It is available as a web-based solution or an app that is compatible with Android and iOS devices. So, if you often work remotely, you will be able to put the app to good use.
iGMS Vacation Rental Software Features?
Here are some of the most useful features of iGMS vacation rental software.
Native Automated Messaging
With iGMS, you can generate automated messages. What's more, you can use certain triggers, like check-in or checkout, so that your message gets sent at preset times or dates.
Thanks to this feature, your guests will stay well informed from inquiry to checkout. As communication is key when you work with vacation rental properties, any tool that will help you to streamline guest management is invaluable.
Multi-platform Synchronization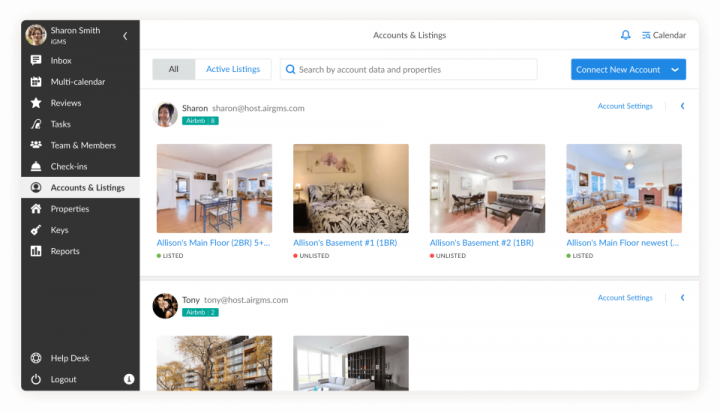 iGMS vacation rental software boasts native (API) integration with Airbnb, Vrbo, HomeAway, and Stayz that enables seamless synchronization.
You can also sync your calendar data from other third-party platforms, such as Booking.com, via iCal. This means that double-bookings will become a worry of the past.
Management of Multiple Accounts
If you have multiple accounts, you need a tool, such as iGMS, that lets you manage multiple accounts via one interface.
Without it, you will waste loads of time logging in and out every time you need to switch between your different accounts.
Multi-calendar Dashboard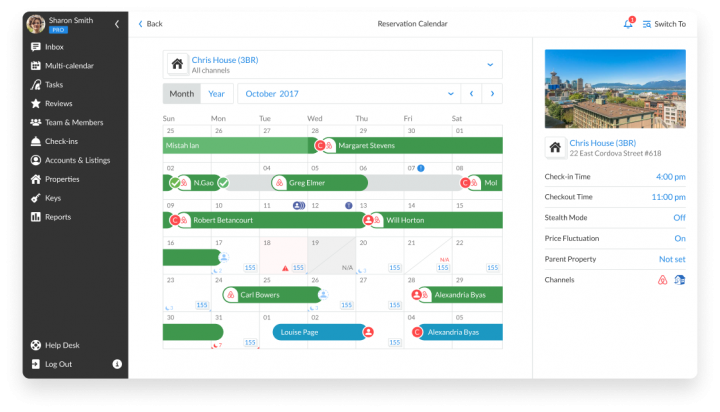 The multi-calendar dashboard lets you see all your daily check-ins and checkouts giving you a helpful overview of what is ahead so that you can manage reservations more efficiently.
What makes this feature so practical is that you can select a booking via the multi-calendar and then send messages to your Vrbo/HomeAway or Airbnb guests directly. You can also change the prices directly via the multi-calendar.
For example, if you have an open date available, all you have to do is navigate to the multi-calendar dashboard and lower the price to boost your occupancy rate.
Operational Tasks
Often guests have last-minute requests and it can be a challenge to communicate it to your cleaners.
iGMS has designed its task management system in such a way that you can create to-do notes to inform a cleaner about such a request. The operational tasks feature enables you to add specific tasks to reservations too.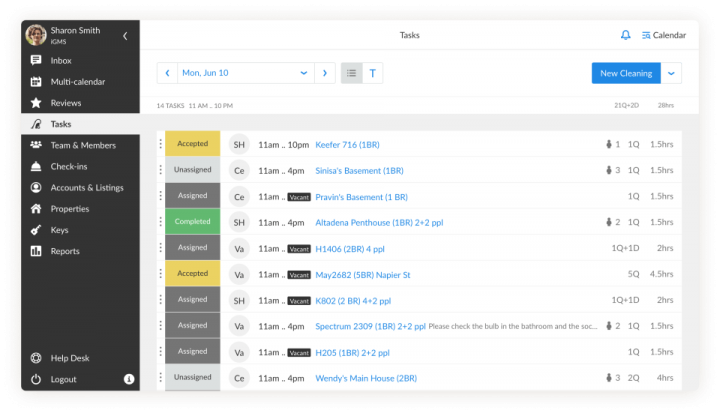 Cleaning Management
If you have been searching for a property management software to help you create cleaning tasks for your cleaning crew, look no further than iGMS. It will be super easy to organize your cleanings better.
As soon as you have assigned a cleaning job, the cleaner will be notified by means of email, text message, or both. What makes this feature so great is that your team of cleaners will be able to see only their own cleaning jobs.
In-app and Email Notification
If you miss a message from a guest, it can result in cancellation. Or, if you fail to reply promptly to an inquiry, the potential guest will most likely book another property instead.
What iGMS does to help you secure those bookings is it sends in-app and email notifications to the team members who deal with guest communication.
Not only are these notifications useful for guest communication, but they also help you to keep track of your cleaning schedule more efficiently.
Automated Reviews
iGMS has predefined elements that you can use to create templates that will help you to review your guests. You also do not need to log in to Airbnb first, as you can publish your review right via iGMS.
Many hosts also find it challenging to work out how many days they have left to review a guest, but with iGMS you will receive a notification with this info.
Smart Pricing Automation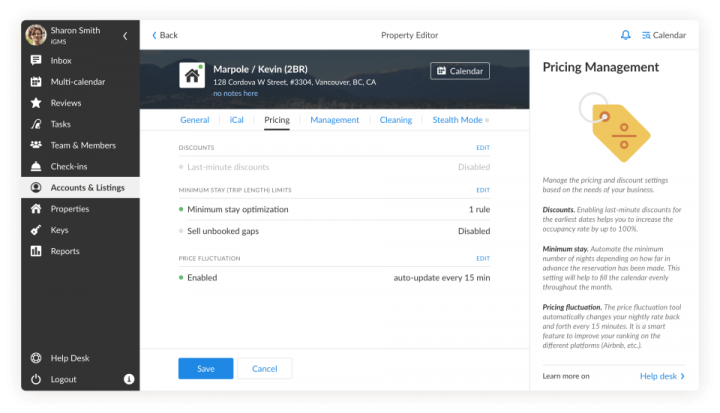 With their smart pricing automation features, you can automate discount rules and edit your settings for minimum and maximum stays.
It also has a price fluctuation feature that will adjust your base price slightly every 15 minutes which can help your listing to climb those rankings.
Financial Reporting
Very detailed financial reports come in handy. There are four different reports that you can generate: List of Reservations, Work Orders, Transaction History, and Summary.
These reports help you to track the money flowing in, which will help you to gain insight into the real state of affairs.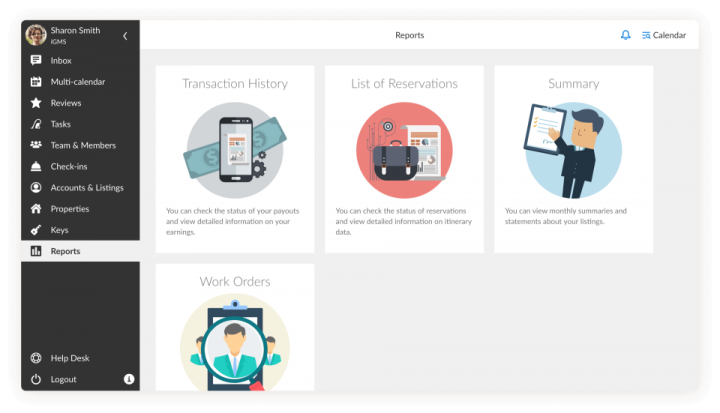 iGMS Pricing
iGMS vacation rental software currently has four different pricing plans. Hosts with fewer than 50 properties can either opt for the Flexible or Pro pricing plan.
What makes the Flexible pricing plan attractive is that you will be charged only $1 per booked night instead of a fixed monthly fee per active property.
Hosts with only 1-4 listings can also opt for the Free plan. While this plan does not include all the features, it is ideal for beginner hosts.
Final Verdict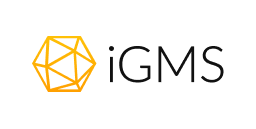 As iGMS is easy to use and understand, there is no learning curve to set up your accounts and unlock all its features. All things considered, iGMS is recommended for hosts and professional vacation rental managers who would like to invest in a vacation rental management software solutions so that they can reduce their workload. It is an excellent vacation rental software solution and channel manager, making it a must-have tool for any host.
Even though it already has an extensive list of features, what sets iGMS apart from other cloud-based software solutions is that they really make an effort to introduce new features and updates regularly. Also, their pricing is very reasonable, considering that there are no setup or cancellation fees.
External Review Declaration: This review is crafted by Arthur Stepaniuk, who is an avid reader of 3ptechies and has 360° knowledge on the use and functionalities of iGMS Vacation Rental Software.