If you own a HP printer then you will probably love the quality prints that it completes for you every day. However, have you ever taken the time to stop and consider if you are using your machine properly? Using a HP printer properly can signify the difference between your printer lasting for many years and not lasting longer than twelve months.
Here, we are going to show you the most important things you'd need to know to start using your HP printing machine properly. Read on to find out more on how to properly use and maintain your HP printers.
Maintaining Your Printer for Quality Prints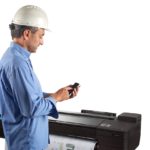 The first thing you should do when considering how to use your printer properly is to schedule regular cleaning and maintenance. Printers that are looked after in this way produce better quality prints and do not suffer with blockages or fail because of dust and dirt.
The best way to maintain your printer is to wipe it down on a weekly basis to remove any dust and then run the internal maintenance programme once every three to six months. Doing this will clean the printer head and keep your ink running freely through the machine.
Turning Your Printer Off When Not In Use
This many seem like a simple step but many people fail to turn their printers off when they are not in use and this can cause it to become damaged. It may take a bit more effort to turn the unit on and off when you need it but it will pay you back in the long run.
Leaving a device on standby is not just a fire risk, but it also means that the printer is unable to complete the initial checks of it's functioning when you normally turn it on. If it cannot do this then it will be unable to identify any printing issues before you force it into action.
Getting Replacement HP Ink for Quality
Many of us are led to believe that the best ink to get is genuine ink from HP. However, there are many specialist ink companies like Smart Ink that produce higher quality ink at lower prices. For example, if you buy HP 564 ink cartridges from a specialist service then you can expect up to two times more printing than you'd get from a normal HP cartridge!
When you choose a good replacement ink service you will end up with cartridges that are fuller and last longer, meaning that you do not need to tamper with your machine to replace empty cartridges, reducing the risk of any accidental breakages.
Look After Your HP Printer
Now you've seen the key things you need to do to use your HP printer properly, we hope that you will be able to get the most use out of it for many years to come. Remember that cleaning it and turning it off not only allows the machine to cool down but also ensures that nothing gets clogged up. Plus, getting your cartridges for HP printers from a specialist service will save you money without compromising on quality. Start your mission today and look after your HP printer with ease.