We're presenting to you the full list of Places to Repair MTK Devices such as Infinix, iTel, Tecno, Innjoo and Gionne that are under warranty at no cost…
This could be either tablets, phones and/or phablets. Issues such as broken screen, bad sim card slot, spoilt ear phone jack, damaged speaker and frequent restarting is very common with some MTK powered devices.
The under-listed customer's service centers are saddled with the responsibility of repairing your under-warranty phones and tablets for free and out-of-warranty devices for a fixed amount.
Some locations (mostly Gionee) would ask that you pay for repair of devices that weren't bought from the state where the service center is located or take it back to the service centre in the state it was bought to qualify for a free repair.
In all, you can get your phone and devices serviced by just putting a call through or by visiting the office location closest to you.
Gionee Nigeria Mobile Service Centers
I have visited one of the Gionee service centre at Benin for the repair of my Gionee p3 device back then and must say that their tech support guys were really knowledgeable with the repair and servicing of Gionee android smart phone and devices.
Below is their mobile customer care support locations for easy repairs and buying of OEM Gionee accessories.
Sate
Address
Contact Number
Edo
47 airport road, beside UBA bank, mall of America, Benin City, Omegatron
Rivers
14 Aba Road, Port Harcourt

10 chief Ogbonda layout, by total filling station, artillery, Port Harcourt

08115451709
Abia
36 St. Michael Road, Aba
08115451712
Kaduna
Chyzon Plaza, M2, Almadu Bello way, Kaduna
8125488885
Kano
20 Beirut road, Kano
8033344032
Sokoto
63 Atiku road, sokoto
7037777077
Oyo
Suite 1, Gods delight plaza, Mokala, Ibadan
8035000270
Lagos
Shop A42, Assetcorp plaza, 21 Awolowo way, Ikeja, Lagos

16 Sofunwa street, Gbagada, Lagos

08050282828
Delta
Shop number c8, first floor, Robinson Plazza, Warri
8032581987
Anambra
79 Old market road, Onitcha
08115451710
Bauchi
Shop number 45, wunti market, new extension, Bauchi
8167522990
Abuja
shop 19/21 old banex plaza, wuse 2, Abuja
08115451711
Plateau
11 Almadu Bello way, Jos
08115451712
Maiduguri
Shop number 1 Almadu Bello way, maiduguri, opposite corn oil
8034836867
Adamawa
Shop number 1, Inside jimeta shopping complex, yola
8059851440
Note: Some of the mobile numbers for Gionee Nigeria phone service centers are long outdated, visiting the addresses instead for your free repairs and warranty claims should work just fine.
Innjoo Nigeria Mobile Service Centers
Unlike Gionee, Innjoo devices are exclusively sold at Jumia Nigeria. Their 12 months warranty claim and repairs can be carried out via their online and/or offline medium.
Online Medium
This works best for busy customers and those staying very far away from Lagos.
To use the online arrangement, you'll need get in touch with Jumia Nigeria via the service number listed below, tell them of your challenges, a Jumia representative will come pick up the device and return it to you once the issue has been resolved.
Steps to follow
Backup your important data (if accessible) and remove highly private/sensitive ones including your SD card
Get in touch with Jumia Nigeria via

01-4604400 or 0700600000

Give them the necessary details such as: order number, exact model and any other useful details

Follow their guidance on how to get the device over to them. It will be sent back to you after repairs. Devices with factory issues would normally be swapped for free.
Offline Medium
To get your Innjoo devices repaired by their official service centers, you will need take it to either the Innjoo Home or to a Jumia warehouse closest to you. 
Innjoo home is located at 2nd Floor, Trinity Mall, 79 Awolowo Way, Ikeja, Lagos while Jumia warehouse can be found in more places. 
Using the offline medium is usually faster than the online one as the repair/claims is usually completed in few days. You can call Innjoo mobile service centre on 08184366068 to get help with any of your Innjoo mobile devices.
Innjoo Self-help
If your device is already out of warranty or doesn't meet the requirements for a warranty claim (eg. rooted, self damage and etc.), you can attempt repairing it by yourself (for users with technical knowledge) using the highly active Innjoo tech forum.
The Innjoo tech forum is free and opened to all users irrespective of their country and device model. You can sign up and start using the forum by visiting http://forum.innjoo.com/portal.php
Infinix, Tecno & Itel Nigeria Mobile Service Centers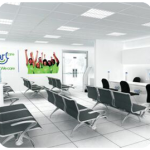 Free repairs and warranty claims for this three brands are officially handled by Carlcare, a mobile servicing company that's very reputable for mobile tech.
They have operational offices in Nigeria's major cities, you can also download and install their official mobile app (Android) from Google play store.
Once there is an issue with your Tecno, itel and infinix phones or tablets that are qualified for warranty, simply walk into any of their offices nationwide or use the specified mobile numbers to get in touch with their operators.
Full List of Carlcare Offices In Nigeria with their Phone Numbers
You can use the contact addresses and phone numbers below for all customer care related services for any of you Tecno, Infinix and iTel mobile devices.
Sate
Address
Contact Number
Edo
No. 5/7 Isekhere Street, off Ibewe Road, Ring Road Benin City, Edo State, Nigeria
 +234 8172951002
Rivers
 2nd Floor, No. 17 Rumuobikani, Trans-amadi Road, Part-Harcourt, River State, Nigeria.
+234 8181700046

+234 8181700074

Kaduna
G5/F6 Ya Ahmed House, on 3rd Floor, Ahmed Bello Way, Kaduna,Nigeria.
+234 9095724673
Kano
1st Floor, No.32, Beirut Road, Kano Contact, Kano State, Nigeria.
+234 8096969680
Oyo
Isolak Building, Queen Elizabeth Road, Ibadan, Oyo State, Nigeria.
+234 8172005296
Lagos

No.77, Opebi Road, Ikeja, Lagos State, Nigeria.
Digital Square, 2nd Floor, No.20, Obafemi Awolowo Way, Ikeja, Lagos State, Nigeria
No.55, Kofo, Abayomi Avenue, Apapa, Lagos State, Nigeria.
1205,Ahmodu Ojikutu Street, off Bishop Oluwole Street, Victoria Island, Lagos State, Nigeria.

+234 80022752273, +234 08138615848
+234 9036003533
+234 8091339530
+234 8066153123, +234 9039209279

Anambra
1st Floor, 44B, New Market Road, Onitsha, Anambra State, Nigeria
+234 8177250277
Abuja
1st Floor, No.16 Gwani Street, off IBB Way, Wuse Zone 4,near King Care Hospital, Abuja, FCT State, Nigeria.
+234 8181176195
Imo
Ground Floor, No.20 Mbonu Ojike street, Ikenegbu, Owerri, Imo, Nigeria.
+2349081941110/9081941111
KWARA
2nd Floor,Ostrich Bakery Building 155 Ibrahim Taiwo Road,ILORIN,KWARA STATE.
+2349092961418