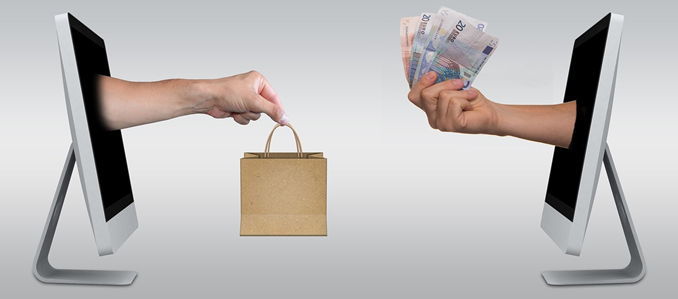 Are you ready to sell your products or digital services online? Well, Shopify, as one of the most popular CMS in the world lets you create self-converting eCommerce stores in just a few minutes.  The Shopify eCommerce solution is easy to use and well-fitted for companies and businesses of all kinds and sizes.  Shopify is hands down, the most uncomplicated eCommerce builders to use for managing your online store or business in 2020 and beyond.
The platform isn't just easy to set up but it's also flexible, straightforward, scalable, user-friendly, and super intuitive even for an absolute beginner.
What Can One Sell With Shopify CMS?

Well, this is the starting point for everyone that's interesting in selling his products or services online. It lets you decide if Shopify is the right CMS platform for you and your eCommerce business.
Well, it's super easy to sell physical products, digital products, dropshipping products,  and digital services on Shopify as long as they're 100% legal and allowed for online sales in your country of residence.
For a quick kickstart, you can check the Shopify's sitemap and search under "Ecommerce by Industry," you'll find a list of the top industries you can start from. Some of these popular industries are – arts, coffee, guitars, e-books, shoes, selected pharmaceutical items, and household goods. In fact, it's super challenging to find a restricted niche or something that cannot be sold!
Shopify's POS (Point-of-Sale) system is another interesting product that's designed for customers that already have a physical offline retail shop. It allows you to merge, manage, and consolidate your entire inventory and sales system in a single location with Shopify's single POS system.
What's Shopify Cost and Pricing Plans?
Shopify, unlike Volusion software, made its pricing plans simple and flexible enough for businesses of all kinds, types, and sizes. Its flexibility would allow a start-up to begin with a simple pricing plan and then scale up to a higher plan as the business grows.
Shopify pricing model is grouped into four main plans, which are:
The Lite Plan that costs $9 monthly
The Basic Plan that costs $29 every month
The Professional Plan that costs $79 monthly, and
The Unlimited Plan that costs $179 every month.
There's also the Shopify Plus Plan that's designed for larger companies and businesses. Its starting monthly price is $995 even as it's packed with additional tools and business-tailored functionalities to meet the plus users' needs.
These pricing plans are monthly (except you subscribe to their yearly or multiple years plan) and do not include custom domain names, email hosting, and shop setup or design fees. For domain name and email hosting, you'd need to consider a third-party domain registrar like Interserver.
Interserver is a company that believes in providing the best of its services. The company is one of the leading companies in the world, which provides the best in class Web Hosting. It gives its large customer base with innovative products and services designed to complement the existing business.
InterServer is committed to providing security, reliability, and technical expertise to every customer. They are one of the few internet hosting services providers that offer 24/7 customer support with live representatives that are available 24/7.
Interserver's all-inclusive web hosting plan has everything you'd need to boost your website, you can find there the most affordable options. Now there are even more reasons to try InterServer as their base plan starts from $5.00 per month, which allows a business to start small, and then scale up their hosting budget as the business grows. You should try their service to see for yourself why so many people are making the switch from EIG to them.
How Does Shopify Compare with Other eCommerce Solutions?
If you are a regular reader of 3rd Planet Techies, then topics such as this wouldn't be new to you. We've discussed extensively about Woocommerce, online store creation apps, and even how to create and optimize a store with Volution software. So, it's super easy to compare Shopify with any of these popular store creation SaaS and CMS.
For a more straightforward comparison of Shopify and other eCommerce CMS, go to the "Comparisons" section of the Shopify main page and click on the various pages to get a deeper insight into their user's experiences.
Even Kylie Jenner, the youngest of the Kardashians used Shopify CMS to streamline her dropshipping and eCommerce business to a height that placed her among the billionaire technopreneurs of this modern age.
How to Create a Killer Cyberstore with Shopify CMS

Since Shopify is an eCommerce-focused solution, creating an online store with it is easy, straightforward, and completely painless. You can set up your Shopify store with their free 14-days trial offer. This offer is available on their homepage and can be accessed by clicking on the free trial button (as seen in the image above).
After clicking on the free trial button, you're required to enter your email address (the one you'll like to use for your business), your password, and the name you'll like to call your store. This name should be brandable, distinct, and related to your products and services.
Set up your business address, default shipping address, your phone number, and the things you intend to sell on the website. Complete the signup process and log in to your admin dashboard to customize the store, add products, optimize for search engines, etc.
Here are some quick pointers to get you going with your new Shopify store.
Adding products to your new Shopify site
To add new products to your site, you'll need to use the publishing tools and packages that are available on your admin dashboard. Also, the Shopify digital product delivery application would let you add digital products with ease. You can also use the bulk import tool to add products from eBay, Magento, CSV files, etc.
Customizing your Shopify store
To add a unique theme or custom design to your online store, you'd need to choose a theme from Shopify's themes repository as there are lots of designs to choose from. The themes are designed with varying functionalities and can be sorted based on industry, display, or layout. Some are free with basic functions while others are paid with more advanced or custom-tailored solutions.
Setting up the domain name and shipping options
As said earlier, every store that's created on Shopify would have their "business name + shopify.com" appended to it (e.g., mylaptopshop.shopify.com). This is typically not the best experience for your business. You need to choose a name that's brandable and "easy to remember" for your business. For this, you will need to buy a custom domain name from a reputable domain name registrar and map your Shopify site to it. You'll also need to set up the product costs, taxes, and shipping preferences.
Launch your store
Once the above options are properly configured and thoroughly tested without any bug or errors, the next step is to set up the applicable payment methods (such as Paypal, Credit card, 2Checkout, Bitcoin, Skrill, etc.) and then launch your store to the world.
Wrapping it Up:
Well, this is all there is to know about setting up your online stores and businesses with Shopify CMS. You can utilize their business tools and professional marketing apps to supercharge your online business for success. Do you have any questions, contributions,  or need specific help with Shopify business model? Let us know about it in the comment section below.