Security

Customer Support

Pricing Model

User-friendliness

Ease of cancellation
Summary
Namesilo, LLC is an ICANN-accredited Domain name registrar that's offering cheap, safe, and secured domain name registration and domain name flipping services. They are one of the best in the business of domain name registration and domain services. Giving them a shot will be excellent for your organization.
Their DNS processing time, latency, and overall performance are superb for its price group. I was happy you could get such speed without paying extra for so-called premium DNS hosting. They also have one of the best pricing models as their price is very competitive.
Pros
Offers competitive prices
No hidden fees
Zero Upselling and cross-selling techniques
All premium add-on comes for free
Cons
No frequent (very low discount) first year coupon as obtainable with most registrars
Could have done better with a website that responds to low-end devices.
Could improve with support for more country code domain extensions (ccTLDs).
My experiences with Namesilo domain services are revealed ☑️ in this detailed Namesilo Review update! I switched from Godaddy to them years back and have no single reason to regret the move. This Namesilo review content is created in a bid to share my honest opinion, verdict, and experiences with Namesilo™ domain name services.
I have since encouraged many of our readers who are usually tempted by the ridiculously high-percentage coupon codes from Godaddy, Hostgator, and Bluehost to move over to Namesilo for a chance to have a relaxed mind void of aggressive Upsells and many other insincere marketing strategies from fraudulent registrars.
There's absolutely nothing to fear or lose – switching over to Namesilo domain services. Instead, there are a plethora of things to gain from this registrar, which is what I am going to discuss in this comprehensive Namesilo review.
Namesilo Business Overview
Well, before I dive into the Namesilo review content, I'd like to say a thing or two about their business model, scope, and practices.
Namesilo as a company was founded in 2010 and is based in Phoenix, Arizona. I started using their services two years (2011) after and haven't had a bad experience or a reason to look back. First, I love their simplicity, good customer service, competitive pricing, faster-than-phone support, and transparency, which was my main reason for trying out their domain registration services.
Namesilo is ICANN-accredited, offers 100% free whois privacy protection, and is wholly dedicated to domain registration and DNS management without many Upsells (as most registrars do). All in all, They are a reliable domain registration company with over a million users. Their business model is transparent and void of ambiguities.
Why Namesilo? (10 Reasons to Switch to them)
Apart from Namesilo's transparent pricing model, dedicated tech support, and free whois privacy protection: There are other reasons to consider using their services rather than that of competing registrars.
These reasons are given from an unbiased mind as we are just regular users of their domain services and not some paid praise-singers. This means that we will update, criticize, or remove this section as soon as their services go awry.
Without taking more time, I present to you some reasons why Namesilo worked for us and why it should work for you as well.
1. ICANN-accredited
ICANN domain registry database is one of the principal places to look at when verifying a domain name registrar. A domain registrar without  ICANN accreditation is like a host without a control panel. This is why I considered it an important point while making this short Namesilo review content.
ICANN being the sole Internet Corporation for Assigned Names and Numbers, ensures that your business receives professional, stable, reliable, and worth-paying-for service from any reputed domain registrar you choose to go with. Namesilo's ICANN-accreditation status gives it an edge over any other cheaper competitors around.
2. Knowledgeable technicians
Namesilo, even as one of the cheapest domain registrars, did the right thing by employing "only competent technicians" with a 100% rating in the technical know-how of this sensitive business. As long as the issue is reasonable and domain name-related, the good tech-heads at Namesilo will always find a way to help out.
From simple domain name questions (such as ICANN fee, DNS record, domain whois protection, domain transfer, credit card payments) to advanced domain name configuration, their tech support is always on top of their game.  
There are not so many competent domain name registrars with a better tech support team than Namesilo – Judging from my personal experiences.
3. Never lost a Domain Name Searched!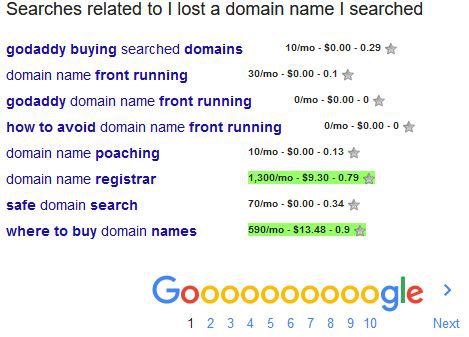 Domain name front-running is a practice that's popular with most big-name registrars. I recalled losing a domain name I cherished and would have loved to own because I wasn't with my debit card the day I did the "domain name search."
Understandably, the domain name business sector is very competitive and demands absolute commitment from domain investors, dealers, website owners, and regular buyers alike.
I once settled for obasi-miracle.com because I was very careless with renewing obasimiracle.com when it expired. These were my first domain names back in the days. I learned my lessons and, as such, keeps up with news about my domain name expiry.
But the issue of domain name front-running is beyond the prospective buyer's control. Good enough, Namesilo LLC does not engage in this greedy practice. I can attest to this, having been with them for so long a time.
4. Competitive Pricing Model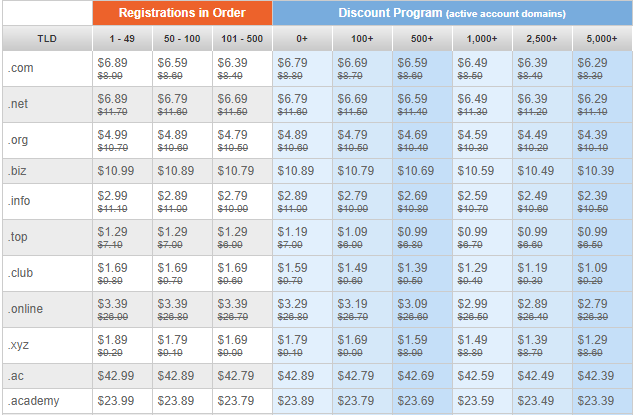 Namesilo offers cheap domain registration with Paypal, Credit Card, Amex, Unionpay, and Bitcoin support. There aren't many better alternatives when their service cost is taken into account. You can't get such affordable and highly competitive prices elsewhere (except non-ICANN-accredited domain registrars).
Although you aren't going to get a free domain with Namesilo, going through their price list at a glance will give you a better picture of their transparent pricing model and how they don't push up their domain renewal prices.
Also, expired domains on Namesilo follow the normal ICANN-recommended expiration process before they're released for bidding or domain auctions. So, you'd be given 33 days grace period to renew your expired domain at their regular renewal rates.
5. Superior Customer  Support
I once had a problem with the Namesilo domains security feature: My provided answers for the domain protection feature were rejected by the system while trying to confirm the security questions; I contacted the support team via email and got the issue resolved almost immediately.
There are live chat, phone, and email support for all customers. Namesilo technical support staff are responsive and can be relied upon for domain-related challenges.
6. Namesilo DNS Management Tools
This is another good reason to switch to Namesilo; they have proper tools for managing your Domain Name System (DNS).
From A record tools to AAAA, CNAME, MX, and TXT Records: Namesilo makes the act of DNS management so easy and fun to play around with.
Navida is reading about….: the Top 7 Best Web Hosting Companies.
7. User-friendly Interface
If there's anything that helped pushed me away from GoDaddy, then it's either their aggressive marketing strategy or their bloated management dashboard.
This is one unique feature of NameSilo that beats that of GoDaddy and co, hands down. Nobody takes a bloated and intrusive interface over a user-friendly one.
With a management dashboard as user-friendly and straightforward as that of Namesilo, you are going to set up a lot of things faster and easier than having to deal with ads and cross-selling distractions.
8. Better DNS Configuration Utilities/Templates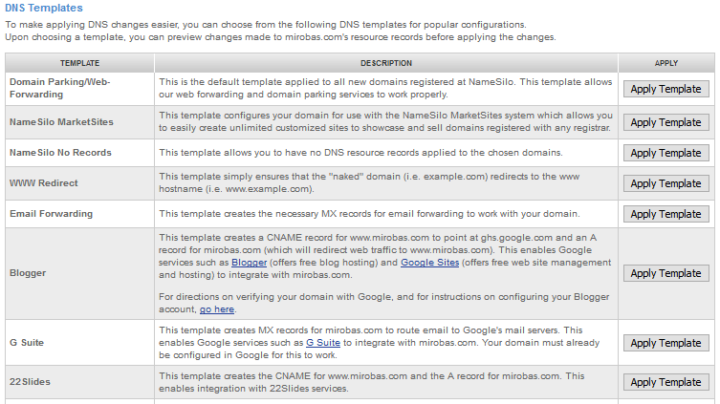 Namesilo offers a user-friendly DNS management dashboard that makes switching to various online services fun, easy, and accessible.
For some reason, you might want to park and earn money from your domain name without paying a dime to Namesilo; they offer you a tool that makes this process almost effortless.
There's the template for switching to blogger, Google sites, Google Apps, 22Slides, bit.ly, DudaMobile, Github, Squarespace, Tumblr, Weebly, Yola, Zoho mail, Zenfolio, and several other services at a click of the mouse button.
9. Many Useful Add-ons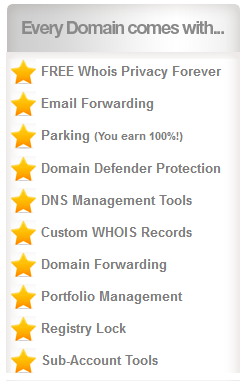 Unlike GoDaddy, where you must pay a premium for whois privacy: Namesilo gives this free for all customers. Also, their domain defender and 2-factor authentication (2FA) is available for customers.
In addition to popular add-ons and feature enticements like cheaper domain transfer rates and coupon codes for new customers, Namesilo offers other premium Add-ons to all users for free as a modern domain provider. Hereunder are some of the domain add-ons that are offered for free, without any obligation or hidden charges:
Domain Forwarding
Whois Privacy
Custom Domain Email Forwarding
Extra domain security features (such as the domain defender, 2FA, etc.)
Domain Parking
Open Source API and
Simple Domain Name Integration
10. Member of the '1 Million Domain Names Club.'
A service could be excellent but would never get the accolades it deserves if there are no real users. Once users are satisfied, a business is bound to grow big!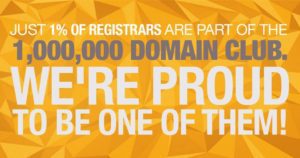 Namesilo recently announced they're surpassing the 1 Million mark in a public post. A post on Namesilo review, promising to give reasons and verdict, would not be complete without mentioning this new milestone crossed.
It is a kind of testament to the user's satisfaction with Namesilo's domain registration services. We hope they do not go the way of most businesses that start playing with customer's support as soon as they cross the 1 million mark.
Namesilo Coupon Codes
If, after going through this review, you have an interest in testing this registrar services by either purchasing a new domain name or transferring your old one to them. I have secured a Namesilo promo code for you (as an affiliate). This coupon code will save you a dollar ($1) from any first order you make on their website.
The coupon code to use is "silorocks15". After doing a domain name search and picking the TLD of your choice, simply enter "silorocks15"  in the coupon code box provided on the checkout page.
In addition to silorocks15, another Namesilo coupon code that works (in case the first one fails) is the gosilo2020 coupon code. You can apply any of these coupon codes to your order at the checkout page.
Namesilo Free Email Hosting Guide
Namesilo now has support for "free email forwarding," which has been the user's outcry for a long time now. This was announced on their website and sent via newsletter to users and subscribers alike.
Features included with the free email forwarding is as follows:
FREE 100 custom domain name email forwards
Catch-all email forward features
Up to 5 addresses for each email forward
Advanced spam and virus filtering
You can also enjoy %100 free and completely ads-free email hosting from Zoho as Namesilo has added the Zoho template that makes it easy to host your full-fledged custom domain email services in a snap.
Setting up a free send/receive custom email alias service with your Google account is another formidable option for getting a completely free email hosting with Namesilo™.
My overall best option for getting a completely free and functional email hosting for your small business is Yandex.Connect. This is because — Yandex.Connect (unlike Zoho) lets you enjoy not just webmail but POP3, SMTP, IMAP, and mobile apps.
You can hook up to Yandex.Connect free email-hosting for all your Namesilo domains by going through their official page at connect.yandex.com.
Their Paid Web/Email Hosting Services
Namesilo has introduced a three-tiered shared hosting package along with their domain name registration services. Interested customers can choose from their starter, premium, or turbo hosting subscription.
While the starter plan lets you host a single domain name, the premium plan allows up to 3 domain names, while the turbo hosting plan would let you host as many as ten domain names, with each allowing you to add a free SSL certificate. Each of these three hosting packages would let you use their Website Builder and Easy WordPress installation toolkit.
With this, Namesilo customers can easily host their domain name(s) with Namesilo and get access to a paid email storage space, calendar sharing, personal mail forwarding, email filters, etc.
Wrap Up on Namesilo Review + FAQs:

Namesilo rocks! No doubt, they are one of the best in the domain registration business of today. Giving them a shot will be excellent for your organization, as there are many satisfying Namesilo reviews from actual customers with a web presence.
Their DNS processing time, performance, and overall latency are superb for their price group. I was happy you could get such speed without paying extra for the so-called premium DNS hosting.
They also have one of the best business models as their price is very competitive. I have used them and can recommend their services to anyone searching for a formidable domain name registrar to use for their businesses.
What is NameSilo.com and Where are they Located?
Well, Namesilo.com is a domain registrar that's accredited by ICANN for registering top-level domain names. They have been in business since 2010 and are known for their transparent pricing model and practical support. Namesilo is located at 1300 E. Missouri Avenue, Suite A-110, Phoenix, Arizona, USA.
How does Namesilo Compare to Godaddy?
Well, Namesilo has been in business since 2010. While they aren't as popular as Goddady, they are ICANN-accredited and have over 1 million active domain names that are registered under them.
Does Namesilo Offer Free Email Hosting?
At the moment, Namesilo offers free email forwarding for up to 100 email accounts. Also, their shared hosting plans are flexible enough for small businesses or anyone else that's looking for an affordable email hosting service.
Is Namesilo Renewal Price Different from the Sales Price?
No, not at all. Namesilo is one of the top domain registrars that have a transparent pricing model. They let you renew domain names at the same rate they were bought. Domain Whois Privacy, Domain forwarding, and other add-ons come with no extra charges.
Any Valid Coupons for Namesilo Domain Purchase/Renewals?
Yes, new users of Namesilo domain name services can get a $1 OFF coupon code by using silorocks15 or gosilo2020 coupon codes, while active users can opt into their discount program that lets users save some amounts on domain name renewals.