Namesilo Marketplace is a new dawn for domain flippers that are looking to try out a platform with flat pricing and customer-friendly terms.
It was launched about a week ago with an email sent to all the subscribers and social media followers. We monitored it for a while before deciding to break the news to our readers over here at 3rd Planet Techies (@3ptechies).
Namesilo offer is something really tempting as it promises 7.5% commission fee with neither a listing fee nor a minimum listing price.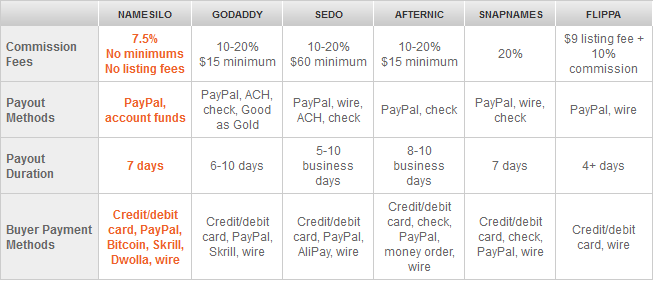 As pictured in the chart above, their flat pricing system is going to wow a lot of domain flippers as it is very competitive compared to other popular platform such as Godaddy and Flipppa.
Some other features of the NameSilo marketplace as highlighted in the email sent out to its subscribers includes and not limited to:
Easily sell your domains via an auction or offer-counter system
No minimums
No listing fee
No need to use a third-party for payment processing – all orders handled directly via the

NameSilo

web site
Payout to account funds, Paypal, or check
Buyers can pay in Credit/debit card, PayPal, Bitcoin, Skrill, Dwolla, or Wire
More than 300 domain names has already been listed since the launch date and user's satisfaction rate seems to be as high as we already presumed among our editorial circles.
There is a dedicated support page for both domain name sellers and buyers here. If you are yet to try out a domain service with Namesilo, you can checkout our Namesilo review page for reasons to give them a try.