konga Online Shopping Store
Summary
Konga.com's online shopping site is a reliable destination for both buyers and sellers. They let you shop securely from the comfort of your home and offices.
Comments Rating
( reviews)
Konga online shopping store is a reliable destination for both buyers and sellers. We decided to share our detailed experiences in this review to help you forge ahead and shop with confidence on Konga.com. We also outlined our negative experiences to give a headway on what to expect from most fraudulent sellers.
As it is with most E-commerce websites, there are quality and sub-standard products on display. What makes Konga peculiar is the ability to figure which merchant deals on quality and who doesn't.
In this review, we'll be sharing with you our experiences so far and all that we know about shopping online with Konga online shopping website.
konga Online Shopping Website Overview
Konga.com is built on the award-winning Magento software and features a very user-friendly interface w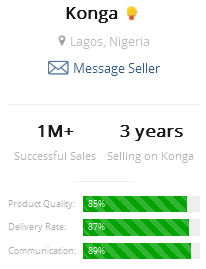 ith better cataloging and good product's classification.
It lets you figure low quality items sellers on the spot by looking at their product's quality, deliver-ability and communication efficiency all displayed at the top right sidebar.
The platform like every other E-commerce platform out there, has the review tab where you can see the reviews from other buyers before deciding to go with a particular item.
There is also the mobile app for Android, iOS, Blackberry 10 and tablet devices that lets you shop with ease on your cell phone, tablet and PDA(s).
Deals and Promo Codes
Konga.com does have a page dedicated to daily discounts, where genuine products are offered for sale at discounted amount.
Promo codes (coupon/discount codes) are offered from time to time to their email subscribers, mobile apps users and first time app users. I have personally used some of their discount codes and can confirm they really work as advertised.
Konga.com is usually opened for holiday deals such as the black Friday yakata sales, religious holidays sales and 5% price reduction on products purchased via their award-winning KongaPay mobile banking platform.
Our Shopping Experiences So far
We have bought so many items on konga.com, second only to the purchases we made on the Aliexpress.com platform.
Our experiences so far is still on the positive considering that we have had only 2 negative experiences and one bad product (by a third-party seller) that wasn't as advertised.
Below is a little chart with some of the items we have bought in the past, the feel and how we could rate them based on price, functionality and overall quality.
S/N
Item
Price (NGN)
Review
Rating
1
Saisho S-748 Blender
2,240
We bought this item since May, 2015. It worked great and its still working until now. We made a blog post for it here and can still recommend it to our readers.
5/5
2
Lenovo Ideapad 100 Laptop
54,000
Getting a brand new Intel Pentium Quad Core, 4GB RAM, 500GB HDD, 15.6-Inches screen and Microsoft Windows 8.1 Laptop for NGN54,000 was obviously insane, but then, we weren't disappointed with this product.
5/5
3
Nikon Coolpix L29 digital camera

12,850

Wasn't a decent product but a good product for the amount it was been sold. In all, we weren't impressed with it but can recommend it only as a budget camera for students.
3.5/5
4
LG Portable DVD Player

14,850

A very impressive product with good battery life and quality audio output. We have bought many of it and have had no issues so far.
5/5
5
Binatone RSF-1602R Rechargeable Fan

15,300

The 16″ rechargeable fan came with a remote control &works for up to 7 hours on low-speed. The only down side of this product is the height & blade, would have done better with 18″ versions.
4.5/5
6
Blackberry Q10 White – App Deal
34,500
We bought this product since May, 2015 and are still enjoying it. The item was delivered in good condition and with all accessories.
5/5
7
HP Pavilion 15 Laptop

181,500

A grade A laptop with top-notched configuration. It was delivered faster and with great communication, even though we changed our mind along the line and got the order rejected.
5/5
8
Toshiba 1TB External HDD

17,100

A high quality product with good transfer speed. We are still enjoying this product and have had no issues yet.
5/5
9
Samsung 32gb Micro sd Card

4,500

This is our worst buy on Konga.com till date, we even wasted a NGN2,000 app coupon code on this fake sd card that had the 32GB label cleaned so it seems as an error. We bought it as 32GB memory card but could only see 16GB that is obviously corrupted and unusable. Then, we got in touch with the seller (Dazzle) who made a card refund of NGN1,500. We were neither impressed with this product nor the GTS Power Basic Clipper we bought from him.
1/5
10
Samsung

E360K

DVD Player

6,500

This item is a top quality one from Samsung but lacks in basic features such as the ability to resume playback from DVD plates and audio CD(s). The USB playback feature is great and works great for popular media formats.
4.2/5
We have also bought other good items including storage memories, Stabilizer and other electronic appliances. All the items we have had issues with are being sold by third-party merchants on the mall.
Important Links
Here are some featured links to lookout to when buying or selling on konga.com.
Konga.com Review and Recommendations
Konga.com is a customer-friendly E-mall to shop for electronic gadgets, mobile phones, baby care products, fashion, home appliances, books and general goods.
It is a convenient platform that lets you shop from the comfort of your home without fear. The introduction of KongaPay escrow system was really a step in the right direction as many buyers are beginning to embrace it in place of the "pay on delivery" option.
We'll take a look at the four most sought-after feature for any online shopping mall and see how Konga.com ranks.
Cost of goods on Konga.com is very competitive even when compared with some offline stores. As long as you avoid sellers with bad rating and overall poor product's quality showcase, you are going to get good deals on the Emall.
Another factor to consider here when going for a product based on the cost is the duration of the seller, most times, we simply shun third party sellers and go directly for alternate versions of the products if they are being sold by Konga directly.
Konga.com offers free shipping to all locations for items directly sold by Konga and "pay on delivery" for every other items. NGN1,000 are usually placed on products without free shipping for most locations (usually from third party merchants).
Almost all items sold directly by Konga does have a 7 days trial period when the product can be returned and refund or repair made without questions. Konga usually bears the return shipping cost for returned items.
Based on these features, I'll rate their shipping methods and terms as one of the very best in the Nigerian eCommerce space
The communication from konga.com and its third-party sellers is great (looking at the Nigerian standard), you get attended to by real persons.
We have had but a few reasons to contact sellers and were responded to, it does take a longer time for most sellers though. Check the seller's communication rating always before placing an order.
All the time we have had to get in touch with their support was positive except that some third party sellers usually sale without a single return guarantee in place which makes it difficult to lay claims for faulty items from such sellers.
The email, chat and phone number medium for support are all reachable at any time of the day, which makes it easy to get in touch with the support via any chosen medium.
Review Summary
Konga.com counterfeit product's penetration rate is very much low and could be avoided easily by looking at the seller's rating before placing an order.
You can also avoid time-wasting on products that never gets delivered by searching for the product's alternatives from trusted sellers.
In all, this is a fantastic place to shop from the comfort of your home. Remember to share your konga.com shopping experiences using the box below.