Godaddy managed WordPress hosting seems to have gained so much popularity since it came aboard. I wasn't ignorant of the fact that the only thing that separates the Managed WP hosting plan from the basic shared hosting plan is that – "they set up caching and security the way they should be instead of allowing you mess up the server with bad plugin's configuration".
I knew it was a normal shared server hosting configured for speed and to effectively handle WordPress, but I have already seen the need for a managed WordPress hosting when I could no longer keep up with the frequent update of plugins and all that compatibility issues after major updates.
Godaddy managed WordPress hosting came highly recommended and at a decent price too. I purchased their business class plan and used their one_click migration tool to move my site over to their servers.
It was all looking good as there were some improvements in the site speed and all that, I even made away with some plugins and security-specific configurations.
The Good Stuff
There are some positive things to pick out from their managed WordPress hosting which was really a huge improvement on their epileptic shared servers.
I even concluded the recent reviews were right after all, the server performance was quite different from what I had with the normal shared hosting server I purchased from them years back.
  1. Speed
There was a great improvement in the load time and response rate of the site compared to when on Arvixe Servers, this is not surprising considering that the caching system was configured server level to meet the need of WordPress CMS users.
2. Security
Access to WordPress core directories was completely restricted except for wp-config, wp-content, and .htaccess. Other major security settings including DOS protection was put in place to make sure you have nothing to worry about the security of your website.
3. Easy to Setup
It doesn't matter if you are migrating an existing website or creating a new one, Godaddy managed WordPress hosting has good tools to automate the process for you.
4. BackUp and Sundry
Amongst the other good stuff that will entice one to Godaddy managed WordPress hosting is the 30 days nightly backup that makes it easy to restore your site to an earlier date if something goes wrong along the line.
The Not-Too-Cool Stuff
It wasn't all that easy for me to come to terms with the platform being the very first time I am hosting a site on a managed WP environment.
I was faced with few challenges that didn't really take me so much a-time to fix anyway.
1. Inability to Host Images and CSS in a sub-domain
Although loading images and static files from a sub-domain isn't that important, it is my preferred method of serving these files to my visitors.
Unfortunately for me, Godaddy managed WP hosting does not allow such features except you're investing in a dedicated CDN service.
2. Support
There's neither email nor ticket support system on Gadaddy Hosting, your only option is either to wait for hours on their chat system or burn your airtime on the wait-line of phone support.
3. Limitations with the One_Click Migration Tool
Unlike the regular hosting platforms where a support person will manually move your website, email and sundry to your new server, Godaddy one_click migration tool will only move WordPress specific directories leaving behind other directories that aren't WordPress specific.
The Bad Experience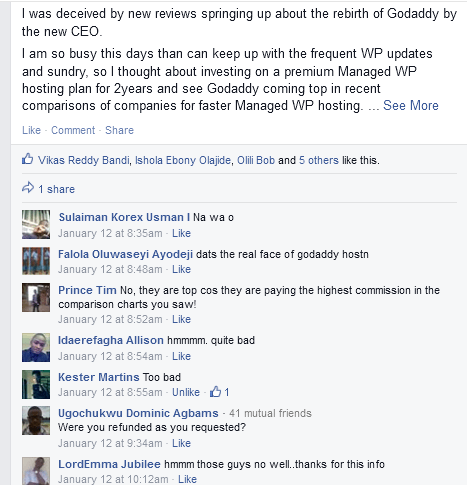 As expected, the not-too-cool stuff above wasn't really an issue as I was able to fix them in few hours. The big issue was that my site dropped in both traffic and earnings by over 65% in just about 32 hours and by over 85% in the later hours.
I started troubleshooting the website and realized that all my posts with good search engine ranking were reporting as "not found" from the Google Webmaster dashboard.
This was very frustrating as the affected links were quite accessible from all my web and mobile browsers. When I got in touch with a Godaddy product expert, I was very unlucky to have met an incompetent staff attending to me.
He started by asking me all those annoying questions like permalink and all that before he concluded that there's nothing he could do about it.
I tried yet again and was lucky to meet someone knowledgeable enough to decode what those error messages represent.
He explained to me that their servers are designed to prioritize human visitors above that of Bots, hence my server was getting ping requests from search engines and had to be shut out from them.

I was really offended on hearing this since the majority of my traffic comes from Search Engines. We couldn't get any way to turn the restriction off momentarily to figure out the main reason for shutting out search engine access to my top contents.
I waited for yet another day to see if the situation will improve, but that didn't work as my website was quickly submerging into oblivion.
When I realized that Godaddy was far from the Messiah I thought I've found, I had to hit the "cancel product" button and requested for a full refund, reminding myself of the strong decision never to patronize Godaddy hosting services even if they are being offered to me at $0.