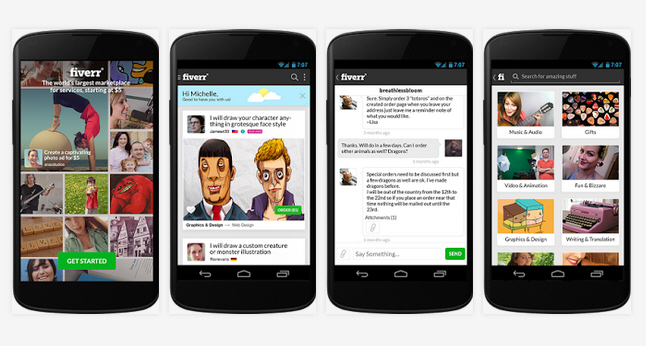 Few months ago, the official fiverr mobile app for iOS was released and published for public download on 10th December 2013. Many Android users were expecting similar app and was forced to wait until today.
Few hours ago, Fiverr notified its users of the newly launched android app via newsletter and an official blog post.  The app isn't yet made compatible for several devices including mine.
If you aren't yet using fiverr, I think its time you really give it a try; it is one of the most popular freelancing websites of 2014. Other Micro-job freelancing websites doesn't have as much user-base as fiverr.
Most of the better qualified professionals are already on fiverr and won't  be seen elsewhere including the fiverr clones. It is time to try out some gigs from real professionals.
Fiverr have got  millions of gigs from several categories, $5 is all you need to start shopping for top talents at fiverr.com. You can create and order for services from $5.
There are programmers, bloggers, graphic designers, video editors, SEO professionals,  Website developers, content creators, translators, social media experts, data analyst and several other professionals at fiverr.
Most times, outsourcing your services on Fiverr is more profitable than spending huge time learning new skills every time there's need for it. Businesses outsource most of their difficult jobs to hungry talents already working on the platform.
App Key Features
Intuitive order flow that streamlines buying and selling
On the go inbox and notifications services. Communicate 24/7 to increase productivity
Choose from over 3 million Gigs.
Find whatever you're looking for quickly with the "smart search" and category navigation
Never miss a message or order update again, with real-time push notifications
Direct and instant access to sellers with user-generated feedback and quality ratings
Here is the link to download the official android app for fiverr.
image credit: google play store