For many reasons, you might want to protect your privacy online, surf anonymously, get access to blocked websites, and/or use government censored content without any issue.
Virtual Private Network (VPN) and Socks/HTTP proxy apps are used for securing your internet privacy and work flawlessly with all popular operating systems (OS).
There are so many Virtual private network (VPN) clients now, some are free with premium options while the rest are premium-only apps.
Why a VPN?
There are many good reasons to use a virtual private network (VPN) client, like if you are to get access to private data on public Wi-Fi, then, the use of a VPN app is extremely necessary.
Another good reason to use a VPN app is when anonymity online is a big concern to you; say, you live under a dictatorship or a journalist in an oppressive country, or an ethical hacker looking to stay hidden from the government and prying eyes.
Generally, VPN apps help you stay secure and keep your internet activities out of the hands of advertisers, internet service providers (ISPs), and websites.
It also lets you get around censorship restrictions in any country, and gives you unlimited access to blocked resources such as videos, eBooks, music, and foreign news/media.
Security people such as police officers, naval officers and military inspectors looking to hide their IP addresses can use these apps to hide their browsing habits.
In summary, the features to expect from a VPN app includes and are not limited to:
Better Online Security
Stopping Geo-Targeting  and Preventing Deep Packet Inspection by ISPs
Access to blocked contents on the web
Ad-blocking and anti-tracking abilities
The List
Since we already know that a VPN or "virtual private network" is a service that allows you as an Internet user to enjoy an increased level of privacy and top security while going about your business online, We'll like to point out the 7 best VPN apps we have used and can recommend to anyone that cares about their online privacy.
1. Hide My IP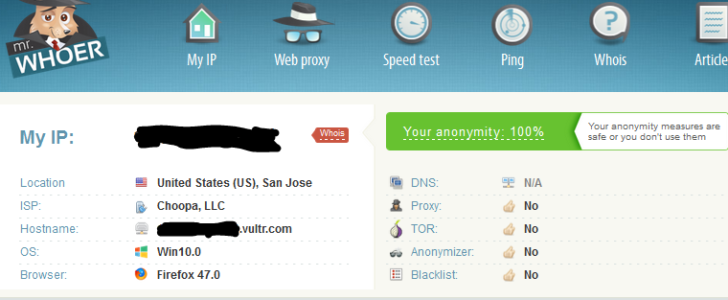 Hide my IP VPN is another top app to enjoy private browsing. It secures your internet browsing experience and lets you surf the web anonymously.
In our text so far, HideMyIp VPN is one of the few affordable VPN programs that recorded a whopping 100% whoer.net anonymity/security test as seen in the screenshot above.
We got their test code earlier in the year and haven't noticed an issue with their Desktop client and services yet. The little issue we had was with their Android app that didn't work correctly for most of the productivity services we use.
Watching full movies with the Hide My IP basic app seems a bit slower than what's obtainable with similar apps of this price range.
We can recommend their app as it is very light-weighted, intuitive, and works flawlessly on your favorite operating system (OS).
The Features
Anonymous Web Surfing
Protects Your Identity Online
Encrypts Your Internet Connection
Prevents the Government from Spying on You
Lets you Send Anonymous E-mails
The hide my IP premium service promises, even more, features tailored to meet your internet security needs. The premium service lets you:
Enjoy faster surfing and downloading with Premium IPs based in the US, UK, Canada, Singapore, Germany, and more.
Full support for encrypted HTTPS/SSL pages without bandwidth limits.
Bypass firewalls while remaining anonymous.
Use securely and privately with software such as Windows Mail, Skype, games, and more.
Prevent third-party apps from monitoring or controlling your web browsing while online.
Hide your web traffic from your internet service provider (ISP).
You can subscribe and start enjoying a secured and private browsing experience by visiting the hide my IP VPN official homepage at hide-my-ip.com
2. Cyber Ghost VPN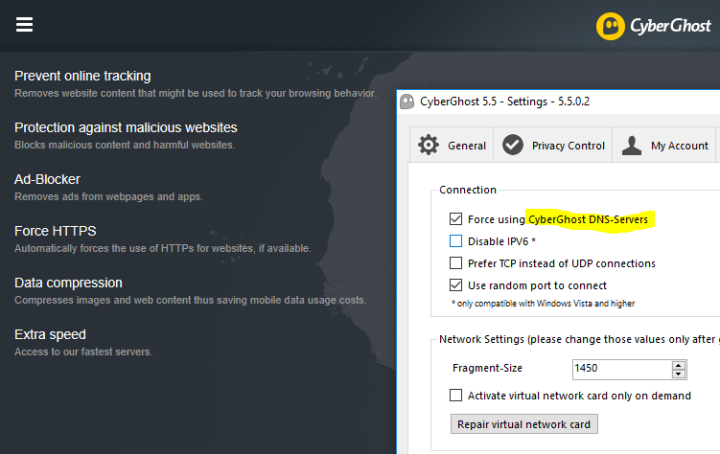 Cyber Ghost VPN already won our hearts a few years ago. We qualified for one of their three (3) months free premium subscriptions and have never looked back from them.
As a web programmer that attends to several clients from other countries, Cyber Ghost VPN has been the best out of the many other alternatives I have used in the past.
Their DNS server updates faster than any other and reduces the wait-time for websites that got their domain name changed or name servers updated.
Their security and data encryption techniques work flawlessly with all modern browsers and for all popular operating systems (OS).
I have used CyberGhost VPN for more than two years already and can boldly recommend their services to anyone that's looking for a reliable VPN app for Windows, Mac, Linux, Android, and/or other popular operating systems.
Main Features
Prevent Online Tracking: Removes website content that might be used to track your browsing behavior
Protects Against malicious websites: Blocks malicious content and harmful websites
Comes with an Ad-Blocker: Easily removes ads from web pages and mobile apps
Forces HTTPS connection: Automatically forces the use of HTTPS for websites when available
Data Compression: Compresses images and web content, thereby saving mobile data usage and cost.
To get access to their fastest servers, you'll need an upgrade to any of their premium plans. The free plan works well but will normally disconnect you after three (3) hours of steady use and will need you to connect again to enjoy the secure internet experience.
Cyber Ghost VPN app works great on Android devices and doesn't come with a bandwidth limit as most other app does. You can download and start enjoying the premium security that comes with the Cyber Ghost VPN client by clicking here.
Cons: After our premium account on CyberGhost got expired. We noticed the following shortcomings that should be taken note of by new/free users of this VPN Client.
Leaks that you are using a proxy app in most cases.
Contains lots of blacklisted IP addresses in its rank.
Most of the free servers are usually slow when there are a lot of persons connected to it.
We advise you visit whoer.net after connecting to a chosen CyberGhost VPN server to confirm your IP address isn't blacklisted before using it on an important website.
You can also alter the Time zone settings on your computer/device to match with one of your chosen server locations to further enhance privacy, cyber-bullying, and tracking.
3. Ip Vanish VPN
Ip Vanish VPN is another top virtual private network client I can easily bank my money on. With the disable WebRtc plugin for firefox and a copy of IPVanish app, you are sure going to enjoy a secure online experience for life.
The speed is brilliant, the app is light weighted and works flawlessly on all popular operating system. Apart from the choice of good servers to choose from, IP Vanish VPN lets you get access to Netflix, Hulu, sling.com, Spotify and other internet resources that are normally restricted in most countries.
The Features
Super-Fast Connections
100% Online Security
Easy to use and friendly GUI
Over 400 servers (IP address) to choose from
The official resource page sits at https://www.ipvanish.com
4. Express VPN
Express VPN sales-rep got in touch with us recently and was able to introduce the award-winning express VPN app to us as well as getting us a free annual account to test-run their services.
We have used the Express VPN app for more than a month already and would like to share the little experiences we have had with their services so far.
The Features
Unlimited bandwidth
Limitless server switches
Unlimited speed
Good service uptime
OpenVPN (TCP, UDP), L2TP-IPsec, SSTP, and PPTP protocols support
Strong encryption for a secured browsing experience
Zero logging of your browsing activity
Servers in more than 78 countries
Simultaneous connections on 1 computer and 1 handheld device
Good customer support: Offers round-the-clock customer support by chat or email
Their homepage is quietly seated at https://www.expressvpn.com
5. Pure VPN
Pure VPN is no mean name in today's cyberspace. It lets you Surf anonymously, prevent hackers from acquiring your IP address and encrypts your Internet connection without complications of any sort.
Pure VPN is sure standing on its class when it comes to VPN apps that truly delivers. One of their chief bragging right is the availability of pure VPN on all popular operating system (OS) and its compatibility with over fifty (50) routers, gaming consoles, and Smart Televisions (SmartTVs).
We have tried their dedicated IP VPN service in the past and must confess; it was "money well spent". Their servers were fast and good enough for the reason we subscribed to it.
The Features
Pure VPN promises above 99% service Uptime and 24/7/365 Live Chat Support. Their website is seated at https://www.purevpn.com
6. Spotflux VPN
Spotflux VPN works like a charm in securing your online privacy. It doesn't matter if you choose to go with the free or premium versions; what matters is that your internet experience is going be secured from hackers, snoopers, spammers and prying eyes of tyrannical government agencies.
Spotflux VPN works flawlessly with every device and every network, irrespective of phones, tablets, desktops or laptops. The pricing for their premium package is also very competitive.
The Features
Ad Blocking
Multiple Server Locations
Enhanced Privacy
Supports Desktop and Mobile
Data Compression
Spotflux VPN is a trusted choice for a reliable virtual private network app. Their support team works round the clock to get issues resolved. Their official website seats at https://spotflux.com
7. Betternet Free VPN
Betternet Free VPN Service lets you enjoy the features of a premium VPN free. They neither sell your information to advertisers nor logs any for a profit of any kind.
Their services are top-notched without annoying ads and /or adware. I have used their Android app for more than a year already and have nothing but positives about their app and services.
Betternet Free VPN is available for mobile, PC and all popular internet browsers.
The Features
Unblock websites and apps
Anonymous surfing
Protect privacy and secure your device
Super fast and free forever
No personal details of any sort required (doesn't ask for sign up/registration of any sort)
No log is saved from any users
Connects you to the fastest Server available
Betternet Free VPN app is one of our favorite free VPN clients till date. Their android app is one of the best in this category and offers round the clock support to their users. Their official website is seated at https://www.betternet.co