VPN's protects your personal information online and promotes security/privacy in no small measure. With good VPNs, your online activities are secured, anonymous and saved from preying eyes. Your physical location or device hardly matters when you're hooked up with a solid VPN service.
You can unlock blocked websites, stop location monitoring services and prevent targeted malicious attacks with a strong VPN.
All in all, Virtual private network (VPN) services is not a new topic to lots of 3ptechies readers. Hence, the reason we are going to dive into the list of 25+ Free VPN services that are actually free w/o many stories.
VPN definition, types and characteristics is not part of today's discussion, as we are more concerned with letting you know what best options are there for 100% FREE VPN services.
List of 25 (100%) Free VPN Services of 2018
Some people may ask – is it possible for one to see and use a completely free VPN with great features? Well, the answer to this question is yes and in this publication are the top best free VPN services to use in 2018.
We'll be listing the top best free VPN services for PC, Mac OS X, web browsers and Mobile devices. The top 15 section is well-used and tested by us, while the rest are provided to give you more options.
Windscribe VPN
Our first consideration for the top best free VPN services to use in 2018 is Windscribe. It gives you access to over 50 countries, including the United Kingdom, U.S.A, Hong Kong, and other European countries. This VPN software masks your real IP address and grants you unrestricted access to blocked contents across the internet.
One of the best features of this VPN service is the whopping 10GB of data it gives monthly to its free users. It also has support for operating systems (OS). To wit; Android, iOS, Windows, and Mac OS X.
Windscribe VPN features:
Simple clients
Strong encryption
Large network
Unlimited streaming
100% free
No Logs
[Website]
Proton VPN
Here comes a 100% free VPN with no monthly data limits. You can choose from 3 top-level servers with Proton VPN's free plan. This VPN transmits your internet traffic via an encrypted VPN tunnel: This ensures your personal information is well safe and secured even over a public Wi-Fi.
With ProtonVPN, you can get access to any blocked content or website within your country and across the cyber-space. It has support for Mac, Windows, iOS, and Andriod.
Proton VPN features:
Forward Secrecy
Strong Protocols
Strong Encryption
Kill Switch
DNS Leak Prevention
[Website]
Dot VPN
DotVPN is no mean name in the world of VPN services that are 100% free. It lets you surf the internet with fewer worries. This it does by blocking tracker and analytics, integrating firewall, DDoS protection and TOR superior technology.
Dot VPN Features:
zero-logging
TOR integration
DDoS protection
Cloud firewall protection
Unmetered data usage
Integrated ads blocker
[Website]
Your-Freedom VPN
Restricted from accessing some websites? or you are stuck behind a filtering web proxy preventing you from accessing a particular web page? Your-Freedom VPN is here to take care of such situations.  Your-Freedom VPN lets you get access to inaccessible contents or web pages.
It hides your real IP address from those hungry internet spies and/or malicious bots: Offering you a free and unrestricted internet surfing experience.
Your-Freedom VPN Features:
Offers a completely Free VPN service.
Available for mobile devices.
Comes with a solid firewall bypass and anti-censorship features.
There are lots of server (including Tier 1 US, European servers) to choose from in the free plan.
[Website]
Betternet Free VPN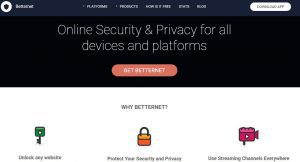 Betternet VPN is a completely free VPN service that lets you surf the internet anonymously. It ensures your online privacy by protecting your private information online. The most interesting thing about betternet VPN service is – its compatibility with all popular operating systems and internet browsers.
BetterNet VPN is available for Apple iOS, Android devices, Windows PCs and Mac OS X machines. There's also a free betternet browser plugin for Google Chrome and Mozilla Firefox web browsers.
Betternet Free VPN Features:
Get access to lots of streaming websites.
Protects your online privacy.
Ability to unlock several video websites.
[Website]
SecurityKiss VPN
This is another superb Free VPN software/app. SecurityKISS redirects all your data through an unfathomable tunnel to a secured gateway and gets your online communications (web browsing, e-mails, instant messages, VOIP, social networks) encrypted.
It is fast, ads-free and 100% free. SecurityKiss VPN is generous with data and has support for all popular platforms (Including Windows, Mac OS X, iOS & Android).
SecurityKiss VPN features:
Free to download and free to use.
Unlimited server switching.
Unrestricted speed.
Ads-free and instant account activation.
[Website]
Avira Phantom
Not only will your personal information be hidden by this software/app but also, you get to browse the internet anonymously; preventing your ISP and advertisers from tracking your activities on the web.
Avira Phanton VPN works on all platforms and can bypass web firewalls and geographical restrictions. It is owned and maintained by Avira Inc., the popular security app(s) vendor.
Features:
Ensures your activities around the web remain untraceable.
Lets you get access to restricted websites.
Encrypts web traffic and internet activities.
DNS leak prevention.
Multi-device support.
[Website]
proXPN VPN Services
proXPN is another top VPN service that's really FREE. It works well with internet browsers, email clients, instant messaging, and utility programs.
The free version of proXPN uses OpenVPN connectivity to creates a secure and highly encrypted tunnel through which your online communications pass to and fro.
proXPN Free VPN Features:
Unlimited data transfer
OpenVPN connectivity
Private browsing
Easy to set up
[Website]
Okayfreedom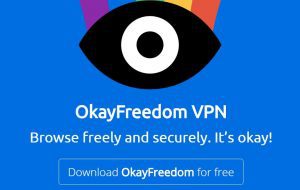 OkayFreedom VPN lets you browse the internet without restriction, unblock lots of video streaming websites and get access to locked contents on the internet. It has more than 7 dedicated locations (servers) which you can connect to and surf anonymously even as a free user.
OkayFreedom VPN Features:
Surf without limits
Secures public Wi-Fi irrespective of the location
Works on all web browsers and online messaging clients
Ensures your privacy online
[Website]
TunnelBear
Looking for a free but premium VPN service? TunnelBear is a great choice for you.  It is a free VPN service that's available for PC and mobile users. It gives you free access to surf and uses your favorite internet browsers/online apps without logging your personal information.
TunnelBear is easy to use and is really fast in operation.
 TunnelBear Free VPN Features:
Easy to use
Has support for Windows, Mac, iOS, and Android
500MB monthly data cap
Multiple server locations
[Website]
Ultrasurf VPN
Ultrasurf VPN is one of my favorite free VPN services. It protects your online activities and keeps your personal information safe from prying eyes. With Ultrasurf VPN, you can get access to any blocked website and Bypass internet censorship without many hassles.
Ultrasurf VPN Features:
Lets you access blocked websites in China, Iran, India and etc.
Strong security using end-to-end encryption.
Circumvents internet censorship
Needs no installation
Encrypts your online communications
[Website]
hide.me
hide.me VPN is a powerful VPN client that's available for Windows, Mac, Android, iOS, and Linux. It is fast, simple, and ensures greater internet security with its advanced security functions.
This VPN has quite a lot of servers throughout the Americas, Europe, and Asia.
hide.me Features:
Has quite a lot of servers in the Americas, Europe, and Asia
Comes with advanced security features
Lets you get access to blocked websites without compromising your privacy.
Zero logging.
[Website]
Hideman VPN
Hideman VPN is another decent player in the much-saturated space of Free VPN services. It lets you bypass government censorship, content restriction, and blocked services.
There's a 2GB/month limit on the free plan, but with multiple server support. Free users can switch to any of the supported countries without challenges of any kind.
Hideman VPN Features
2GB/month limit for free users.
Easy country switching
Multiple location for free users
Solid data encryption technology
[Website]
Finch VPN
FinchVPN is a top free VPN service with OpenVPN support. Apart from letting free users have access to OpenVPN technology, it also lets them use Point-to-Point Tunneling Protocol (PPTP) for a better private surfing experience.
FinchVPN Features:
Free forever
3GB per month for free users
Prevents ISP data throttling
Unblocks region restrictions
Lets you secure public Wi-Fi
[Website]
Speedify VPN
This software has its own unique way of providing online privacy for you. It combines both WiFi and Cellular data to establish a faster, secured and reliable connection. The channel bonding technology lets you connect to multiple Internet connections simultaneously for their combined speed.
Speedify VPN features:
1GB Monthly Data
Military Grade Encryption
Channel Bonding
Redundant Mode
Automatic Failover
Packet Loss & Error Correction
Worldwide Servers
[Website]
ZoogVPN
Zoog VPN is another solid free VPN service with military-grade encryption. It is fast and lets you gain access to Netflix, movie-video websites, and online gaming platforms.
With ZoogVPN free services, there's a 128-bit data encryption, zero-logging policy, and a lot of servers to choose from.
Zoog Free VPN Features:
Unblocks any restricted website
2GB Monthly Data
Secured VPN Protocols
3 VPN servers to choose from
zero logging
[Website]
SurfEasy VPN
I hope you know that your PC has lots of your personal information stored in it? Starting from your download and browsing history to your financial information. So, SurfEasy VPN helps keep your information safe and untraceable. With this VPN, you can surf the web anonymously and without any limitations/restrictions.
SurfEasy VPN is compatible with Mac, Windows, iOS, and Android.
the Features:
No logging
Fast and Secure Browsing
WiFi hotspot protection
Access to blocked pages, websites & online contents
[Website]
Zenmate VPN
Not using a VPN service on your PC or mobile devices will make it possible for your private information to be exposed to lots of unwanted persons such as advertisers, spammers, ISPs, and sometimes malicious hackers.
Zenmate VPN lets you secure and hides your personal information while surfing the internet. It grants you access to blocked contents and does not log any of your activities.
Zenmate VPN Features:
Compatible with Mac, Windows, Chrome, Mozilla Firefox, Opera, iOS, and Android.
No-Logging
High-Speed Connection
More than 30 Global Locations
[Website]
Hotspot shield
Hotspot Shield lets you bypass firewalls, gain access to blocked content, and restricted websites on the internet. Their free VPN service is solid, but heavy on ads and extremely annoying pop-ups.
Hotspot shield features:
Compatible with PC, Mac, and mobile devices.
Safe and secured internet surfing
Protects your private information
Zero logging
Lots of servers to choose from
[Website]
Vpnbook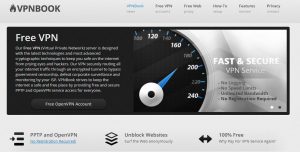 VPNbook is a 100% free VPN service that promises a fast and secure internet surfing with zero logging policy. It is compatible with Mac, PCs, and mobile devices.
VPNbook Features:
Donation based
Unblocks any website and bypasses web firewalls.
100% free as there's no premium version.
No registration needed; uses PPTP and OpenVPN.
[Website]
Hola VPN
Not only does Holla VPN offer uncensored and secured internet browsing but it also comes with Adblocking function. With this free VPN software, you can seamlessly stream videos on any video streaming website without restrictions.
Hola VPN is free for non-commercial use. If anyone wishes to use it for commercial purposes, they are normally advised to go for their paid plans.
Hola VPN Features:
Compatible with smart TV, smartphones, computers, laptops, routers, PlayStation, and etc.
100% Free for non-commercial use
Community powered
An ads-free VPN service
[Website]
SigaVPN
SigaVPN is a completely free VPN service and it doesn't log your internet activities. This VPN service helps secure your personal information from hackers, harvesters, and internet fraudsters. With this VPN, you can unblock websites and get access to blocked content on the internet.
SigaVPN Features:
No logging.
100% free.
No bandwidth caps.
No throttling.
[Website]
Panda VPN
Anyone can experience a swift and secured internet surfing experience with the Panda free VPN service. Panda VPN hides your IP address away from preying eyes, government censorship, and internet fraudsters. It also gives you access to lots of streaming websites with only 150MB/day bandwidth restriction.
Panda Free VPN Features:
Limited to 150MB data transfer per day.
Protects your information securely.
Fast and from a trusted internet security vendor.
[Website]
#25: Other Anonymous Surfing solutions that are 100% Free
I'd have added a single VPN app here to close this list, but would prefer to give more options to our readers. This is because every person that's searching for a free VPN service usually has his/her reasons.
While some need it to check the simplest things such as flight booking from a restricted location, others need it to bypass censorship or to surf from a public Wi-Fi.
Irrespective of the reasons, these few options would come in handy for private browsing from a restricted location and/or internet source. They include web proxy, TOR, and few more suggestions for a better private browsing experience.
Kproxy
This is a superior free web proxy tool with popular internet browser extensions. There's also a portable version for Windows machines. Kproxy, just like normal VPN clients lets you get access to blocked websites through an anonymous server.
It helps keeps your personal information secured and free from prying eyes.
Kproxy Features:
100% free
No registration needed
Safe and secure.
Bypasses any network filter or censorship.
[Website] | [Alternative: zalmos.com]
Tor
Tor is free software for anonymous communications through the internet. It helps keep you protected from internet traffic spies. Tor directs your internet traffic within a free overlay network with over 7000 relays to keep your location, data, and information untraceable.
It is not really a VPN service per se, but a superior anonymizer that lets you maintain your privacy and keep your details away from prying eyes. It is 100% free and comes without bandwidth limitations.
[Website]
Browsec VPN
Browsec VPN is a versatile privacy app with plugins for all popular internet browsers. It is available for PC, android, and iOS devices.
Browsec VPN lets you browse safely while traveling and comes with superior anonymization technology. I have used their mobile apps in the past and really enjoyed the free VPN features.
[Website] | [Their mobile app alternatives: Snap vpn and Turbo VPN]
Wrap Up on Best Free VPN Services
While we do agree that paid VPNs are the real deal for businesses, the free VPN services listed in this publication really work.
We'll recommend you use the free services of whoer.net and whatismyip.com to check for DNS leakage, IP blacklist, and other important VPN variables before sticking to a particular free VPN service.
Recall that our list is limited to VPN services that are actually 100% free and few privacy tools that are not really VPNs, but helps protect your online privacy.
Did we miss any of your favorite free VPN software? Please do share with us in the comments section below.