Online shopping in Nigeria is no longer news as many young folks are beginning to enjoy the fun that comes with a safe and secure eCommerce experience. These days, users aren't just interested in knowing about the cheapest online shopping sites in Nigeria, but the full list of online shopping sites that are good with customer support.
These thirty-five (35) companies below are not just the game-changers but are the most trusted eMalls for secured online shopping in Nigeria.
List of Online Shopping Sites in Nigeria
From phones, computers, electronic gadgets to fashion, clothing, kitchen appliances, books, and sundry: the first 12 online shopping sites below have really raised the bar in delivering top-notched online shopping experience to the Nigerian populace. The others in the list aren't left out as they are improving from day to day to deliver a better online shopping experience to Nigerians.
This list is presented in no particular order, but the first 12 online stores listed below have been used by us at one time or the other. And the other top online stores listed in the bonus section are our favorite sites for getting wares for cheap (directly from China). We've used them for a long time and would continue doing so for the foreseeable future.
Some of the top online shopping malls in Nigeria in terms of service, excellence, coverage, and popularity are listed below for your learning. The list is fully vetted to include only the best online shopping stores in Nigeria that are great with customer support, after-sale support, and quick delivery of goods and packages.
1. Jumia (the #1 Online Shopping Site in Africa)
Jumia is no small player in the business of shopping online in Nigeria and/or Africa as a whole: they have internet shops in major west African countries as well as pick up centers in major cities.
Jumia delivers each product with a high level of professionalism and considers consumer's satisfaction a priority. Jumia's virtual store is trusted by many as one of the best e-web-stores in Nigeria.
With the surge in discounts and promos, Jumia Nigeria should be a great destination for buying things online in Nigeria and West African states.
Jumia's eMall is trusted, sells quality products, and has a good return policy for damaged goods. The only downside with using Jumia is their inability to deliver nationwide like konga ("pay on delivery" isn't available to all locations): you have to pick up items from major cities only.
Their official website is http://www.jumia.com.ng
2. Konga Online Shopping Store
Konga is the undisputed forerunner when it comes to online shopping in Nigeria. They revolutionize the space to something attractive and really interesting to the Nigerian populace.
Konga does not only sell products at a discounted rate but does offer coupon codes that really work. Their daily deals are like no other, their delivery is nationwide. You can always buy from Konga with peace of mind as other sellers on the platform that tries to sell counterfeit products are booted out without losses on the consumer's part.
Their support is always top-notched, so is their delivery and after-sale services. Konga offers "pay on delivery" services nationwide. You can experience all the awesomeness that comes with shopping on Konga by visiting their homepage at http://www.konga.com
3. Payporte (Best Nigerian Shop to Buy Food Items)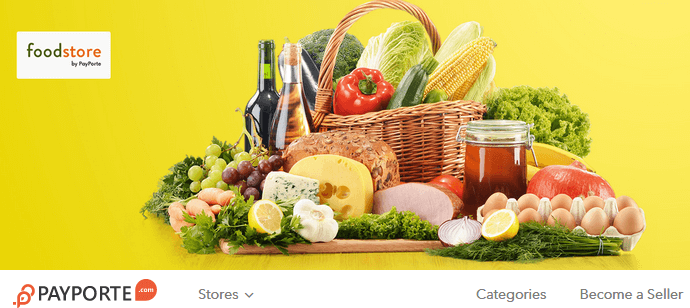 Payporte is not just a popular Nigeria's electronic shopping mall, but one that offers good after-sales support to buyers that shop daily from their user-friendly platform.
Just like Konga and Jumia, Payporte lets users market their quality products via their e-shopping website. They have rules and mechanisms in place to checkmate fraudulent sellers, thereby protecting their customers from all kinds of frauds.
There's also an affiliate program at Payporte that lets users without a product of their own – earn some good amount of money by promoting quality products from other sellers.
Their website is well-secured with an SSL certificate and seated at https://www.payporte.com.
4. Yudala (a Nigerian Online Store with Offline Shopping Outlets)
Yudala wowed many Nigerians including my humble self with their black Friday sales that took place both online and offline simultaneously.
In Fact, the Yudala business model seems to be well-suited to the Nigerian populace where trust is a major issue and buyers prefer paying on delivery to pre-paying for online orders. They have launched mega retail shops in popular Nigerian cities and would extend to other cities in the long run.
The largest price slash during their black Friday sales where a Lenovo laptop of about 12GB RAM, 1TB HDD, Core i7 processor, and 15.6 inches screen was sold for less than NGN90,000 has shown how serious they are with honesty and quick service delivery that was further proven in their drone delivery of orders.
In all, Yudala is a trusted platform to shop online in Nigeria. Their homepage is seated at http://www.yudala.com
5. Vconnect
Vconnect is one of the first really successful business directory websites to grace Nigerian cyberspace. Their recent dabble into the e-Commerce space seems to be a great step in the right direction.
Shopping on Vconnect means that you are transacting with a company that cares so much about consumer's right, pre-sales, and after-sales support.
Their products are of a good standard and come at a great price too. You should have some good confidence in shopping on the Vconnect website.
The official website is found at vconnect.com/marketplace.
6. Dealdey
Dealdey is renowned for cheap and amazing deals, they have been in the eCommerce business for so long and knows how to treat their clients with respect.
Dealdey's delivery is fine, you just need to be careful with unpopular sellers with ridiculous amount for expensive items. See their website at http://www.dealdey.com
7. Olx Nigeria
Olx is like the Craigslist of Nigeria, there are lots of fairly used items to buy online for cheap and really ridiculous amount.
You just have to be very careful here as most fraudulent users are registered in the website already. Just deal with persons with several positive reviews.
You can get access to their homepage via http://www.olx.com.ng
8. Mobofree
Mobofree is a social platform that lets users buy and sale items at their chosen amount. You can also exchange stuff here as well get good deals from time to time.
Their idea is unique and should stand the test of time. You can visit the homepage at http://www.mobofree.com for more.
9. Chrisvicmall
Chrisvicmall isn't as popular as the first three but its a great destination for buying stuff online in Nigeria. You can shop for electronics, clothing and sundry at chrisvicmall.
Chrisvicmall also does shipping of items from China to Nigeria. You can check out their official website at http://chrisvicmall.com
10. Slot
Slot is not just an online shop in Nigeria but one of the best eCommerce web stores in Nigeria. They have functional retail outlets in major cities where users can go to buy phone and gadgets.
Slot Nigeria is renowned for the good after sale services and great customer support it has maintained for this good number of years.
Their official website is http://www.slot.ng 
11. Kara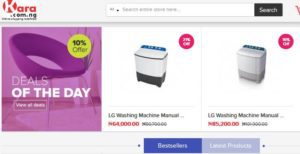 Kara Nigeria online shopping mall has its official website at kara.com.ng and is the trading brand of Royal-coast Technologies Limited.
They have been in the Nigerian cyber-business space for more than 3 years already and do run various sales promo from time to time.
We are yet to buy wares from them, but have some of our readers that have patronized them in the past without an issue. Kara Nigeria online malls deals with sales of PC, smart phone, kitchen appliances, consumer electronics and fashionable accessories.
12. Parktel online
Parktel online whose official website is accessible from parktelonline.com is a big player in the sales, distribution and marketing of cell phones, mobile power banks and phone accessories.
Their website uses a solid SSL certificate from COMODO CA LImited to protect user's data. Popular payment methods  such as: Visa, Master-card, Verve and pay-on-delivery is fully integrated for online buyer's shopping pleasure.
Most of their wares comes with a free delivery promise for those shopping from Lagos and/or federal capital territory (FCT, Abuja).
13. Webmall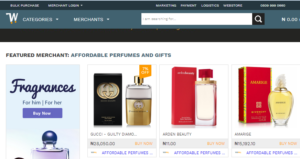 Webmall is among the top online stores in Nigeria. It deals with a wider range of products arranged in categories.
It is a reputable online store and has lasted for 4 years now. Computers, mobile phones, tech gadgets, fashion and fitness kits, home/office appliances, projectors, and many other products are sold on this platform. Their official website is https://www.webmallng.com/
14. KiliMall
This is a big online store with branches outside Nigeria, it is a trusted online platform to shop from inNigeria.
Kilimall allows its customers to pay using diverse safe online payment method. They have their products arranged in categories for smooth, easy and quick shopping.
You can purchase mobile devices and gadgets, computers, PCs, clothes, shoes, home appliances, fashion products, books, healthcare, baby products, personal care and lots more from Kilimall.
The official website is https://www.kilimall.ng/
15. Escapade
Escapade is a good online shopping platform, it deals mostly with products from popular/reputable companies.
The company though not familiar with Nigerians can be trusted when shopping online for Home appliances, electronic gadgets, fitness kits, and building materials.
The official website is http://escapadeng.com.
16. JiJi.ng (Best Nigerian Online Shopping Store to Sale Cars & Used Wares)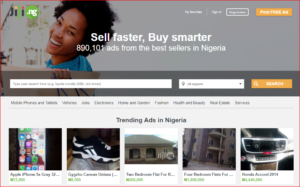 Jiji is one of the largest and most used online platform for buying and selling products (mostly used) in Nigeria. It serves a mass-market clientele. Before you buy a product from Jiji, you must be very sure of the seller you are dealing with because there are lots smugglers registered on this platform, always reads seller reviews before making payment for the goods and/or services.
The official website is https://jiji.ng
17. MyStore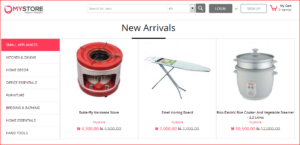 MyStore is also among the reputable online stores to shop from in Nigeria. The company has lasted for over a decade now with good testimonies and reviews from their customers nationwide.
Products that can be bought from this platform include; kitchen utensils and equipment, home decor, and office essentials.
The official website is https://www.mystore.com.ng/
18. Gidimall
Gidimall is a fast-growing online store. The platform has been proved by many to be a good/trusted site for online shopping. It has existed for some years now and had kept a good reputation.
Electronic gadgets/accessories, home essentials, drinks and food items, cameras, printers, and etc. are goods that can be purchased on Gidimall. Their official website is http://gidimall.com/.
19. Gloo.NG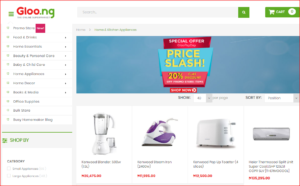 Gloo can be trusted when shopping online. The company has lasted for about 4 years now and also have offline stores located in some developed cities across the country.
It sells products such as; books and media, home appliances, food and drinks, beauty appliances, etc. The official website is https://www.gloo.ng
20. Techmall
Just like the name sounds "Techmall", this online shop deals on everything tech, gadgets, softwares, and electronic accessories. It not popular like most online but has maintained good customer support over the years.
The official website is http://techmall.com.ng
21. BuyRight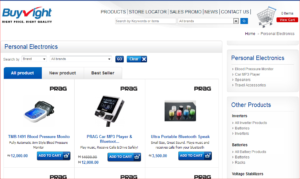 Buyright deals on heavy duty gadgets and accessories like stabilizers, inverters, generators, refrigerator, batteries and many other electrical accessories. It is a good place to shop for your heavy duty appliances. The official website is http://www.buyright.biz
22. Fouani
Fouani is a Nigerian online store that deals with LG products only, it is an online showroom for all LG products available in Nigeria.
The company is a trusted online platform to shop for LG products and accessories nationwide. It has many offline stores across the country.
The official website is https://www.fouanistore.com/
23. Goods Arena
Goods Arena is a good place to shop online for your fashion outfits, home/office accessories, gadgets, PCs and other goodies. It is not popular among Nigerians but has maintained good quality services over the years.
The official website is http://www.goodsarena.com/
24. Ahioma
Ahioma is an Igbo word which connotes "Good Market" in the English language. On this online store, you can purchase mobile phones and mobile gadgets.
They also sale top electronic products like: computers, stationary, books, wines, drinks, fashion outfits and fitness kits. It is a fast-rising online store with good customer support and great after-sales service.
Their official website is http://www.ahioma.com.
25. Obeezi (a Top Nigerian Online Shop for Shoes & Fashion)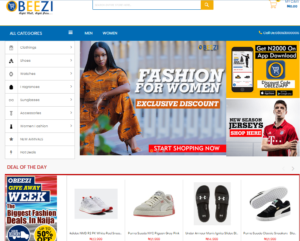 Obeezi is an online fashion store where you can get classic designer accessories, clothes, and shoes. You can shop for Gucci, Ankara, Tommy Hilfiger, Raph Laureen, good fashion canvas, et cetera on Obeezi.
The official website is http://www.obeezi.com/
26. Awufu
Awufu is a Nigerian marketplace where you can shop for Tech and Electrical gadgets, different kind of Accessories, mobile phones and computers.
It is not a popular online store and we are not too sure about their customer service and policies. The official website of Awufu is http://awufu.com.
27. Bargain Master
Bargain master is among the indigenous online shopping sites in Nigeria, it is an extremely large marketplace place where you can buy everything you want/need.
It retails on Agricultural products, construction and real estate equipment, chemicals, consumer electronics, gadgets and many others.
The website is https://www.bargainmasterng.com
28. eShop
eShop is an online store that deals on technology and electrical gadgets only. Products available on this platform includes; Inverters, solar panels, solar-powered  inverter, flat screen televisions (LED), cookers and other popular consumer electronics.
The website is https://eshop.com.ng/.
29. Mega Plaza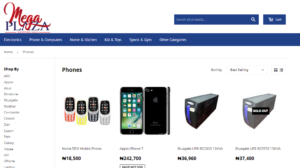 MegaPlaza is an online shopping platform where you can get good products and services. They sell products such as mobile phones, accessories, PCs, electronic and electrical gadgets, GYM and fitness kits, etc. The official website is https://www.megaplaza.ng.

30. Supermart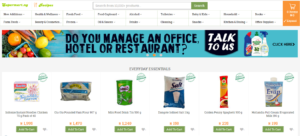 Supermart is a large online supermarket and grocery delivery store. It sells all kind of provisions, food items, drinks, utensils, and varieties of books (educational, fiction, romance, etc).
Their official website is https://www.supermart.ng.
31. BestBuyforless
BestBuyforless is an online store were one can shop for clothing and shoes. it has categories for men, women, and babies.
This is not a big online store but seems to be a good place to buy cheap wears. The company's official website is http://www.bestbuyforless.com.ng
32. SMEMarketHub (one of the Cheapest Online Shopping Sites In Nigeria)

SMEMarketHub is an online shopping from guaranteed trust bank (GTB) Nigeria PLC. They have been in business for long and it's a platform opened for small and medium-sized businesses (SMEs).
The GTBank SME MarketHub, as a free online shopping platform lets small businesses sell to audiences far and near. They offer amazing discounts on selected goods on the daily. There's no limit to what you can buy on GTBank's SMEMarketHub. Here's the link to go to their website.
33. Luxatrel
Luxartrel is a place to shop for quality products online. It deals with various products and services and its customers can pay using different secure online payment methods.
Another shop that works like Luxatrel is Bentigos Online store. Bentigos is a Nigerian online fashion store that deals on latest fashion trends; clothes, sunglasses, shoes, wrist watches, and etc.
Their own website is seated at https://www.bentigos.ng.
34. ParkwayNigeria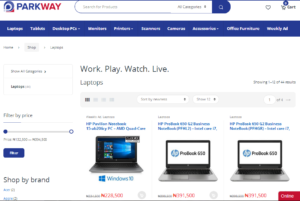 ParkwayNigeria is an indigenous shopping mall with lots of goods and electronic products. They sell: Laptops, Tablets, Desktop PCs, Monitors, Printers, Scanners, Cameras, Accessories and Office Furniture.
Their official website is seated at https://www.parkwaynigeria.com.
35. Zabadne
Zabadne is a Nigerian  online shopping store where you can buy different product. Products like: mobile phones, computers, kitchen utensils, home appliances and electronic gadgets.
Their official website's homepage is located at http://www.zabadne.com.ng.
Best Chinese Shops to Buy from Nigeria (Bonus)
Being a regular online shopper that's vast with ideas on participating in promo-sales, use of coupon codes et al has exposed me to many other e-Shopping malls.
The shopping malls listed above are 100% indigenous online stores as their goods are priced and sold in Nigerian Naira. But there are other top online shopping malls from abroad that let Nigerians shop for less and pay with their Naira debit cards (or ATM cards).
They are trusted and ship most goods free to Nigerian via regular airmail. The only downside with shopping on them is the time it takes to receive the items paid for. But their prices are really competitive as there's a wide selection of goods including consumer electronics and parts for heavy-duty machines. These global online shopping stores are Aliexpress, Amazon, Ebay, and Gearbest.
How to Shop on Aliexpress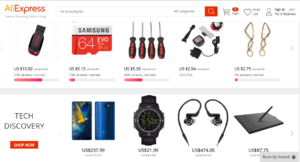 Aliexpress is a global shopping platform with its headquarter located in China. It is a safe and trusted place to buy goods while shopping online. The company has lasted for years and has built up a strong reputation which they wouldn't like to tarnish.
Shopping with Aliexpress is safe and secure. You can be rest assured that you won't be scammed by malicious sellers. Their official website is seated at https://www.aliexpress.com.
How to Shop on GearBest
GearBest is also one of the reputable global online stores. It deals with varieties of goods and services and it's a safe/secured place to shop online.
They offer good customer support and accept payment using cryptocurrency or through different secured online payment means. Their official website is seated at https://www.gearbest.com.
Wrap Up on Nigerian Online Shopping WebSites
These top online shopping stores in Nigeria list was presented solely for review and introduction purposes. We've used most of them and had some good experience with their business model.
We welcome reviews and opinions from users of these online stores and/or other Nigeria e-malls. You can share them with us via the comments section.
Related List
Update!
The top online shopping websites in Nigeria list was updated and increased to make room for Yudala, Kara, vconnect, GTBank SME MarketHub, and parktelonline.
Other sites such as Jiji, Gidimall et al were added to make sure you're updated with the best Nigerian online shopping sites list at all times. Feel free to ask us questions regarding the list or any other post on our website.