Saisho S-748 Blender with grinder and Built-in circuit breaker is our first shopping experience on Konga. We took a break from shopping on aliexpress to patronize konga and other e-commerce websites in Nigeria.
Our Konga's Experience
Our shopping experience on konga was splendid, we bought items sold by konga alone as those usually comes with free shipping and free delivery nationwide. We avoided other sellers initially to avoid stories that touch.
Overtime we've bought several other stuff from them and must confess that both the quality of products and delivery was top-notched.
Both email and phone channels were used to communicate the shipping progress and delivery of the items we ordered from them.
Saisho S-748 Blender's First Impression
As expected, we glanced through the instruction manual, user's guide and receipt items as we normally do with other items.
The design (look and feel) was really awesome and contained all items advertised in the sale's page. We really loved the white color and stainless steel that comes with the blades.
The Review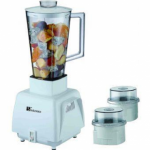 After unboxing it, we went straight-a-way into series of testing, we started out with the grinder and a cup of melon (egusi), the result was fine as we were 100% pleased with what we have in our plate after the grinding exercise
The blender was great too, really did a great job on the soft pineapple we used for a natural pineapple juice and also for the many task we have accomplished with it.
You can bank on the Saisho S-748 3-in-1 electric Blender for your kitchen needs.
Features
Up to 1liter and 2 speed level
Can Blend and grind effectively
Its 3-in-1 bundle
Has rolling cable storage
Has a built-in circuit breaker
Price in Nigeria
Saisho S-748 three-in-one (3-in-1) Blender with a Grinder is sold for about NGN4,000 in stores but can be bought for less in trusted online shops.
Depending on where you choose to get it, the price can be anything between NGN2,000 and NGN4,500. We bought ours from konga at a discounted rate of NGN2,240.
We recommend you buy from konga or Jumia. They sell quality products with discount and delivers nationwide – even to remote villages.
Related Reviews