Applicant Tracking Software (ATS) solutions simplify hiring and recruitment processes for your company. They help to automate various processes involved in job recruitments, and as such, the HR/recruitment department can focus on other activities that really matters. There are quite a bunch of ATS solutions out there; your choice points down to your company needs and budget.
Regardless, here is a handy list of the best ATS solutions for small and big businesses. The importance of adding an ATS to your business software includes its possibility to simply recruitment workflow and improve productivity for the HR department.
The 10 Best Applicant Tracking Systems and Solutions for Modern Businesses
Come along with me as I walk you through the top best applicant tracking systems and solutions for big and small businesses that deal with lots of résumés from different applicants. These solutions run through the cloud; hence, they are accessible on all devices and systems.

SmartRecruiters is one of the best ATS apps for businesses. It utilizes modern and enterprise-grade algorithms that empower all kinds of businesses to hire new talent on-demand. It is a cloud-based solution with lots of useful features.
The dashboard is pretty intuitive, allowing the user access to native collaboration, assessment, and AI tools. SmartRecruiters integrates seamlessly with various other business software. As a comprehensive productive suite, SmartRecuiters support communities, campaigns, direct sourcing, smart jobs, internal mobility, and many more features.

Taleo (Oracle Taleo) is an advanced recruitment solution for businesses. It provides your HR team with the complete toolset for sourcing, recruiting, and onboarding. Although this ATS is developed by Oracle, it acts as a standalone suite (you don't need the Oracle HR suite) for finding and hiring new talents.
Furthermore, Oracle Taleo features a clear-cut interface. It is generally easy to use and can help to improve your recruitment team's efficiency through simplifying various tasks involved in hiring processes. With Taleo, you can easily identify applicants that are best fitted for the positions available. This ATS also supports assessments and candidate communications and is accessible on any device.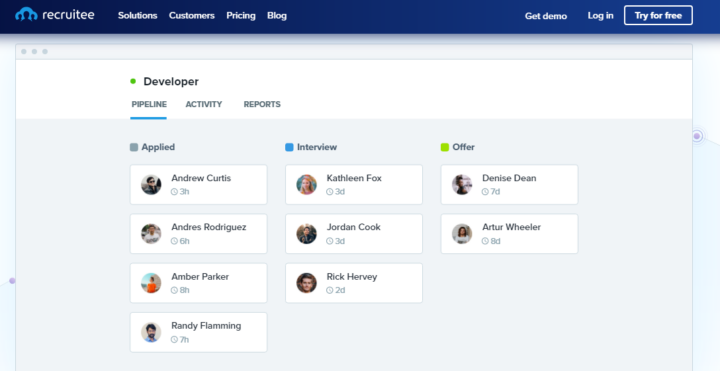 Recruitee is one of those business solutions that makes hiring much easier than ever. It is a cloud-ready ATS built to simplify modern talent acquisition processes. Over 3000 companies are already using Recruitee ATS; it is a feature-rich SaaS that can help to improve your HR team's efficiency in hiring new talents for the various available positions in your company.
The interface supports drag and drops editing; thus, it is easy to arrange applicants into categories – applied, interview, offer – for easy sorting. Furthermore, this software supports a bunch of business automation tools.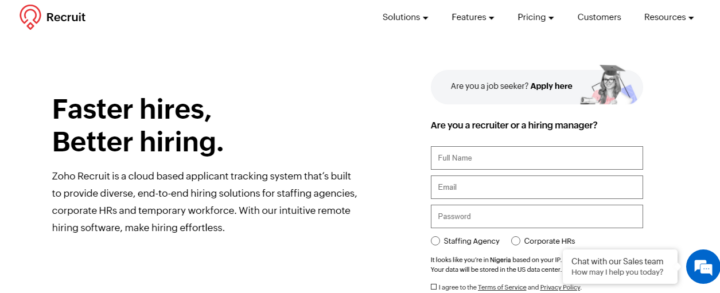 Zoho is a popular business software developer. The Zoho Recruit software is an advanced ATS designed to meet the modern requirements for hiring new talents in any organization. It is a cloud-based system; thus, it encourages and promotes remote collaborations. This ATS solution is for staffing agencies, corporate HRs, and the temporary workforce.
Furthermore, Zoho Recruit can integrate with other business apps from Zoho or other 3rd-party developers. It also supports LinkedIn integration, as well as various automation tools. This applicant tracking system can also generate invoices when needed; it is a complete suite for companies and individuals looking to hire or employ new workers.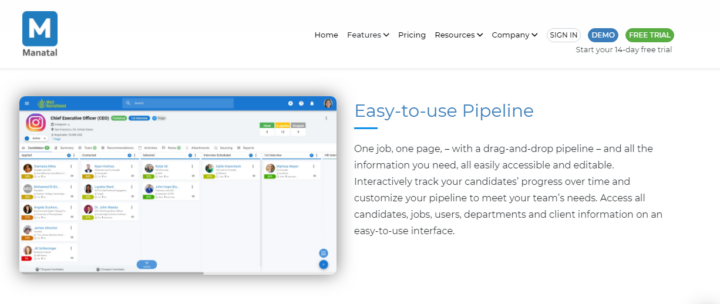 With Manatal's recruitment suite, hiring processes is made easier. This ATS (Applicant Tracking System) features an easy-to-use pipeline that supports drag and drop functionality. Interestingly, this ATS provides a one-click tool to import your candidates' information from their resumes or Linkedin.
Furthermore, Mantal ATS provides AI-driven insights, applicant matching, and advanced search functions to simplify candidates' sorting and management tasks. It runs through the cloud and supports all internet-enabled devices. This ATS is meant for medium to large enterprises. The "Resume Formating" tools let you customize applicants' resumes to suit your company's needs.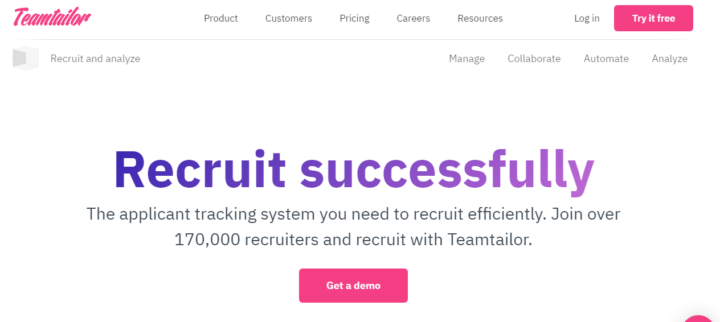 Teamtailor is made for all kinds of organizations and companies. It is a modern, feature-rich ATS with support for employer branding, candidate experience, and a bunch of other handy features. With Teamtailor ATS, you can sort out candidates and employ the best. This software solution simplifies multiple recruitment processes.
Furthermore, Teamtailor supports collaboration and works on all your devices. More so, this software is highly customizable; allows you to automate repetitive or tedious tasks to focus on other important stuff. Teamtailor ATS lets you perform various auto-defined actions; plus, you can assign candidates to different team members for interviews. The features are many and they're all useful.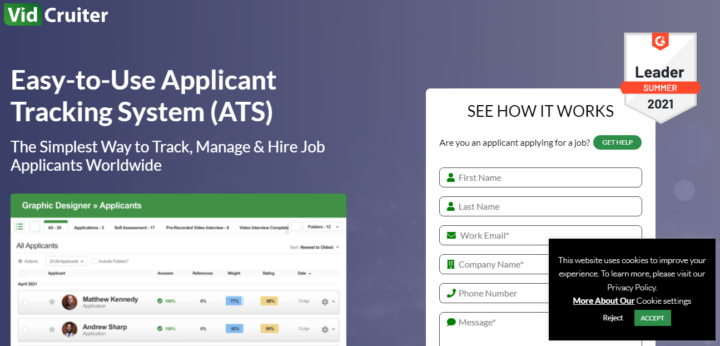 Take your company's recruitment process to another level with VidCruiter. This applicant tracking system provides you with s single platform to track, manage & hire job applicants from anywhere in the world. It is a cloud-ready application so it runs across devices, and in addition, it comes with a bunch of collaboration tools.
As with other popular ATS applications, VidCruiter includes various automation tools. You can arrange applicants' resumes with tags. It doesn't matter how many applicants enrolled to work in your company, VidCruiter supports unlimited tagging; you can also rank, rate, and sort applicants to employ the best.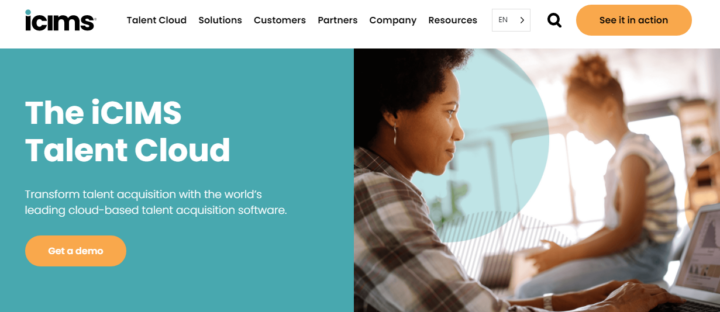 iCIMS Talent Cloud is a good choice when looking out for the best recruiting software for your company's subsequent talent acquisition processes. As the name suggests, this ATS runs through the cloud to deliver transformative features for recruitment and hiring processes.
Actually, the iCIMS Talent Cloud is a business suite packed with lots of useful tools and features. This software provides you with the right set of tools to attract, engage, hire, and advance the best talents for your company's vacant positions. It supports texts, emails, chatbots, and other ways to engage with applicants.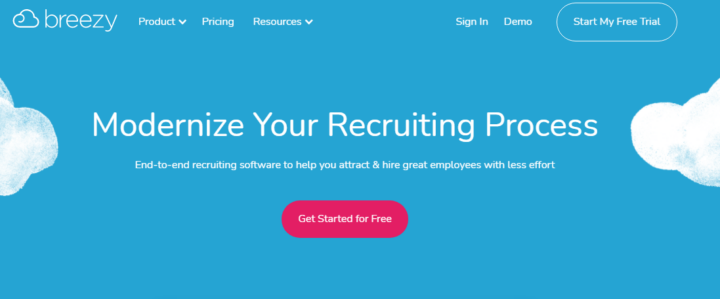 Breezy HR is an end-to-end ATS that simplifies recruitment processes for all types of companies. This ATS & recruiting software comes with a bunch of handy features that are easy to explore. With Breezy software, your company's HR department can create flexible hiring procedures to find the best talents.
This software supports an advanced reporting & analytics tool to provide you with actionable insights throughout a recruiting process. It also provides a suite of tools for effective candidate management and engagement through email or SMS.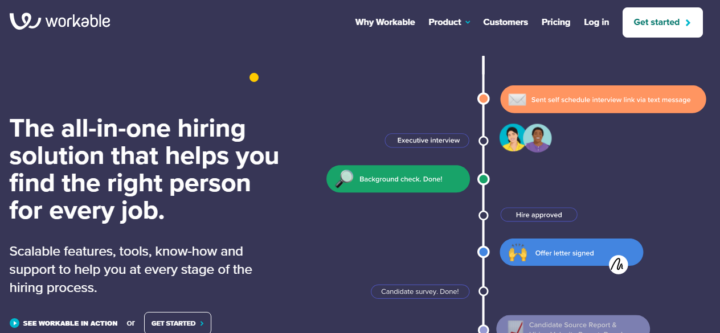 Apparently, this is more than just an Applicant Tracking System (ATS), it is an all-in-one software solution for finding the best person for every job position in your organization. Workable comes with scalable features to help at every stage of the hiring process.
This ATS is cloud-ready, accessible on all devices, supports collaboration and automation. The Workable ATS software has the best interface, and it is yet customizable to suit the user's preference.
Summary
These Applicant Tracking Systems (ATS) will help your HR team to run successful recruitment processes to find the best persons for every job position in your firm. They are all cloud-based, so, anyone can access them from any device. Regardless, there are still other good recruitment and ATS solutions available out there. Feel free to list your personal favorites in the comment box below.