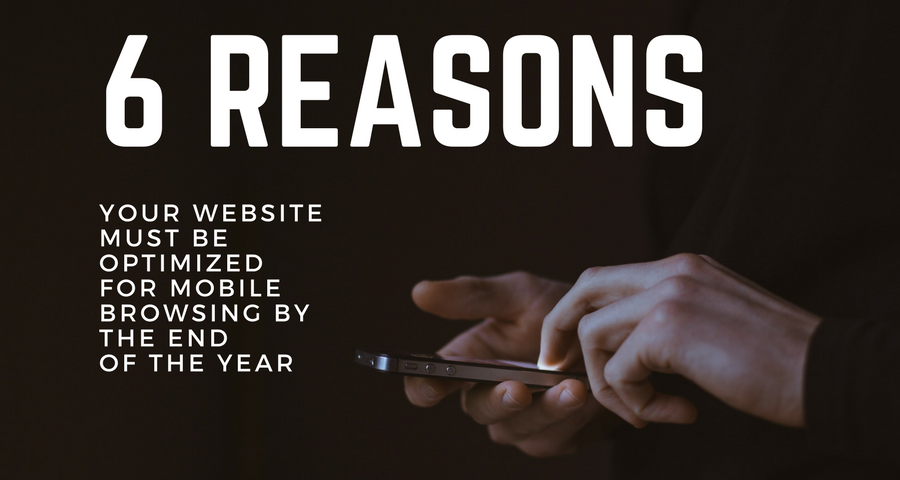 If you're like thousands of online business owners, you may be more focused on the products you are selling or the services you offer rather than the quality of your website or keeping it updated.
You may assume that if you are making a profit, your website is working seamlessly as the day you made it live on the web. If you can't remember the last time you made any updates, it's time to revisit your site. One of the most important things that website owners forget to consider or update is mobile accessibility.
Google, Yahoo, and other internet giants have seen reasons for mobile-friendliness, hence the need for AMP, mobile page insight, and other internet tools that were created solely for improving users' experience on cell phones, iPod,s and tablet devices.
Here are 6 reasons why you should make it a goal to optimize your business website, for mobile users, before the end of the year.
1. Your Site Will Get More Visitors
Have you noticed, lately, that the traffic to your site isn't what it used to be? Maybe you double-checked the links to your products to make sure they're working or looked at some other essential content, and all looks good.
It can be more than a little frustrating and perplexing when the traffic dwindles or stops altogether. If your website isn't mobile-friendly, it could be the cause of your lack of traffic.
Studies show that around 60 percent of online shoppers browse from their phones, but only 15 percent end up buying from their phones and many just end up giving up their search.
Why? The website they are browsing is glitchy and lacks mobile capabilities. If you make your site mobile-friendly, visitors will come, stay, and even buy with ease.
2. You're Likely to Make More Money
People who use their smartphones or other mobile device are more likely to make a purchase. These shoppers are impulsive and enjoy the convenience and instant gratification that comes with online shopping. Mobile shoppers are more likely to buy from businesses that pop up first.
The people who shop almost exclusively from their PC might take more time to do research or comparison shopping. While your product and site may be appealing, you may have to leave more of an impression against the competition.
Optimizing your website for mobile would give your business an edge, even above your fiercest competitors. It doesn't really matter if there's a mobile app already developed for your business, you still need a website that's responsive and fast enough for mobile surfers.
3. Nearly Everyone Has a Smartphone
Probably everyone you know has a smartphone, including your elderly relatives. While there may be one or two folks who still have a flip phone and have managed to keep it working, over 75 percent of Americans own a smartphone; that's basically everyone.
Even if not every smartphone user shops online, he or she is likely to browse the web, and you have less than a minute to impress the average person. If your site is less than mobile-friendly, you're as good as invisible.
4. You Get Better Rankings on Google
Speaking of being hardly noticed, if you want good rankings on Google (what business doesn't?) make your site mobile-friendly; no one wants to be on the fourth or fifth page of search results.
A website that's optimized for mobile browsing becomes a priority to Google over other non-mobile-friendly sites. Mobile-friendliness is a ranking signal for top search engines and would remain so for a very long time.
Businesses that realized the importance of making their websites as mobile-friendly as possible years ago are reaping the rewards today.
5. You Make Customers Happier
We've all come across a website that we really liked and wanted to support but ended up going elsewhere because the site was full of glitches or didn't load properly.
You may not see any harm in losing one or two potential customers, but you have to treat each one like they are your VIP.
One customer can write a scathing review or share how much they love you on social media (thus attracting more loyal customers). Give your customers what they want. Make them happy, and they will make you happy in return.
6. You're Relevant in Today's Tech-Savvy World
You're modern and hip. You're ready to give your customers what they want. You're always available, on any platform. We've already mentioned that pretty much everyone owns a smartphone.
If you've gone through the process of creating a website for your business, it's your responsibility to keep it up-to-date and relevant to what's going on in the tech world; no excuses, unless you want to get left behind.
How Do One Make Websites Mobile-Friendly?
Are you convinced that your business can only look up after optimizing your site for mobile browsing? You may have little experience with website building, or it's been years since you have done any updating.
Optimizing your website for mobile browsing is easy, especially if you choose a web builder that's easy to use and allows you to make changes quickly and without having to "shut down" for a lengthy period.
Besides website builders, there are lots of free tools, apps, and services that let you serve a 100% mobile-friendly pages to users visiting your business website from cell phones and/or mobile gadgets.
Just pick a tool/solution that works best for your business model, get user's feedback (by analyzing the engagement levels) and improve on them from time to time.