PIA VPN (Private Internet Access VPN) Service protects your Internet Connection, makes your data private, and secures your identity online without traces.
I have been a virtual private network (VPN) user for a very long time, the reason being that I am someone who cares so much about security and privacy.
This explains the reason I created the online privacy and top 7 VPN clients' post. It was meant to guide you select a VPN app that's not going to mess around with your security and privacy.
An avid reader of 3ptechies introduced Private internet access VPN (PIA VPN) to us. He expected the privacy app to make the list of VPN clients to use for comprehensive privacy, considering how long it has been in the cyber-space.
So we got a test copy of the PIA VPN app from the vendor (London Trust Media, Inc.). Tested it for some weeks and then decided to make public our thought on private internet access VPN, opinion on internet privacy, and tips to help you stay safe online.
Before we share our remarkable experience on PIA VPN, we will like to talk about the meaning of a VPN and how it can help secure user's data.
What is a VPN?
What is VPN and how can it be useful to me as a surfer is one of the early questions usually asked by new users of VPN apps.
A VPN (Virtual Private Network) can "in a nutshell" be defined as any method, tools, and/or apps used to add a formidable level of security and privacy to both public and private networks.
A VPN protects your data and privacy from unsecured internet connections such as public WiFi (hotels, cyber café, coffee outlets, etc.), WiFi Hotspots, and shared Internet connections.
Large corporations rely on private VPN services to protect their sensitive data, while bloggers and freelancers alike use the same to increase their privacy online.
Top VPN apps like cyberGhost, PIA VPN, hotspotShield, and some other popular VPN services do come with the option to block banners and annoying ads, prevent online tracking, compress data and shield its users from malicious websites.
VPN programs and services let you hide your real identity from tracking services by changing your real IP address to any country/city of choice.
In all, a VPN app or service encrypts your network connection and prevents eavesdroppers and online tracking apps from sniffing your Internet activities.
You can read more about Virtual private networks (VPN) and online tunneling services from either the Wikipedia link here or the introduction page at vpnsrus.
Our Experience with Private Internet Access VPN (PIA VPN)
Private internet access virtual private network app (PIA VPN) is like the 25th VPN client we've used, and so have one or more things to say about how well it can compete with similar internet privacy services.
PIA VPN Reliability
We ran a series of tests with the app while our subscription was still active. We also checked the app for Windows 7, 8.1, and 10 compatibilities.
It worked really well and passed some leak/security test we did with the handy tools from Gibson Research Corporation.

We also ran the extended test from whoer (after tweaking the time-zone settings on our PC) to achieve a 100% anonymity proof.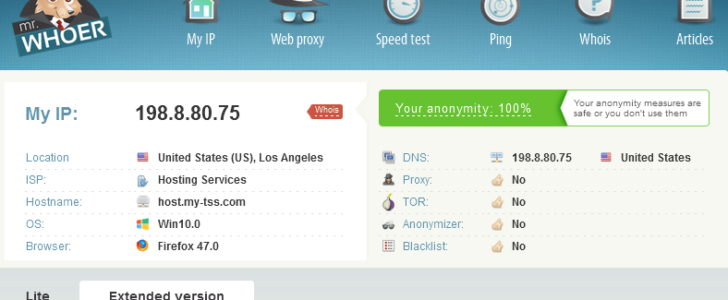 The apps worked well and caused no driver conflict or similar challenges. We, however, had some speed issues with majority of their servers.
PIA VPN Features
Private internet access VPN is rich in features and comes with all useful functions for a public VPN service of its price range.
Useful features such as DNS leak protection, support for OpenVPN, IPSec, and other important functions were present in the app.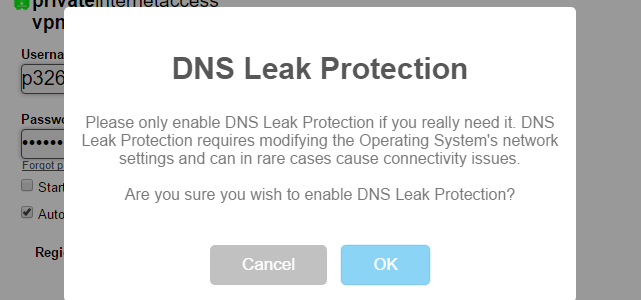 We used most of these features and were somewhat impressed with them.
PIA VPN Pricing
PIA VPN offers competitive pricing options but does not have a free trial version of its service. Most of the servers are over-sold and doesn't really worth the price.
When compared with similar VPN services of this price-range, PIA VPN price is fair enough as it offers some features that help protect your online privacy.
In Conclusion:
Private internet access VPN (PIA VPN) is a decent light-weighted tool for protecting internet connection and data services.
It secures your identity online and works flawlessly with all popular operating systems (OS) such as Windows, Mac OS X, Linux, and Android.
The features are amazing, and the price is not over-board, considering the number of servers. Our only problem with the app is the speed and the voluminous number of people allowed on a single server.
So far, we are not ready to trade the trusted VPN programs we use for their services but would not discourage someone else from using them.
PIA VPN's official website is  https://www.privateinternetaccess.com.
What More?
That is the much we have to share on our experiences with private internet access (PIA) VPN services. We welcome review and opinions from anyone else that have used their services.
We will also update you with news, flaws, improvements, and tips on VPN programs as soon as we have one. Remember to share this page with your friends by using the share buttons below.